Everything about that brand makes me want to knock down an end-aisle display of Vitamin Water with my yoga mat.
The name bothers me. The price bothers me. How great they make the asses of women half my age bothers me. Their cult-like following of Lulu Lemmings bothers me.
It's the Juicy Couture of gym culture. Although the swooped-hairdo logo is not as obnoxious as the giant JUICY stamped across the voloured bottoms of MILFS a half-step behind, it's just as insidious.
So I'm not ashamed to take perverse pleasure in the buckets of bad news leveled against the Lemon. I mean when it rains, it pours.
This past March, the $98 yoga pants were recalled because they were too sheer, especially in the butt. Men of course began to hyperventilate and follow Lulu'd lassies around like dogs, hoping to catch a glimpse of this wardrobe malfunction. In July, Lululemon responded by launching a reinforced product dubbed "Full-On Luon."
Last week, Lululemon debuted yet another version of the faulty pants, this time a recycled and reinforced version dubbed "Second Chance" pants, which were a patched-up version of the recalled inventory. They tried to make light of the situation in their communications and turn it into a positive social media conversation, even including this on the hang-tag, "These pants were inspired by the need to find functional and beautiful design solutions for our sheer pants. This is what celebrating failure looks like."
Many women have been complaining about the "pilling" occurring with the "Groove" and "Wonder Under" products, only to have the founder of Lululemon, Chip Wilson, say this in an interview with Bloomberg TV: "Quite frankly some women's bodies just don't actually work for it. They don't work for some women's bodies...it's really about the rubbing through the thighs, how much pressure is there over a period of time, how much they use it."
Are you kidding me? Blaming your customers for your own failings? This, ladies, is what failure sounds like.
All hell has broken lose. As it should. This is going to be a fascinating story to follow.
In the meantime, may I offer an alternative? SOLOW Stirrup leggings, pictured at left, which are comfortable and flattering.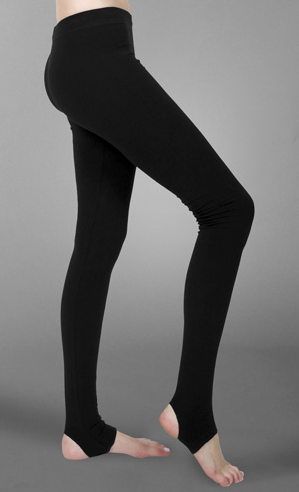 I've been doing yoga now for almost five years, and found myself hating the overpriced pant options, including Lululemon. And then I had an epiphany: why not wear my favorite leggings by SOLOW and call it a day? Only $55 (less back then) they never bagged, bunched, bound or behaved badly.
The stirrup elongates the leg and provides warmth against cold studio floors, and looks cute when you toss on an apres sandal. And for ladies like me of a certain age, the higher rise provides better coverage and comfort. To help with my knee alignment in Warrior One (and frankly, to give them my unique spin) I cut the knees out. Viola. They are all I wear. The army-green pair I'm sporting in the above illustration, taking a "selfie" (I'm sparing you the live version), is the first pair I altered and wore to my first class, and is still kicking into handstands and relaxing into Child's Pose with no pilling, sheer spots, bullshit or drama.
Back to Lulu. Chip Wilson has come out with this apology, which the Huffington Post covered and can be viewed here. Are you buying it? Will you ever buy Lululemon again?
For more of our style musings where we give Father Time the finger, please check out our blog Blank Stare, Blink.
Related