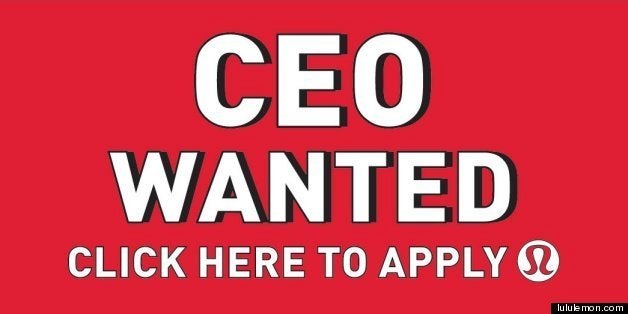 When Lululemon chief executive officer Christine Day announced her decision to step down earlier this week, the questions began rolling in immediately: Was she forced out by the board of directors? Did this have anything to do with the black luon pants recall? Why won't Day reveal the specific reason she's leaving?
The company, and Day herself, have shot down any rumors that this decision was anything other than a personal one. Now, Lululemon's taking it a step further by using humor to try to dismiss speculation.
All visitors to Lululemon's website, Lululemon.com (and its Facebook page), are greeted with a "CEO wanted" advertisement in huge text, accompanied by an entirely facetious application.
"You report to no one, you are the CEO (duh)," reads the job description on the website. "You are passionate about doing chief executive officer type stuff like making decisions, having a vision and being the head boss person."
The rest of the application is a bombardment of yoga jokes, such as "You communicate powerfully, often through Sanskrit," "You break all the rules like getting your OM-on (loudly) whenever the urge arises," and "You wear The Mansy to lead our company-wide morning chant and kombucha ritual."
At a conference in Chicago yesterday, Day noted that Lululemon likes "to have a sense of humor," and said that some stores will be putting up signs in their windows that say "CEO wanted" or "free hugs with purchase today."
Day's departure came as a surprise to industry observers and analysts, who have described the move as "shocking" and "stunning." Under Day, Lululemon expanded around the globe, aggressively growing its number of stores while boasting a skyrocketing stock price throughout Day's five-and-a-half year tenure at the retailer.
Considering her performance, it would be odd if she was forced out due to a single operations problem such as the pants recall. In a note to clients, John Zolidis, an analyst with The Buckingham Research Group, said that he interviewed three Lululemon board members and "it was clear all were enthralled by Ms. Day" and her stellar performance at Lululemon.
Still, it's becoming increasingly evident that there's more to her departure than Lululemon and Day are telling the public.
"My values include discretion," Day wrote in the email. "While I know everyone would like to know 'the reason' [I'm leaving] there are some things that should remain private because the truth is the good things outweighed the bad and by being respectful and grateful one can remember that."
Calling all HuffPost superfans!
Sign up for membership to become a founding member and help shape HuffPost's next chapter
BEFORE YOU GO
PHOTO GALLERY
9 Horrible Slogans That Don't Feel Quite Right