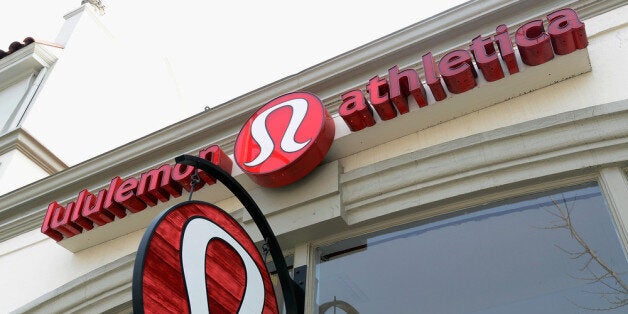 (Reuters) - Sales at Lululemon Athletica Inc's (LULU.O) established stores will likely drop in the fourth quarter, the first year-on-year drop since 2009, the company warned on Monday, the latest in a spate of setbacks for the once high-flying yogawear retailer.
The stock dropped as much as 17 percent after the warning, the second such dive in less than two months, as analysts and investors questioned whether the company's sales were faltering in the face of increased competition and supply chain problems.
Here's a chart showing the stock's dramatic decline on Monday, courtesy of Yahoo Finance: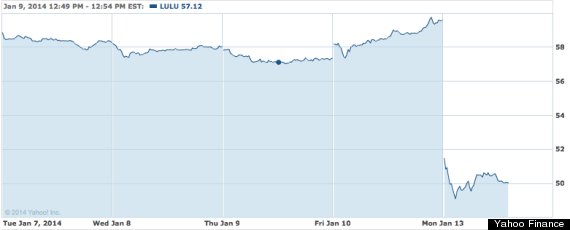 The Vancouver, British Columbia-based company said on Monday its same-store sales, revenue and earnings would be lower than it forecast in early December as traffic and sales slowed "meaningfully" in January.
Lululemon, which was forced to recall some of its signature black stretchy yoga pants in March because they were too sheer, had already warned of a slowdown on December 12, acknowledging that sales had been hurt by negative press about the product recall and by comments by its founder on women's body shapes.
The company's once-stellar sales growth, however, had started to slow even before the recall.
"It's a bad morning for Lululemon shareholders, but I think all signs, every fundamental sign pointed to this type of earnings reduction," said Brian Sozzi, chief executive of Belus Capital Advisors.
Sozzi said he thought new, better-quality products from Nike Inc (NKE.N) and Under Armour Inc (UA.N) might be cutting into Lululemon's sales. His store checks showed pricey workout gear from those brands selling well through the holiday season.
Cowen and Co analyst Faye Landes slashed her target for the stock to $48 from $90 and downgraded the shares to a "market perform" from "outperform" after the warning.
The stock fell by $9.26 to $50.34 on Nasdaq. Over the past year, it has fallen about 30 percent.
"Maybe Lulu customers have shifted to more of a replacement than stock-up mode, which would mean fewer sales per person, and maybe competition is taking little bites out of Lulu's business, especially among less hard-core customers," Landes wrote in a note to clients, which said supply chain problems could also be to blame.
"We hope to find out the answers, but prefer to do so from the sidelines."
Several U.S. apparel retailers, including American Eagle Outfitters Inc (AEO.N) and Zumiez Inc (ZUMZ.O), lowered their forecasts last week as reluctant shoppers forced them to offer steep discounts during the holiday shopping season.
Lululemon did not say whether recent bad weather had played a role in the sales drop, but said it was on track to meet its sales and earnings guidance through the month of December.
"Since the beginning of January, we have seen traffic and sales trends decelerate meaningfully," Chief Financial Officer John Currie said in a statement.
Sozzi said he does not see Lululemon's struggles as part of an industry-wide trend because its target customer is relatively wealthy, which he said makes the warning even more troubling.
Lululemon said it now expects net revenue of $513 million to $518 million for the quarter, down from the $535 million to $540 million it forecast earlier.
It forecast same-store sales in the "negative low-to-mid-single digits" on a percentage basis, compared with its earlier forecast of flat sales.
Lululemon said it expected to earn between 71 cents and 73 cents per share. The company had earlier forecast earnings of between 78 cents and 80 cents per share.
Analysts on average had expected earnings of 79 cents on revenue of $541.3 million, according to Thomson Reuters I/B/E/S.
Troubles at the company have been compounded by comments by outgoing chairman and founder Chip Wilson.
He said in early November that some women's body shapes "just actually don't work" for Lululemon's yoga pants, prompting a backlash from some customers.
Last month, the company named Laurent Potdevin, former president at retailer TOMS Shoes, as CEO. [ID:nL3N0JP2AT]
(Additional reporting by Ashutosh Pandey in Bangalore and Allison Martell in Toronto; Editing by Jeffrey Hodson, Sayantani Ghosh and Peter Galloway)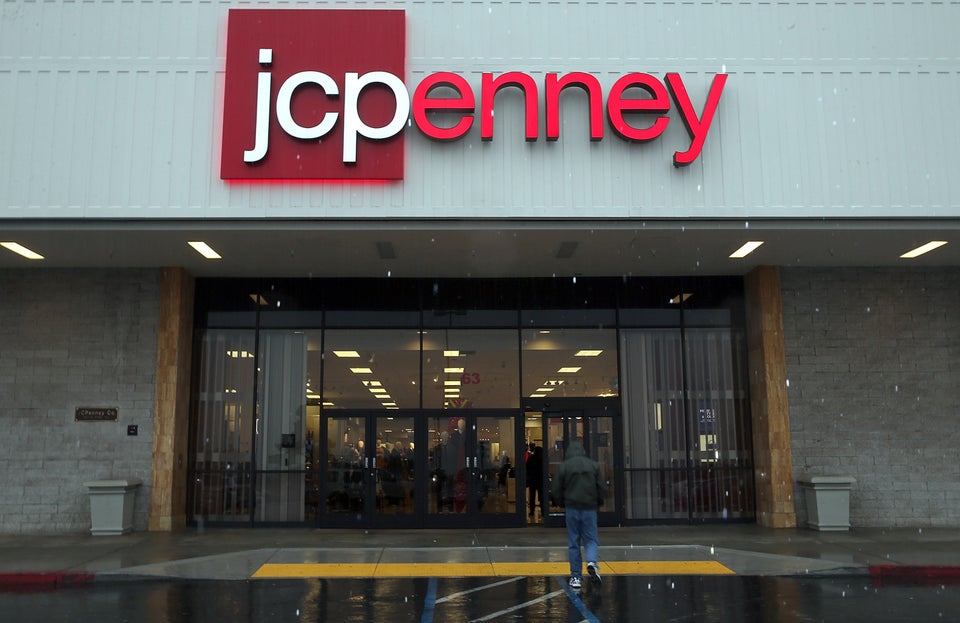 Most Hated Companies In America
Popular in the Community