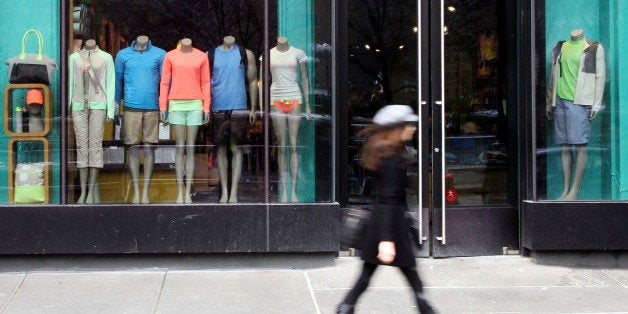 Lululemon can't even donate to charity without miring itself in controversy.
The yoga-wear retailer this week announced a partnership with the Dalai Lama Center for Peace and Education, and the move has some consumers upset. Lululemon said in a press release that it will contribute $750,000 to the Tibetan spiritual leader's nonprofit organization over the next three years to expand education initiatives and for "researching the connection between mind-body-heart." The company cited "a common vision for developing the next generation of compassionate leaders in the world" and said that both "are committed to engaging and empowering healthy communities."
But a mob flocked to Lululemon's official blog after the announcement, lighting up the comments section with objections to the partnership, suggesting that the Dalai Lama's name shouldn't be associated with a money-making enterprise. Others complained he's been "hijacked" and turned into a mere corporate marketing tool. Popular women's media website Jezebel suggested that the donation "seems more like penance" by the clothing line for previous PR blunders.
Among the company's missteps: Last spring, quality control issues sparked a recall of too-sheer yoga pants. Then, last fall, co-founder Chip Wilson irked many customers when he said Lululemon's pants "don't work" for some women's bodies. Earlier this month, Lululemon managed to offend the entire city of Buffalo, New York, by making fun of its NFL team.
In a statement posted Saturday on its website, the Dalai Lama Center's chairman Geoff Plant said, "Our recently announced partnership with lululemon athletica is a wonderful example of how alignment of our visions can engage and empower healthy communities. This generous donation will support a variety of initiatives – all rooted in scientific research on heart-mind-body – allowing us to expand our work globally." He added, "The Dalai Lama's Office was not involved in the donation and was unaware of the arrangement."
Note: This article has been revised throughout from its original version to remove anonymous quotations sourced from the Lululemon website.
Calling all HuffPost superfans!
Sign up for membership to become a founding member and help shape HuffPost's next chapter
BEFORE YOU GO
PHOTO GALLERY
Lululemon Gaffes