The yoga clothing retailer is under fire after one of its Dallas stores posted a sign that seemed to make light of Family Place, a local anti-domestic violence charity, Culture Map reported.
"We do partners yoga, not partners card," the sign read, referring to the nonprofit's "Partners Card," a discount card that offers purchasers bargains at local businesses and supports Family Place programs.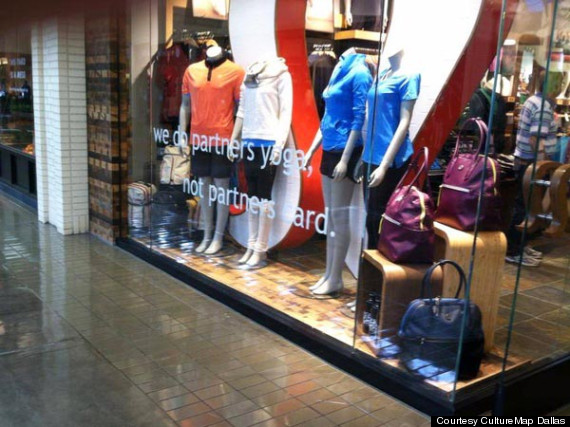 A number of Facebook fans spoke out and criticized the crass move, to which the retailer responded by saying it is working on a partnership to offer the "gift of yoga" to the charity.
Turns out, Lululemon only reached out after the sign had been posted, according to Culture Map.
Family Place executive director Paige Flink said she was considering the offer, but it wasn't necessarily the best way to support the organization. "Yoga is so much of apart [sic] of their lives that they think everyone would love yoga, but yoga for a woman who was beaten is not the first thing on anybody's mind at the Family Place," Flink told Culture Map.
What's more, Flink said she asked the store to take down the sign on Oct. 26, but it stayed up until Oct. 28.
The local retailer has apologized on Facebook:
We understand how important our community is and are sorry that we let you down. We never intended to disrespect. We're in conversation with The Family Place about how we can best be there for this wonderful organization in the important work that they do for domestic violence prevention.
~Morgan
Lululemon did not return HuffPost's request for comment.
This public outcry comes after a slew of other declarations that did not leave the public feeling zen. Most recently, the the retailer admitted on Facebook that it doesn't go after the plus-size market.
"Our product and design strategy is built around creating products for our target guest in our size range of 2-12," the company wrote on its Facebook page. "While we know that doesn't work for everyone and recognize fitness and health come in all shapes and sizes, we've built our business, brand and relationship with our guests on this formula."
If this story has your yoga pants all up in bunch, consider turning this mishap into something positive by supporting Family Place.