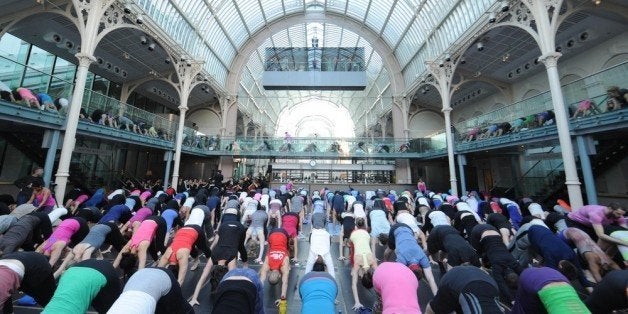 Lululemon created a yoga pants monster. Now it has to find a way to get it back under control.
The retailer that popularized, and once dominated, yoga wear now has challengers on multiple fronts. They include Gap, which is opening Athleta yoga stores alongside Lululemon locations around the country, under-the-radar brands like Prana and Gaiam, and the athletic-wear giants Nike, Under Armour and Adidas.
"We're certainly not the only game in town anymore," new Lululemon chief executive Laurent Potdevin said on a call with analysts and investors on Thursday.
To stave off the assault, Lululemon is trying to get bigger -- both geographically and in its product offerings.
Lululemon, which last year got 95 percent of its revenue from the U.S. and its home base of Canada, will unveil its first store in London next week. Potdevin promised more international expansion to come.
"We see clear evidence of demand both in Asia and Europe, with several countries ready for stores," Potdevin said on the call.
Tara Poseley, Lululemon's new chief product officer, is adding to the brand's selection of core products with more seasonal clothes, which have sold out more quickly than anticipated. Earlier this month, Lululemon launched a new line, dubbed "&go," of casual exercise clothes that can also be worn outside the gym or yoga studio. "You're out the door at daybreak and moving until midnight," the brand's marketing proclaimed. "You have don't have time for a wardrobe that keeps forcing you to change."
Lululemon will also push its men's line more aggressively, executives said on the call. It plans to open three new stores in North America that will feature an expanded men's section.
"Lululemon created the market, others have swarmed the honeypot, and now Lululemon must re-create itself," said Brian Sozzi, CEO and chief equities analyst at Belus Capital Advisors. The retailer's task is made more challenging by the fact that many rivals have kept their prices lower than Lululemon's, even as they have raised their quality and selection, he added.
Its greatest menace may be Gap's Athleta, Janney Capital analyst Adrienne Tennant wrote in a note to clients this week. In February, Gap declared 2013 a "breakout year" for its Athleta brand and announced plans to open another 35 stores across the country, which would bring its total to 100. Lululemon has about 250 stores in North America, Australia and New Zealand.
Potdevin, previously the CEO of Toms Shoes, took the top Lululemon job in December, when the company was in damage-control mode after a spate of public-relations disasters. Those included a recall of yoga pants that were too sheer, the company's practice of shunning customers with larger bodies and insensitive comments about women from founder Chip Wilson. Lululemon's reputation has yet to fully recover, according to data from YouGov BrandIndex, which monitors public perception of companies.
"Lululemon's made the headlines every other week and has not participated in pretty much any of those discussions," said Potdevin. "We need to take control of the discussion about Lululemon."
Traditional selling points for Lululemon are the quality of its clothes and customer service, Sterne Agee analyst Sam Poser wrote in a note to clients on Thursday. If either of those things suffer, customers will leave, he warned.
"That combination has been damaged," wrote Poser. "Hence customers are looking to other brands that may offer a better value proposition."
REAL LIFE. REAL NEWS. REAL VOICES.
Help us tell more of the stories that matter from voices that too often remain unheard.