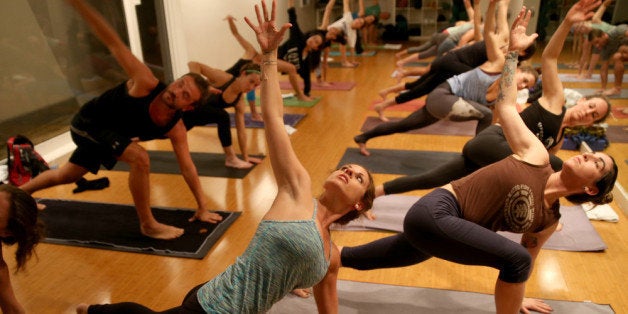 Fewer shoppers are visiting Lululemon stores because of the yoga-wear retailer's repeated controversies, the company acknowledged on Thursday.
Chief Financial Officer John Currie said on a conference call with analysts on Thursday that this year's many public relations fiascos have "undoubtedly" impacted Lululemon's business.
"I think any time there's negative PR for a company, there's an impact on the business," said Currie. "I'm not saying we can see a one-to-one correlation, but let's face it, we've had lots of PR issues this year."
Lululemon warned on Thursday that it expects same-store sales to be flat in the critical fourth quarter, pointing to the struggles attracting customers into stores and supply chain issues. Shares plummeted 11 percent following the news.
The company has been besieged since March, when Lululemon recalled black yoga pants for being see-through. In a surprise move, CEO Christine Day announced in June that she would be stepping down, saying it was a "personal decision." By July, Lululemon was dealing with more problems after employees accused the company of shunning plus-size shoppers.
Quality concerns resurfaced in October, as customers angrily complained about sheer and pilling yoga pants, which cost between $82 and $128. Lululemon founder Chip Wilson went on Bloomberg TV and blamed the issues on "women's bodies," sparking a new wave of outrage. Even Wilson's eventual apology was vilified for its insincerity, and he resigned from his position as chairman in December.
Currie said Thursday that Lululemon has not received specific feedback from stores that the decline in traffic is related to a certain incident, like Wilson's comments or concerns about the quality of the retailer's garments.
According to data from YouGov, a market research firm, women shoppers have been exposed to a massive amount of negative news about Lululemon since the yoga-pants recall in March. Research showed that women's overall perception of the brand dipped four times this year. Following Wilson's comments about women's bodies, female shoppers seemed to shy away from wanting to buy Lululemon's clothes.
Sam Poser, an analyst at Sterne Agee, wrote in a note to clients on Thursday that he's concerned improvements to rectify problems in Lululemon's supply chain may not be enough to offset the damage done to the brand. Coupled with incoming CEO Laurent Potdevin's lack of retail experience, Lululemon faces a tough road ahead, the note said.
"We contend that the poor press has taken the bloom off Lululemon's rose," wrote Poser.