Just in case Lululemon's see-through yoga pants weren't sheer enough, the retailer is rolling out a product that is more revealing than ever: spray-on yoga pants.
Well, sort of. In what was most definitely a joke, Lululemon embraced a recent gag by late-night comedian Jimmy Kimmel by prominently displaying the spray-on "pants" on its website: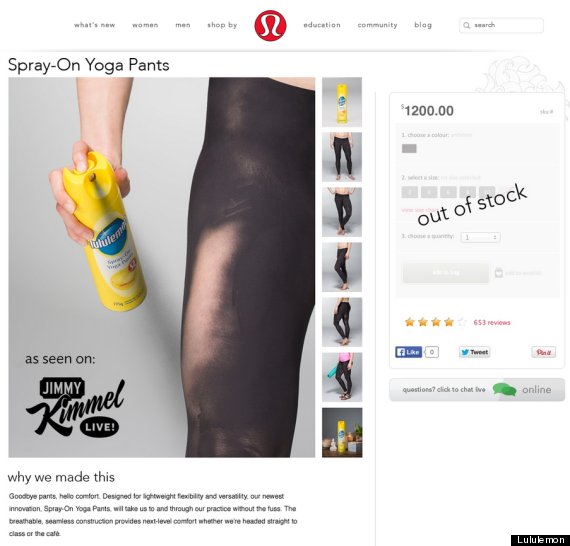 The $1,200 "next-to-naked" pants are allegedly already sold out, but Lululemon didn't respond to The Huffington Post's request for comment, so we can't confirm.
During the original spoof, which aired last Thursday, Kimmel jokingly claimed the controversial pants are "so tight that they cut off circulation to the part of your brain that decides how much money its OK to spend on yoga pants."
Meanwhile, these new spray-on pants, he said, are "even more revealing than the yoga pants they already sell." Here's Kimmel's original spoof:
Correction: An earlier version of this post said that Lululemon ran the joke on Tuesday, in connection with April Fools. Lululemon's spoof has in fact been up for a couple of days.
Calling all HuffPost superfans!
Sign up for membership to become a founding member and help shape HuffPost's next chapter