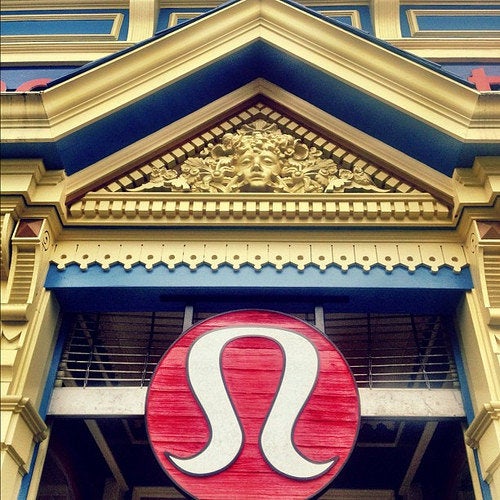 First, let me just say, on behalf of all the Lululemon-loving women out there with young daughters... OMG! When I heard that the Vancouver-based athletic wear designer Lululemon had an entire store of dance and yogawear for girls, I was, like, so excited. And then I was shocked, because, um, where have I been? How did I not know this important piece of info? I immediately surfed the Internet and saw for myself that it was true.

Hooray!

As a former gymnast, dancer, diver and wannabe Knicks City Dancer, I know a thing or two about active wear. I know it has to flatter your body and not crawl up your butt. And, now, as an indoor cyclist and writer who sits around in sweatpants, I know that there's nothing I'd rather wear for both/either activity than my Lululemon Gather and Grow cropped pants and a Cool Racerback tank.

Not to mention, I have a 7-year-old daughter who likes to pretend she's a hip-hopping rock star.

Let me put on my journalista cap and get down to business, sharing what I know with all of you Lemonheads out there.

The first Ivivva Athletica store opened in Vancouver in late 2009, and now has about 8 outposts throughout Canada. But we live in the US of A, so we don't care that much about those stores. We want ones here. And, guess what? We've got 'em. There are Ivivva showrooms in New York City, Boston, Chicago, The OC and Bellevue, WA. (These smaller, cozier stores are opened for limited hours on certain days, so check the website for specific information before you go.) Temporary pop-up stores currently exist in Scottsdale, AZ and St Louis, MO (this one opens at the end of October).

As expected from Lulu, the Ivivva active wear is cool, hip and functional, as well as slightly overpriced. But, in a sort of funny way, that higher price point probably makes us lust after the clothing even more, and the Lulu people know that. And they know that we know that. And we buy it anyway. And they like that very much.

Anyway, back to the girls.

To quote the website, "If you haven't guessed by now, Ivivva is made for seriously active girls. All of our clothes are designed with input from dancers, gymnasts, ice skaters, movers and shakers. And, we even have dance classes in our stores every week."

(Is your blood pumping harder? Is your heart beating faster? 'Cuz mine sure is. Let me quote on.)

"As members of the Lululemon athletica family, we share the same DNA. That means we use the same, high-quality, technical fabrics in all our clothes and that everything we make is designed for active girls who love to move and aren't afraid to sweat."

Go, girlpower!

Should you not live near an actual Ivivva store or showroom, do not fear. You can shop online. (Just make sure to switch from CA to USA so you are ordering from the American website and paying in US dollars. FedEx Ground shipping is free.) Should you need to get an item hemmed, bring it to any Lululemon store for free alterations.

Plus, Ivivva cares. "Gymnasts told us they were tired climbing out of the pit with little bits of foam stuck to their outfits, so we started using the foam-resistant power luxtreme fabric for our Rhythmic Shorts." I mean, I think I want to cry. They love our daughters that much? Can they make chalk-resistant leotards?

"The vents in our Double Time Gym Bag came from a dancer in Calgary who wanted more air vents for her stinky shoes."

They do love us. They really do.

And we heart them back.

Namaste.
Related