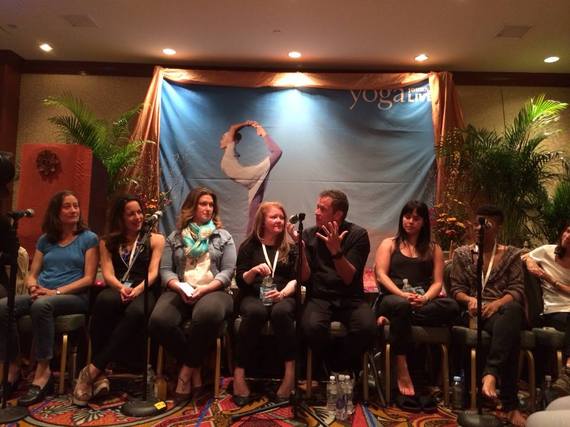 Six months after I decided to "hang up my Lulus" due to troubling attitudes among top leadership at Lululemon Athletica, I got my moment to speak truth to power. At the Yoga Journal conference, I sat on a panel with Lululemon CEO Laurent Potdevin, senior executives, and other activists. All I knew about this unorthodox event convened by nonprofit Off the Mat, Into the World and Yoga Journal was its intention to foster "an open and honest dialogue" about the "practice of leadership." Here are my impressions of what went down.
1. "Dialogue" didn't, but could still, happen. Including the two moderators, Hala Khoury and Seane Corn of OTM, 11 people sat in a straight line on this 90-minute panel. Introductions took 30 minutes, and I daresay nobody was satisfied with the depth of the "dialogue." Mostly, the moderators raised a question, got a vague answer, and perhaps one comment. Lululemon has agreed to continue this conversation virtually and to participate in three more live events, so let's hope deeper dialogue will come.
2. Lululemon is unclear on its "core values," or at least didn't want to discuss them. Lululemon has a manifesto, and yet not one representative explicitly referenced these tenets or how specifically the company had in the last year "lost its way," as executive Rachel Acheson expressed. I wanted to see Potdevin defend the controversial Landmark Forum, a seminar required as part of employee orientation and also widely considered a cult in his native France. I wanted to hear him endorse Ayn Rand's dismissal of altruism before a room of (likely) left-leaning yogis. It was (almost) enough to make me wish infamously-outspoken founder Chip Wilson were there to tell us what Lululemon stands for.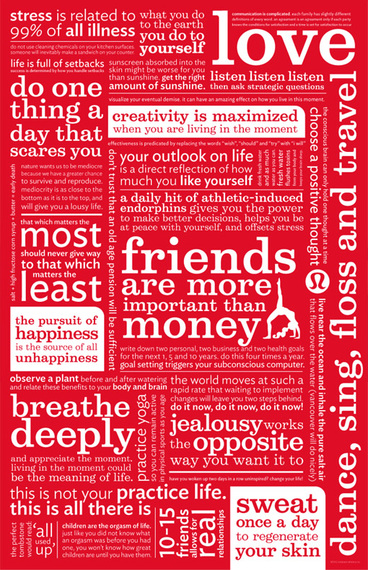 3. This lack of clarity echoes contention over "yoga values." Panelist Alanna Kaivalya defined "yoga values" as fundamentally anti-corporate; an audience member informed Potdevin that a "yoga company" will inherently "self-destruct." Executive Delaney Schweitzer disagreed, rapturously describing how Lululemon introduced her to a life-changing yoga practice and articulated the company's intention to do the same for its "educators," but that's conceivably a strategy intended to develop employees with "on-brand" hobbies even off the clock. Then there's the issue of whether yoga is inherently communitarian or individualistic. Yoga scholar Carol Horton acknowledged corporate-influenced yoga is an unavoidable reality, but suggested replacing highly-individualistic Landmark with a more civically-oriented training. It isn't Lululemon's responsibility to resolve these grand philosophical conflicts, though it would be truly radical if they used their cultural power to claim thought leadership in this realm.
4. Most everyone thinks Lulu has a responsibility to do more than sell pants. Lululemon could, of course, spare itself much drama by abandoning the lofty rhetoric and just selling clothes. Several panelists pointed out, however, that because Lululemon and yoga culture have become so intertwined, the company has an ethical obligation to wield this influence responsibly. Indeed, it seems that in this age of "conscious capitalism" (think FEED, (RED), and Warby Parker), a self-respecting enterprise must aspire to more than a profitable bottom line. I hope Potdevin's tenure at TOMS, an explicitly socially conscious (though not uncontroversial) concern, suggests Lululemon will shoulder this responsibility seriously.
5. We consumers must hold companies to higher standards, even if it means sacrificing a cute rear. Googling "Lululemon butt" yields over a million hits such as "The Unbearable Awesomeness of Lululemon Pants," which remain silent about the company's ethics but effuse about "perfect little Lulu butts" and how the stores feel like places "popular girls" would hang out. Khoury made the point that consumers must ultimately decide whether we will actually privilege ethics over "looking really good," a commitment the politically minded crew in the room seemed prepared to make, even if the popularity of pervy sites such as "Girls in Yoga Pants" suggests corporate social responsibility is not universally a paramount concern.
6. People care a lot about the socioeconomic exclusivity of yoga culture. The shared sense of urgency to democratize access to yoga -- and "wellness culture" in general, as I've argued -- was the most inspiring part of the panel. At least three initiatives dedicated to engaging disenfranchised communities were represented, and the audience contained more. Corn suggested Lulu create a new standard in its visual materials such that "it would become offensive NOT to include" groups such as the heavyset, disabled, or transgendered, all currently invisible in most yoga media. Horton observed that "just opening store doors" was insufficient, given their location in affluent neighborhoods. Here again the constraints of the format prevented us from hearing Lulu leadership articulate how they have been complicit in confining yoga to "skinny rich white ladies," as one audience member said, and how they might concretely commit to transcend these boundaries.
7. They care somewhat less about body diversity. Surprisingly, given the flak Lululemon has received for failing to manufacture large sizes and for blaming its quality issues on women's ample thighs, issues of body diversity were largely folded into observations about socioeconomic status. Most seemed justifiably more preoccupied with expanding access to yoga among the disenfranchised than with ensuring size 14 women of means access to hundred-dollar yoga pants.

8. No one cares about sheer pants. One of Lulu's humiliations in 2013 was the production of thousands of sheer pants, which they probably anticipated addressing given the presence of a senior production executive. No one mentioned it!
9. Chip Wilson is the third rail. Wilson is legend for his offensive comments on gender, child labor, and race. Every single employee with whom I have discussed Wilson has tried to distance herself and Lululemon culture from him. He only came up once at the panel, I think, because we had all committed to "speak with love and respect" and Wilson makes people so angry it might have such decorum impossible. When Schweitzer, one of Lululemon's first employees, attempted to humanize Wilson as "her neighbor," the guy who introduced her to yoga, and shared playdates with her kids, the crowd was silent, probably weighing whether or not to go down a Wilson rabbit hole. Luckily we didn't, but it is worth remembering that whatever Lululemon's new direction, Wilson remains its largest shareholder.
10. Lululemon should be judged based on what they do now, not primarily on their willingness to participate in this panel. There was a lot of thanking Lululemon for taking the hot seat, and they certainly took a risk engaging publicly with their critics. Yet it is the company's tremendous power that enabled this scenario: a packed room of yoga luminaries and interested citizens devoting time and energy to help Lululemon brainstorm how it might save itself and win us back. The thanks will be due if (and I hope when) Potdevin and his team treat seriously this moment as the beginning of a deeper conversation that culminates in large-scale, concrete action dedicated to expanding access to the wellness culture Lululemon has paradoxically both helped create and to which it constrains access.
If that happens, I just might bring those Lulus back into circulation after all.
Calling all HuffPost superfans!
Sign up for membership to become a founding member and help shape HuffPost's next chapter