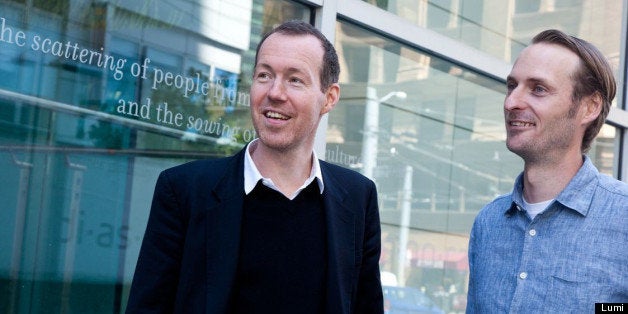 What happened to online music may be about to happen to the entire Internet.
Two of the entrepreneurs who founded Last.fm, a popular Internet radio site that recommends songs and artists, have unveiled a new project: a Web discovery application called Lumi that sifts through a person's browsing history to recommend new things to read, watch and buy.
Just as Last.fm and Pandora can pivot from your love of Arcade Fire to Radiohead based on your listening preferences, Lumi uses your online browsing habits -- noting your interests, from travel to Apple to environmentalism -- to serve up related Web pages from sources both prominent and arcane.
Lumi chooses its recommended websites, which can be news, apps, IMDB pages or anything else found online, based on sites other Lumi members are visiting. The site uses an algorithm to find pages that are trending among Lumi members, and delivers the results in an elegant, graphically rich tiled layout.
"It's like a Last.fm for everything," Martin Stiksel, who co-founded Lumi with Felix Miller, told The Huffington Post.
News aggregation and Web discovery are crowded fields, but Lumi's founders say their product is different from RSS services and popular apps like Zite, Pulse or Flipboard -- and even Twitter -- because it doesn't require its members to choose topics that interest them or sources they want to follow. Simply install a Web extension -- on Firefox, Chrome or Safari -- and visit Lumi.do to see recommended pages.
"The cool thing about using browsing history is that it's effortless for the user," Miller said. "They don't have to adopt a new behavior because they are using the Web everyday."
But a person's browsing history also holds some of their most private information: People take to the Web to ask questions about medical conditions, sex, relationships, and, of course, to look at adult content.
And because Lumi ingests and stores your browsing history, it knows almost everything you do online.
The last decade of technology is full of examples of people handing over private information in exchange for new experiences or convenience. We let Google read our email and serve us targeted ads because we love Gmail. We share our locations with Yelp in exchange for restaurant recommendations. We tell Pandora that we like Andrew Bird because we want to be exposed to music we don't know but are likely to enjoy.
The question for Lumi is whether people will hand over their browsing histories in exchange for a range of new experiences online, from reading obscure blog posts about subjects that may interest them to learning about new gadgets or places to visit.
Lumi's founders dismiss the privacy concerns, asserting that people are savvy enough to dabble in their service and still keep some activities private by using browser modes like Chrome's Incognito or Safari's private browsing option, which prevent sites they visit from being recorded in their history.
Miller and Stiksel are also quick to note that Lumi only sees "publicly available content," so it doesn't know what a person is doing behind password-protected sites like Gmail, Facebook and bank sites.
Lumi says that a person's browsing history is not only encrypted, but also anonymized -- that is, the stored browsing data isn't connected to a person's identity. The privacy policy states that "Lumi has been built intentionally to make it almost impossible to link an individual with his or her browsing data."
The company notes in its privacy policy, "We may be required to disclose certain data under a court order that we receive. We believe that this would not include your browsing data because it is stored anonymously."
When I signed up for Lumi, it came to the quick conclusion that my interests included the National Security Agency, Verizon, tech, music, business and Capitol Hill. Lumi has presented me with dozens of websites, ranging from articles from the Associated Press and the BBC to Apple's App Store, an Engadget YouTube video and a blog post by Sam Whited, a physicist and engineer.
Several of the pages served up by Lumi were from sites that I wouldn't have visited on my own, but that no doubt fell within my interests.
Miller and Stiksel, who sold Last.fm in 2007 for $280 million, are self-funding the nine-person company. They said that they don't yet have a revenue model -- but it won't consist of selling a person's data.
"If we have a great user experience, we'll figure out the best way to monetize it," Miller said. "We believe in creating amazing experiences based on data and then figuring out how that experience becomes a commercial concern."
Lumi has for me provided a very easy way to find news and commentary that I may not have seen otherwise. But the company's success hinges on a question that has become increasingly common in the connected age: How much privacy are we willing to give up for convenience? In order for Lumi to be successful, customers will not just need to be willing to hand over their browsing histories, they'll also have to find that Lumi provides an easy way to discover interesting content they may not have found elsewhere.
Related
Popular in the Community