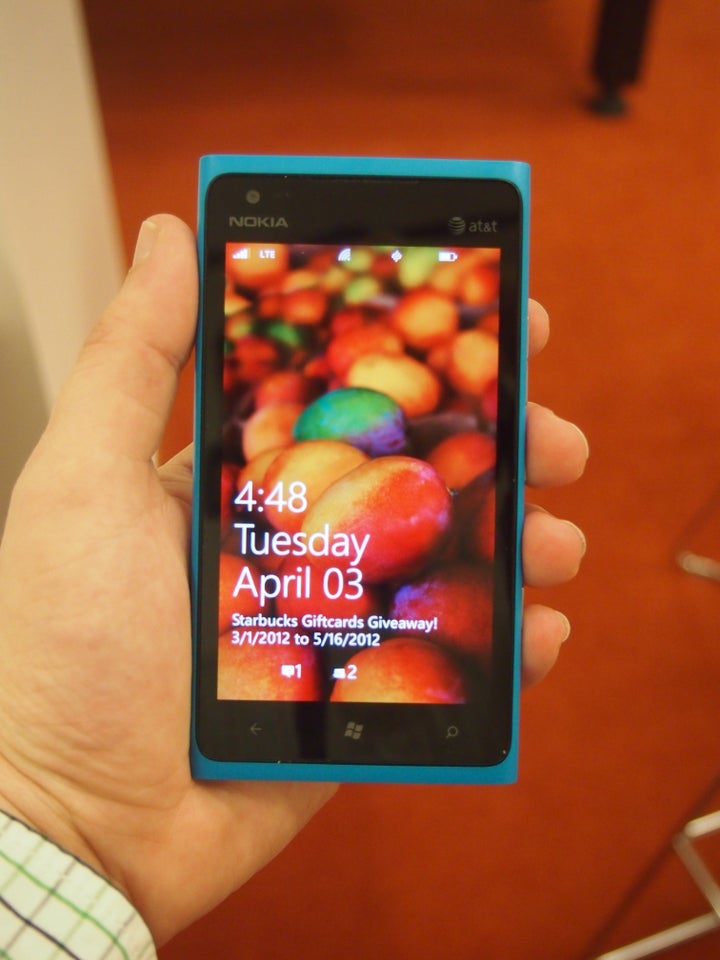 If you're a certain age -- old enough to hate "Twilight," say -- you probably once owned a Nokia phone. Its primary assets, as you'll recall: It could be locked by pressing the left navigation key and then the star button; it came pre-loaded with a deceptively time-consuming game called Snake; and it could stand on its butt and do a vibrating boogie to the Mexican Hat Dance.
Look at these phones! Look at them dance! Take that, Siri!
"And so what is the point," you may be wondering, "of buying a Nokia phone, if said phone cannot even dance on its butt?"
Turns out there are plenty of reasons. Despite not including the heavily desired butt-dancing feature, Nokia has produced an excellent smartphone in the Lumia 900. With an eye-catching display, attractive design and perhaps the most intuitive interface available for a smartphone with the Windows Phone OS, the Lumia 900 is a new top-tier option on AT&T, joining the iPhone 4S and Samsung Galaxy S II as the best phones available on that carrier.
Well, the Lumia 900 sure is funky looking: It's totally flat on the top and bottom but curved on the sides; the body of the phone feels like smoothed, hardened Play-Doh. (It's actually "one-piece polycarbonate," available in black, white or cyan).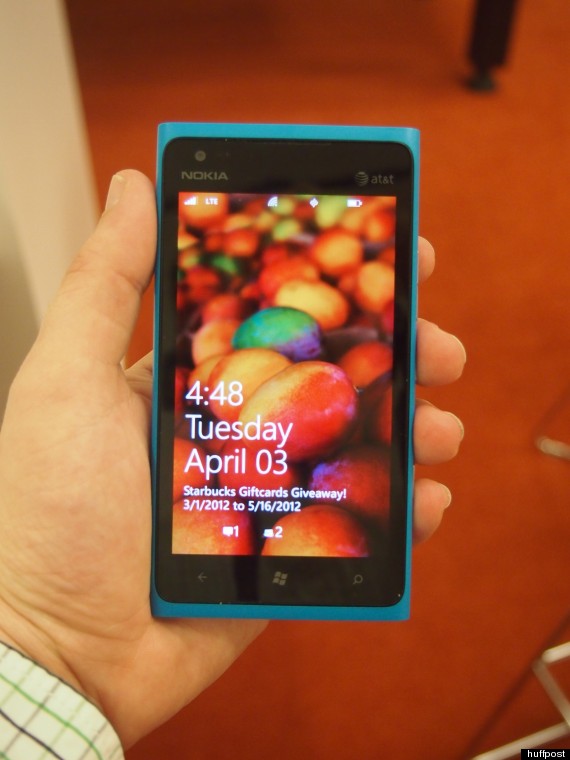 The Lumia 900's 4.3-inch "ClearBlack" display is very responsive: You're not going to have to tap an icon or a link twice. I'd say touchscreen responsiveness is on par with the iPhone 4S' 3.5-inch screen and noticeably better than the Galaxy SII's 4.3-inch display.
And while this isn't such exciting news for those of us who live in this dark, dank shadow-hole called Gotham, the Lumia 900 performs incredibly well in sunlight: Founder, President and CEO of DisplayMate Technologies Corporation Raymond Soneira writes that the Lumia 900 "has the lowest Screen Reflectance of any mobile device" he's ever tested, and in the limited amount of sunlight we get here in New York City, I was impressed with how clear my Lumia 900 looked outside.
The spec-obsessed will note that the iPhone 4S (960x640) has a much higher screen resolution than either the Nokia Lumia 900 and the Galaxy S II (both 800x480). That should mean sharper images and text on the iPhone, though I never found myself disturbed by pixelating on the Lumia 900. The screen's a delight.
WHO THE EFF WANTS A MICROSOFT PHONE?
The Lumia 900 runs the Windows Phone operating system -- no, wait, don't run away! A relatively new entrant to the mobile space, the Windows Phone OS has little in common with its stodgy, cubicle-bound desktop cousin: It's critics' surprise favorite though it has yet to take off with the larger public (perhaps because people hear the word "Windows" and just want to beat the ink out of a copier with a baseball bat).
Windows Phone, simply, is the very simplest smartphone interface there is. It edges out Apple's iOS for user-friendliness and makes the Samsung Galaxy SII's Android seem like some kind of cruel, totally innavigable, M.C. Escher-esque labyrinth. With the reliably solid performance of the phone, Windows Phone makes the Lumia 900 one of the best buys for a first-time smartphone purchaser.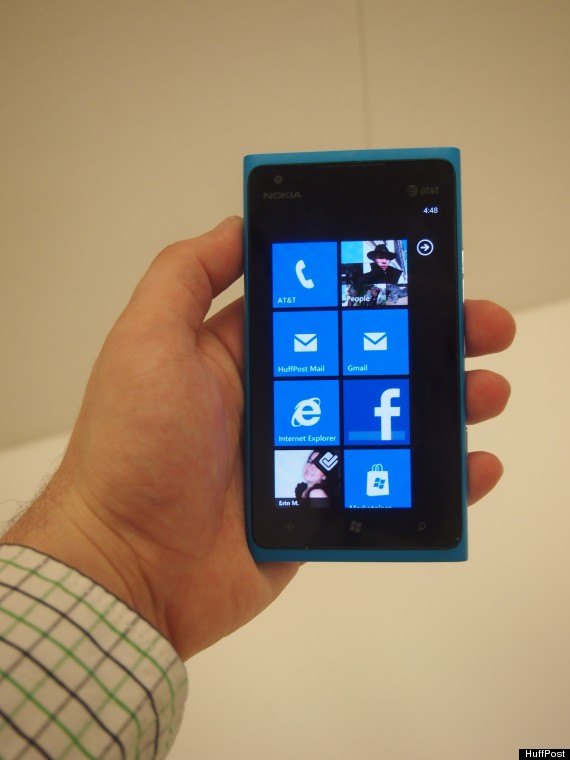 The home screen of the Nokia Lumia, running the easy-breezy Windows Phone operating system.
Now, this ease-of-use cuts both ways: Though first-time buyers will be enchanted by Windows Phone's accessibility, those switching over from Android or iPhone might be disappointed by its lack of quality apps and its relative lack of functionality (good luck finding the "Archive" button in Gmail...).
The big name apps are all here and they look great -- Facebook and Spotify, in particular, shine. But Windows Marketplace's 70,000 apps still lack the breadth and scattered excellence of those available to Android (500,000) and iPhone (600,000) users. Cutting-edge and impatient ones should be aware that the hottest apps seem to start off on iOS and Android, and gradually make their way to Windows Phone months later. (See the Angry Birds Space for a good example of how this generally works).
The core apps of Windows Phone are solid, however. Internet Explorer clears away the clutter for a neat browsing experience that bests the browsers on Android and iOS; Maps, with spoken, turn-by-turn directions, nears Google Maps on Android for navigation excellence (and continues to embarrass Apple's Maps on the iPhone). Voice quality was great, as was the clarity on speaker phone.
Despite a terrific screen, fast 4G LTE speeds and the super-intuitive Windows Phone OS, Nokia's new "hero" phone has more than one Achilles' Heel.
The Lumia 900's camera did not perform well in my tests, especially in low light and at night; the iPhone 4S remains the best choice for photographers.
Battery life is just mediocre: Though your Lumia easily will make it from 9 to 5, you'll get far more juice out of the Galaxy S II and especially the iPhone 4S. A bit chunky, the Lumia 900 (0.45-inch thick, 160 g) is both thicker and weighs more than the GS2 (0.33-inch, 116 g) and the iPhone 4S (0.37-inch, 137 g). It is perhaps a bit heavier than you might want from a mobile device.
The Lumia 900 also becomes the only flagship phone without a microphone for voice dictation on all text fields. Both Apple's iOS and newer versions of Android feature a permanent microphone icon on the keyboard so that you can speak your text wherever you would type it; Windows Phone features a limited set of voice actions (Call, Text, Web search, opening apps), though, surprisingly, no wall-to-wall dictation.
NO BUTT-DANCE, BUT DANCE ANYWAY
So who is the Nokia Lumia 900 for? At AT&T, first-time smartphone buyers should consider the Lumia 900 against the iPhone 4S. While the Lumia 900 offers a more attractive, more intuitive interface and a better core experience in email, calling, Internet, and maps, Apple's iPhone brings far better apps, voice dictation support and the iMessage service for free iPhone-to-iPhone messaging. Smartphone veterans who stick to the core smartphone functions -- calling, texting, Internet surfing, navigation -- and who don't mind a relatively paltry selection of third-party apps should also give the Lumia 900 a spin. Power users on AT&T who like lots of control over their phones should just stick with Android and the Galaxy S II (or, better, wait for the HTC One X and the Galaxy S3, both of which are due later this summer).
For the rest of you, however, take a long look at the Lumia 900. It might not butt-dance, but you might be dancing anyway.
THE CAPTAIN GADGET SPEC LIST FOR THE NOKIA LUMIA 900
Carrier & Cost: AT&T, $99 with two-year contract
Display: 4.3 inches, AMOLED
Weight: 5.64 oz, or 160 g, or "pretty heavy a 4.3-inch phone"
Pre-Loaded With Snake: No
Dimensions: 5.03 inches x 2.70 inches x 0.45 inch
Operating System: Windows Phone 7.5 "Mango"
Network: 4G LTE
Features Beethoven's Fur Elise As Default Ringtone: No
Can Dance On Its Butt: No
Battery Life (stated): Seven hours talk time, 350 hours stand-by; non-removable
CPU: 1.4 GHz single-core
Memory: 512MB RAM
Storage: 16GB internal; no MicroSD card slot
Camera: 8MP rear-facing with flash and Carl Zeiss optics; front-facing 1.3MP; physical camera button on side.
Here are some photos of the Lumia 900, including size comparisons with the iPhone 4S. I also compare the camera of the iPhone 4S with that of the Lumia 900.
PHOTO GALLERY
The Nokia Lumia 900
Below, find a specs comparison of the three best smartphones on AT&T: the Apple iPhone 4S, the Samsung Galaxy S II, and the Nokia Lumia 900.
Calling all HuffPost superfans!
Sign up for membership to become a founding member and help shape HuffPost's next chapter