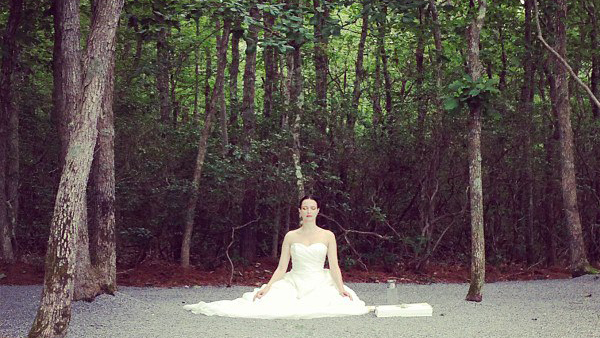 A "luminous object" in the world of physics refers to an entity, such as a star, which is capable of generating its own light.
Hubble Ultra-Deep Field imagery collects the light of such objects by focusing a Wide Field Camera into seemingly vacant portions of outer space. Lengthy durations of exposure reveal seemingly black fields to be teeming with the ancient light of the first galaxies.
As I have trained my mind to meditate for lengthy durations over the past few years, I have discovered that the gradual intensification of theta rhythmicity in the brain enables me to access a similar superabundance of otherworldly visions -- but within the realm of inner space.
Meditation is a doorway into the inner universe, a place flourishing with surprising varieties of light: multicolored showers of stroboscopic effulgence, dazzling colors, kaleidoscopic geometries, striated space which seems to suggest of additional dimensions and other bizarre visual manifestations. This Thursday I will embark on my two-week performance, Luminous Objects, my deepest expedition to date into the nature of radiant inner vision.
From 4 p.m. to midnight each evening from August 15th to August 29th, I will perform a minimal practice of silent meditation for eight hours -- all the while harvesting the visions generated by prolonged theta brainwave meditation and sharing them with my audience in real-time. There is a light that can be observed only when the eyes are closed and the mind is intently focused. In this performance I seek to collect and share it.
The performance will be presented as part of Soapbox Gallery's Plethora exhibit, featuring a collaboration between the Los Angeles-based artists Linnéa Spransy, Maggie Hazen and I, which will explore how the tools of endurance, meditative performance, incremental growth, installation drawing and intricate sculptural accumulation bring inert space into abundance -- demonstrating the transformative potential of simplicity to summon richness. During the course of Plethora, vacant space will become a complex installation art piece via small repetitions, endurance performance and hidden activity.
During my rest periods, Linnéa and Maggie will install chaos and emergent system theory-inspired drawings and create environments based on modular strategies of growth. These will accumulate incrementally, to a crescendo that nearly subsumes or encases me; evidence, even to the us, that from simple, almost automatic actions, whole surprising worlds can accrue.
Individually, Linnéa, Maggie and I have pre-existing interests that engage accumulation, endurance and repetition as means of accessing our respective studio inclinations. These tools, however, are worlds in and of themselves. They resonate between spiritual practice, the natural world and industrial life and are the subject of our proposed collaboration.  
On an afternoon in late July, I presented the first iteration of my Luminous Objects performance at the Armory Show's Summer Celebration at the home of Chiswell Langhorne in Sag Harbor. I was moved to find how participatory and generous the audience responded to my simple gesture of creating meditative space and I was honored to have many guests at the event -- General Wesley Clark, Andrew Goldstein and the lovely Jennifer Pastore, among others -- sit in a garden and meditate with me.
This forthcoming, lengthier installment of the performance will no doubt be more challenging -- and exciting. As is ever the case with performance art, the outcome of this kind of embodied, experiential research is yet to be seen. I look forward to sharing the adventure!
The Soapbox Gallery is located at 636 Dean Street in Brooklyn, NY. The exhibition will run from 15 August through 30 August, 2013 with a reception for the artists Saturday 24 August, 6 p.m. - 8 p.m. and a closing event with the artists and special guests Friday 30 August, 6 - 9 p.m.. soapboxgallery.org
Calling all HuffPost superfans!
Sign up for membership to become a founding member and help shape HuffPost's next chapter