More than 200 million people in the United States are battling various types of addiction according to information gathered from the Center for Disease Control, the National Association of Anorexia Nervosa and Associated Disorders, the National Institute on Alcohol Abuse and Alcoholism, and the National Institute on Drug Abuse. Less than 10% receive treatment, making addiction the nation's most untreated disease. Smoking, alcohol, and eating-related issues round out the top 3 most common of addictions and cumulatively create a yearly economic burden of $800 billion. Despite the dire health and economic consequences, the United States has not yet developed substantive measures to battle addiction.
Dr. Akshaya Shanmugam, has dedicated her time to studying addiction and developing ways to help victims disengage from their addictions. During her PhD, her focus was to develop disease screening and health monitoring devices to address the key drawbacks of healthcare today.
"I was brought up in India where access to healthcare was a privilege for the few," she says. "What pains me the most is that issues such as costs, accessibility, and resources affect individuals not just in developing countries, but across the globe. Technology has drastically evolved to solve these problems, but it needs to be ethically designed, made patient-centric, and comprehensively tested for it be an effective solution. My mission is to translate responsibly conducted research to commercial products and change the way we monitor our health while making it affordable for the masses."
However, Shanmugam soon realized that no matter how innovative and practical the technology is, it won't do anyone any good if it sat unharnessed in a lab. This revelation led her naturally into the idea of entrepreneurship. She teamed up with her PhD advisor at UMass Amherst, Dr. Christopher Salthouse, to collaborate with Dr. Abhinav Parate and Dr. Deepak Ganesan, who developed an automated gesture recognition technology. Dr. Parate's software platform used data from wrist-worn sensors to automatically detect when an individual is eating, drinking, or smoking with a high degree of accuracy.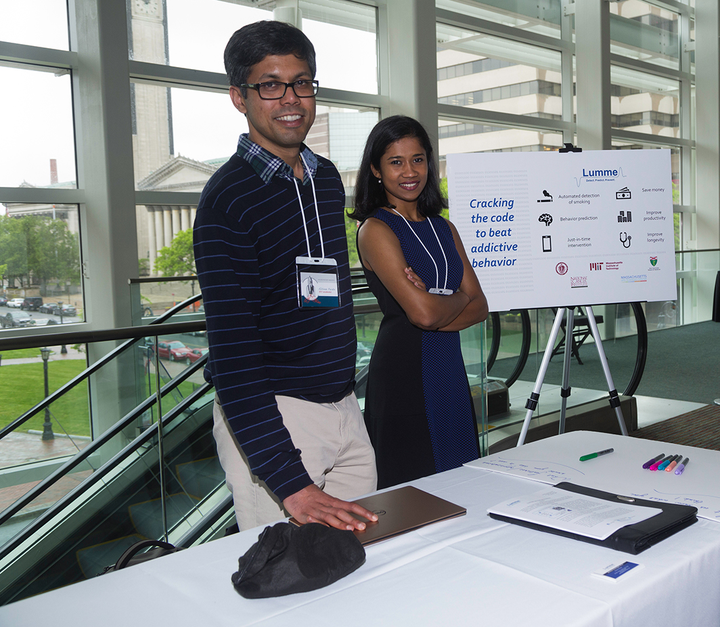 To couple this technology with the best treatment, they reached out to the nation's leading expert on addiction and behavior change, Dr. Sherry McKee from Yale School of Medicine. Dr. McKee, also a co-founder of Lumme, is the director of the Yale Tobacco Treatment Clinic and has over a decade of experience treating smokers.
Out of these collaborations, Lumme, a company with the mission to combat addictions of all types, was established in 2014. Since that time, Lumme has developed its technology, and received more than $1.7 million in grants, including from, the National Cancer Institute, the National Institute on Alcohol Abuse and Alcoholism, and the Massachusetts Life Science Center. Additionally, Lumme participated in the Valley Venture Mentors Accelerator program, which helps local start-ups grow. At the end of the program, Lumme was named a finalist and awarded additional money.
One key element of Lumme is to utilize the power of modern technology in a way that is subtle, but practical. In this case, smart watches and other wearable devices can do so much more than tell time or access the internet on your wrist.
Wearable devices today can detect and record almost any activity, however that data often goes unused. Lumme's technology takes the information captured by wearable devices and uses it to predict user behavior and offer personalized therapy and tips to improve health—all without any input from the user.
"Our first product is a smoking cessation platform that has a smartphone app and a web interface," noted Shanmugam. "The app is designed to detect, predict, and prevent relapse. The app analyzes hand gesture data from a smart watch to automatically detect when the user smokes. The app also gives the user contextual information such as location, time of the day, and social interactions associated with their smoking behavior."
Lumme's smoking app will first spend about two weeks passively monitoring the user's habits (in this case, smoking) by identifying hand gestures. After that, it will use that information to automatically predict when the user is most likely to relapse, and delivers personalized interventions six minutes before they experience cravings. Lumme's personalized quit program is designed to help smokers for a total of six months. If the user decides to use the app beyond the six month program, they have an option to extend it.
The smoking cessation platform will be available for limited release pre-sale on December 18th on Lumme's website. Their offerings include a suite of apps for all types of smokers. They are offering their complete program for smokers looking to quit the habit and another version for smokers just looking to track and gain more insights about their habit.
Lumme also has two other addiction cessation products in the works to monitor alcohol addiction and diet-related addictions. They also plan to later extend the platform to address opioid, marijuana, and other substance abuse disorders.
As Lumme has continued to make great strides in addressing addiction, Shanmugam has also been honored as a Forbes 30 Under 30 in Healthcare recipient. She says she was immensely honored, especially since it points to the fact that her work is improving the quality of peoples' lives. While Shanmugam was not expecting this recognition, the visibility it had given Lumme has been invaluable.
"In less than a week's time, Forbes turned the tables on Lumme in the best way possible. From having to reach out to customers and end users, we now have large companies and venture capitalist firms requesting us for meetings and pilots. We have been receiving an overwhelming demand from all over the world."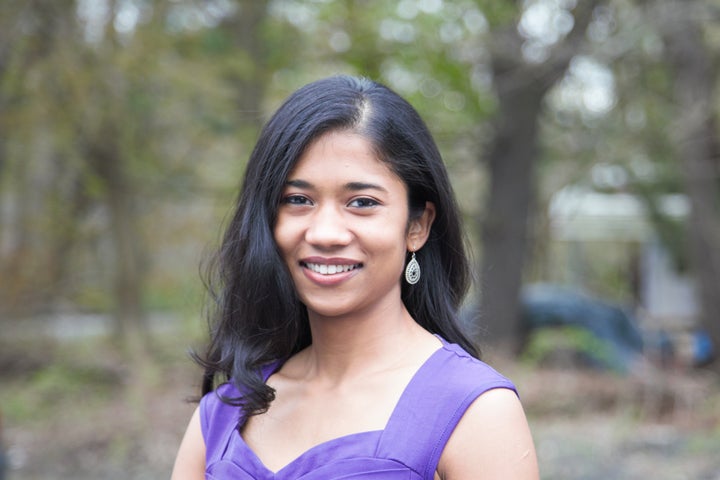 By all accounts Shanmugam's first venture into entrepreneurships and innovation has been successful. She says "every day is a new challenge, and it is that thrill that motivates me to work harder. My team is also extremely driven and working alongside brilliant scientists is truly exhilarating."
Of course, in addition to a dedicated team, every entrepreneur needs a support system outside of the company, something Shanmugam has used to propel her aspirations.
"My dad, D. Shanmugam, mom, Geetha Shanmugam, and my sister Deepthi Shanmugam have been an immense source of support and motivation. All of what I have been able to achieve is because of all the sacrifices they selflessly made. My husband, Lokesh Subramany has been a pillar of support and strength. His unwavering trust and encouragement toward all of my personal and professional endeavors have been a huge boon."
Lumme has a big vision for a bright future in changing the way we monitor our health. Outside of addiction, the company has plans to adapt its technology to continuous patient monitoring, early diagnosis, chronic disease management, and to quantify treatment outcomes to a degree never before possible.
To keep up with Lumme, visit their website. If you suffer from addiction to smoking, buy the technology on limited release starting December 18th. You can also find them on Facebook, Twitter, and LinkedIn @LummeInc.
Popular in the Community