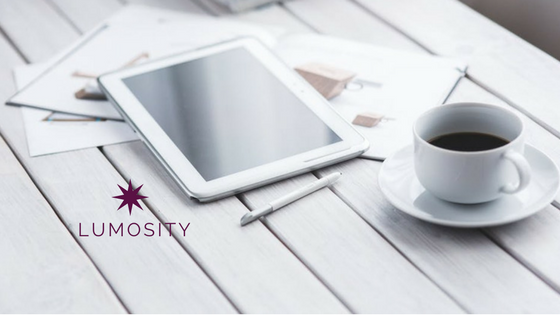 When you think of people who play video games, usually you think of teenagers or kids, right? Well, I have to admit, I've been spending my time playing video games lately – and I'm excited to share about it!
Of course, when I say video games I'm defining these games quite generally. I'm actually talking about the mind games on the genius website Lumosity. I have no affiliation, so there's nothing in it for me if I plug the site here, but I will tell you this: These games have been great stress relievers for me. Not only that but playing on Lumosity makes me feel super productive because it was created specifically to increase focus and brain power.
Lumosity is basically a series of games that anyone of any age can play and enjoy. My son introduced it to me and I just love it. I do my best to play on Lumosity regularly and make it another daily practice, although I'm not there yet. When I do play, however, I remember quickly how much I really love it. Even though it's working my brain, to me, it's just pure fun.
It is really good for our brains to play games, this is now a known fact. We keep our minds sharp when we play games involving memory, logic, pattern recognition, words, and numbers. I like to think of brain games as the gym for my mind. Just like we need to keep our bodies in good shape, we also need to keep our brains in good shape!
While I choose to just play random games that appeal to me, Lumosity offers so much more. For instance, you can take a test and it will give you games to match your unique needs. It will suggest different categories of brain acuity you can work with or target based on your results. I know for me, speed is not a strength of mine, so Lumosity presents me with more games to help build that skill. My memory is good, however, so I tend to score higher in memory-based games.
I thought it would be a fun break from my usual posts on stress management tips to share this great website and encourage you to increase your brain power. Just one more thing we can do to get out of overwhelm and out of stress, and support ourselves in having happier and more productive days. A mentor of mine, Jenny Shih, says work doesn't have to be so hard, so let's follow her lead, take a break and play together!
Go check out Lumosity and let me know if you enjoy it! Please feel free to comment below, or join me on Facebook.
(Once you are on my Facebook page, I would love it if you joined our private Authentic Connections Facebook group!)
Are there any other brain games you like, or sites that offer games similar to Lumosity that you love? Share them with us!
If this blog resonates for you, please feel free to reach out. I would love to learn more about how I may support you and your business. Sending you tons of love and light!
REAL LIFE. REAL NEWS. REAL VOICES.
Help us tell more of the stories that matter from voices that too often remain unheard.
This post was published on the now-closed HuffPost Contributor platform. Contributors control their own work and posted freely to our site. If you need to flag this entry as abusive,
send us an email
.