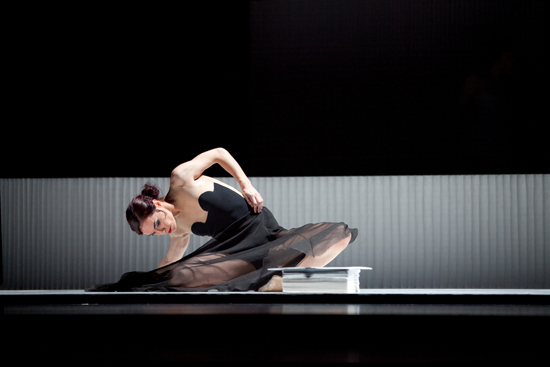 Mónica Cervantes as Carmen in Gustavo Ramirez Sansano's CARMEN.maquiaPhoto by Cheryl Mann
Many people in the dance world already know Mónica Cervantes as an accomplished performer, both from her career in Europe and, since 2010, with Luna Negra Dance Theater in the United States. Not as many know her as a gifted choreographer, but that's changing. Luna Negra will present the World Premiere of her new work Requiem in their Luna Nueva series, beginning June 7 at Chicago's Museum of Contemporary Art, in a program that will also feature the U.S. premiere of Artistic Director Gustavo Ramirez Sansano's En Busca De (In Search Of) and the World Premiere of Diana Szeinblum's Brasilia.
When you hear about a noteworthy new artist, one of the first questions that comes to mind is 'where did they come from?' with the idea that something in their past will provide an indication of where they might go next. Usually that would make a lot of sense, but while Cervantes' professional history is intriguing and promising, especially to a new North American audience, it may not turn out to be all that defining as a guide to her future work. Because Cervantes sees a universe of possible choices that is broader, brighter and more multi-faceted than most, it will probably always be difficult to anticipate her creativity. She sees a spectrum of artistic colors that is rich and wide, and what she may choose from the kaleidoscopic possibilities she perceives will always be likely to defy prediction and category.
She's originally from Tarragona, on the Catalan coast south of Barcelona, and she studied at the Catalan capital's Institut del Teatre. Her performance career brought her to Austria, where she worked with Abc Dance Company, and where she met a choreographer, soon to become one of the most respected in Europe, named Gustavo Ramirez Sansano. She went on to dance with Ramirez' Proyecto TITOYAYA in Valencia, and when the careful search for Eduardo Vilaro's successor as Luna Negra's Artistic Director succeeded in bringing Ramirez to the Company, he asked Cervantes to come to the United States.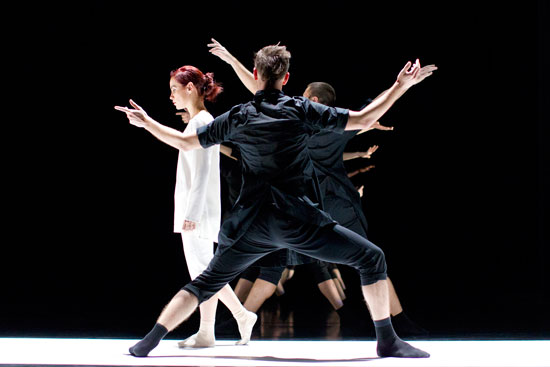 Mónica Cervantes in Gustavo Ramirez Sansano's Not Everything
Much of what you see in her performances in Europe can be edgy and imaginative; she moves easily inside the starkly questioning electric soundtracks of next-step European choreographers. All the more remarkable, then, that when Ramirez asked her to create a new work for Luna Negra, she chose Mozart and Shostakovich for the soundtrack. Surprising, perhaps, in a world of conventional boundaries, but much less unusual in the artistically open-minded culture of Luna Negra. It's also more than consistent with the anything-in-the-whole-wide-world enthusiasm that guides many of Mónica Cervantes' artistic choices; she finds creative possibilities where others might see only the rigid fixtures of everyday assumptions. It's as if she can see multiple reflections of choices and possibilities, like the bright, moving shapes inside a kaleidoscope.
All of that makes the subject of her new work especially promising. Requiem is a study in choices, in the difficulty of finding them, and in the aching uncertainty of where they may lead. Cervantes sees choices more as pathways that people choose than as fixed, decisive moments. She explores this idea philosophically, with an insightful movement language, and literally, with the visual dynamic of a changing setting that features, at first, a single rope stretched across the stage. Six dancers travel changing paths, sometimes parallel, sometimes crossing and interweaving, as Cervantes explores the ways that their choices bring them to where they are, and make them who they are, in each unique moment of their lives.
Whether in movement design or music selection, Cervantes seems wholly unencumbered by the weight of conventional categories; her choreography defies stylistic restrictions, or perhaps just ignores them. "What I want to share, what I want to say, whatever I want the audience to share in that moment, that will determine the quality of the movement," she says. She can travel just as widely in her selection of music. "I like almost all kinds of music," she adds, "my taste is very open, but I'm also very selective from all of those colors."
Cervantes seems to find it natural to blend a rainbow-like open-mindedness with an unhesitating decisiveness. Her ability to choose concisely from among all of the options she imagines may stem from the clarity she brings to making choices; once she begins, she seems to know what she's looking for. "You begin with a sensation, and perhaps nothing more," she explains, "but after that, you look for an image that will enable you to share that sensation, that feeling, with an audience."
In Requiem, Cervantes is both eloquent and imaginative, but she is always focused clearly on her intended subject. As she explores the ways that every choice made frames all future choices, her audiences will have an opportunity to see the way that Mónica Cervantes chooses, selecting movement and emotion from the multi-timbral palette that she seems to possess. Making dances and choices from within a uniquely colorful, many-faceted world view, it's unlikely that she will either accomodate or defy any single set of expectations. In years to come, though, when everybody has had the chance to see more of Mónica Cervantes' work, it may well be that the focused, yet multi-colored freedom of her artistic choices is what audiences will come to expect most.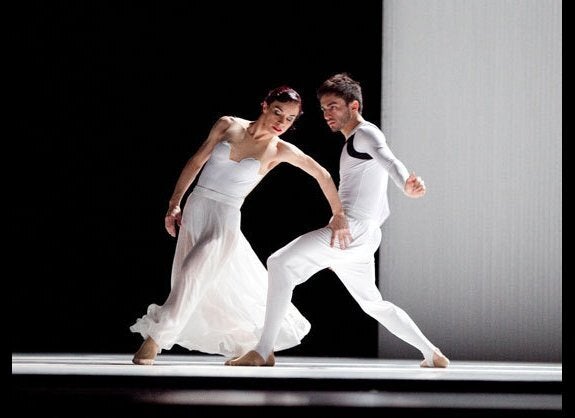 Performance Photos: Luna Negra Dance Theater
Related
Popular in the Community