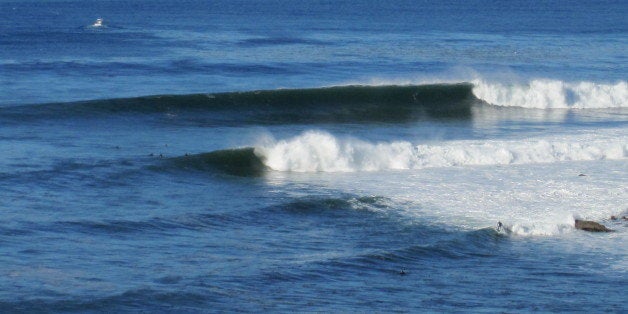 Lunada Bay is one of the most scenic spots in Southern California. Located in the affluent Los Angeles suburb of Palos Verdes Estates, it has sweeping views of the Pacific and the multi-million dollar homes to match.
It also has a reputation for bullies.
Lunada Bay has long been one of Southern California's most hostile surf spots. For decades, groups of "selfish rich kids" have made it nearly impossible for anyone considered a "non-local" to visit or surf the break.
Access to the Bay is down a trail, where "Bay Boys" have been known to ambush visitors, harassing them both verbally and physically. Lately, however, the chosen form of deterrence seems to be throwing rocks and damaging cars that are parked nearby. (One Bay Boy was recently caught on camera when he threw a rock at a drone that was trying to videotape the bay.)
Advocates of the Bay Boys argue that they are simply trying to preserve the spot and limit its exposure to pollutants and crowding. But a group of peaceful, protesting surfers have started a movement to take back Lunada Bay. The protesters have renamed the Bay "Aloha Point" and held a rally there on Jan. 20.
At the rally, a small group of surfers paddled out to the break and a group of around 25 more gathered to watch from a nearby cliff. Although the police were on stand-by, the rally was relatively uneventful.
According to The Inertia, the "anti-bully" movement began with a thread on Reddit.
"It's hard to believe a relatively small crew of spoiled trust fund babies have successfully kept one of LA county's best waves under wraps for decades," one user wrote. "Through violence, intimidation, and with the de facto blessing of the local police, the Lunada Bay locals have worked a miracle."
Many protesters believe the police have been relatively uninvolved, claiming that most of the Bay Boys come from wealthy families and that their actions represent the desired exclusivity of the community.
Protesters also point out that the bullies are doing exactly what they prevent outsiders from doing at the Bay. "The same sociopath rich boy asshole who's tossing rocks at your head ... is surfing your local break most of the time," the Reddit user explains. "He's paddling out in Torrance, Hermosa and Manhattan Beach. He's taking road trips to Baja, flying to Oahu in the Winter. He's joining the pack at Lowers, and snagging sets in Huntington Beach."
"People are truly afraid of these Lunada Bay guys," a member of the Facebook group "Aloha Point Surf Club" told the Huffington Post. "And for good reason it seems."
Most recently, the Bay Boys allegedly harassed U.S. Army veteran Geri Lewis, who wrote about his experience in a Jan. 25 blog post:
"I've been surfing here stealth for several decades and I know the routine as well as [the] danger ... from the surfer thugs who call themselves The Bay boys ... These silver spoon in mouth, trust fund recipients are no different than the gangsters of Compton, Watts, Inglewood ... they share the same despicable penchant for violence, intimidation, and entitlement."
In his encounter, Lewis describes how the locals threw rocks and heckled him and his friend as they walked down to the shoreline. While in the water, a group of locals continued to threaten and yell at the veteran. Lewis claims that one even attempted to hit him as he surfed a wave. Still, Lewis saw them as "no threat, just barking like a rabid dog with no bite."
"The fact that we are humans, citizens and had every right to surf at Lunada Bay had no effect on their conscience," Lewis wrote. "The strange thing is the guys are in their 40s and 50s. What a shame."
In 2010, the bay was ranked as the number one place in Los Angeles "to get punched out in the surf" by LAsurfspots.com. A Yelp review page for Lunada Bay, however, contains mixed reviews. Some claim that "the best [thing] about this spot [is] the locals" and that "everyone is welcome." Other reviews warn of the locals and their "long and violent history of harassing visitors."
"It's awesome to see that we don't need huge numbers to change how things are at this spot," the group recently wrote in a post. "Just a handful of respectful and dedicated folks each day ... to change the vibe from negative to positive."
"This cause is bigger than us," one of the organizers told HuffPost. "It's for everyone in this country who's ever enjoyed the ocean."
CORRECTION: A previous version of the story incorrectly stated that Lunada Bay surfers had injured a teacher's ribs and pelvis.
Related
Before You Go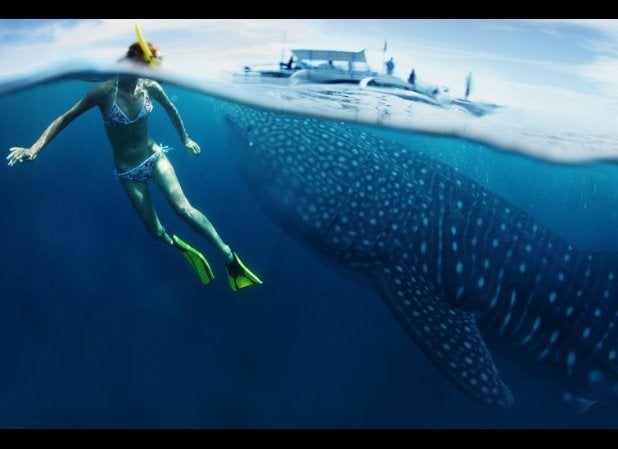 Amazing Places You Can Swim With Sharks