 A union-funded political action committee has been steering money to Republican candidates in Congressional races in the Midwest and beyond, upending the popular assumption that organized labor's support always goes to Democrats.
The group, known as the Lunch Pail Republicans, is backing GOP candidates who generally aren't considered champions of labor unions. Yet, according to the group, these candidates have been friendly to workers, particularly in the building trades. They include Reps. Joe Walsh (Ill..), Adam Kinzinger (Ill.) and Judy Biggert (Ill.).
Members of the International Union of Operating Engineers (IUOE) Local 150 launched the Lunch Pail Republicans in Indiana earlier this year to combat the GOP-backed right-to-work legislation that ultimately became law in the state. Since then, the group has launched a PAC and started wading into elections with seed money from the IUOE's national PAC, so far disbursing more than $400,000, according to records with the Federal Election Commission.
Ed Maher, a spokesman for the Lunch Pail Republicans and a member of IUOE Local 150, said the group is throwing its weight behind GOP legislators who don't appear likely to oppose "prevailing wage" laws or to advance right-to-work legislation that diminishes the clout of unions. Maher acknowledged that plenty of progressive labor activists would bristle at this strategy.
"We've certainly run across people within the labor movement who scratch their heads -- how could any union person back a Republican?" Maher said, before adding, "There are moderate, reasonable Republicans who understand the value of people going out and earning a decent wage."
Maher said his group addresses an important fact of the modern labor movement: Even though unions serve as a base for the Democratic Party, plenty of unionized workers lean politically to the right, particularly in the building trades, which includes the IUOE. (The union's Local 139 Wisconsin has close ties to GOP vice presidential candidate Paul Ryan.) According to Maher, a poll of his union local in Indiana found that 49 percent of its members identify themselves as Republicans.
Much of the Republican Party, however, has become increasingly hostile to unions. In the platform it ratified in Florida this summer, the GOP for the first time endorsed the idea of a national right-to-work law, which would weaken organized labor by barring contracts making union membership a condition of employment at companies. On the state level, Republican Govs. Scott Walker (Wis.) and John Kasich (Ohio) have led high-profile efforts, including a successful one in Wisconsin, to roll back collective bargaining rights for public-sector workers.
Maher said his group wants to help elect Republicans who aren't on the outer fringes when it comes to labor issues.
"Their national plank committee has just forgotten there are a lot of union members who vote Republican," Maher said. "The problem is ... they're making it impossible for people to vote for them because they're outright attacking their livelihood: 'If you're in a union, we'll make you suffer.'"
As of last month, the group had spent $436,681 to promote 14 Republican candidates in seven states. The largest expenditure -- $67,021 -- went to support Judy Biggert, a congresswoman from the Southwest suburbs of Chicago. Robert Dold, another Chicago-area legislator, received support to the tune of $64,585, and a third Illinoisan, Robert T. Schilling, received a $39,907 assist. Smaller amounts went to promote Jon Runyan of New Jersey, Michael Grimm of New York, and David B. McKinley of West Virginia.
Apart from their party affiliations, these candidates all share at least one attribute that appeals to their funders: They have all voted in support of the Davis-Bacon Act, a Depression-era law that guarantees market-rate wages to workers employed on public construction projects.
This puts them at odds with the man at the top of their ticket. During the Republican primaries, Mitt Romney criticized Rick Santorum for supporting the law and promised voters that he would fight to repeal it on "day one" of his hoped-for presidency.
In spite of this, the Lunch Pail Republicans aren't much in danger of winning praise from progressive labor groups. Of the 14 candidates who received money from the PAC, at least nine have either voted or spoken out against the Employee Free Choice Act, a measure that would make it easier for workers to form unions. Some, including Biggert, voted to restrict the powers of the National Labor Relations Board, the federal agency responsible for investigating and ending unfair labor practices.
And at least one, Joe Walsh, a Tea Party favorite based in Chicago's northern suburbs, had harsh words for the Chicago teachers who went on strike last month. If he had been mayor, he said at a recent campaign stop, the strike might have turned out differently. "I would have given the teachers 24 hours to get into the classrooms, and if they didn't, I would have fired them all."
Although these candidates don't seem to see anything wrong in taking money from organized labor, they also don't appear to be too eager to portray themselves as friends of the labor movement. The Huffington Post reached out to eleven Lunch Pail Republican-backed candidates who have attracted criticism from pro-labor progressives, and none took the opportunity to defend their labor records.
The Lunch Pail Republican candidates aren't alone in keeping quiet on this issue. The AFL-CIO, the largest federation of unions in the country and a major backer of Democrats, declined to comment on the fact that one of its member unions is funding Republican candidates. The IUOE, whose Engineers Political Education Committee has been the largest donor to the Lunch Pail Republicans, also declined to comment.
Maher said the Lunch Pail Republicans have further fundraising plans in place, even though neither the GOP candidates nor the unions seem eager to associate with them.
"I think that labor does need to engage the other side of the aisle much, much more aggressively," Maher said. "We believe that every union should get rid of this notion that Republicans are out to get them."
CORRECTION: An earlier version of the article erroneously suggested that the Lunch Pail Republicans contributed money directly to candidates.
Before You Go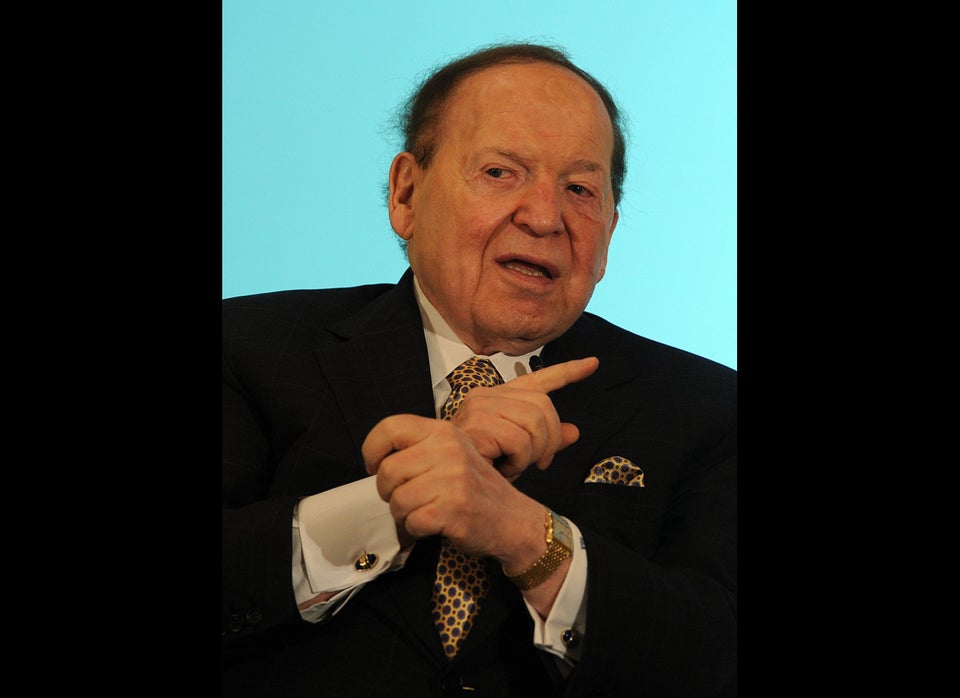 Donors Giving $500,000-Plus To Super PACs
Popular in the Community