Lungelo Gumede, a young man painting South Africa in a positive light.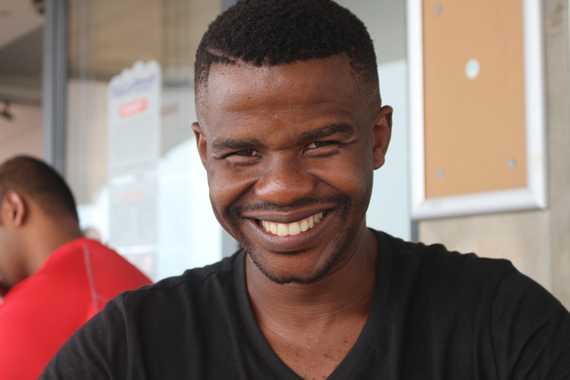 Durban, South Africa - Lungelo, a young artist from Durban who has been molding the nation of South Africa with a touch of clay. He is a young man who has been blessed with magical rainbow hands. In 2015 while laying in my bed contemplating whether I should go to the office or call in sick I decided to go on Facebook because when in doubt always go on Facebook. I had one eye open as I was scrolling through my timeline when I came across a shared post and that post happened to be titled "Lungelo Gumede - the Artist".
I was in such disbelief of the artwork and gift this young man possesses that I ended up spending half an hour admiring this young man's talent and then it dawned on me I WANT TO INTERVIEW this gentleman.
Lately in South Africa, it's so hard to find people who are painting our generation in a positive light, especially since our parents are the generation who fought and brought the Apartheid regime to its knees. My generation has been portrayed as the lazy generation that's just benefitting in the so-called new South Africa without really contributing to the development of the country. So, for one to see someone so young using his gift in a positive light sent electric marbles down my spine.
I immediately drafted an inbox message to his manager, Sduduzo Ka-Mbili from Vimbex Group. Sduduzo had been residing in New York for the past 17 years, and had recently returned to South Africa with an undeniable passion to be an innovator.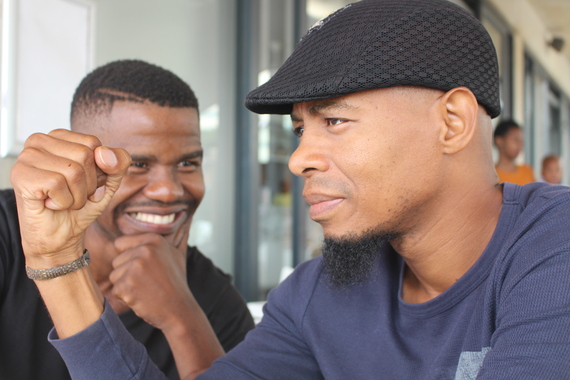 Lungelo and Sduduzi.
I sent him a message expressing that I would like to interview Lungelo and had no luck. In early January 2016 to my surprise I received a kind response from Sduduzo informing me that Lungelo is looking forward to the interview. Fast forward, I find myself at OR Tambo International Airport in Johannesburg on my way to Durban to finally meet Lungelo.
In preparation for my trip to meet Lungelo, I read a short article about him and based on that article, I realized that there was not much about Lungelo, which is quite a sad state. However, I found comfort in knowing that I was going to Durban because I wanted to know the artist, and I wanted the entire world to be exposed to his gift, his work ethic, how he discovered his gift, who his mentors are, where he would like to see his work displayed and many many more questions. I got all those questions answered when I sat down with Lungelo after our walk on the beach and a very heavy breakfast.
I took my cellphone and recorded Lungelo, giving a brief tour of his studio. All this time Lungelo had just been himself; a goofy young man, cracking jokes for days and pretty much letting the inner child in him loose.
But as soon as I turned the camera spotlight to him, I saw a different side of Lungelo. He became Lungelo Gumede - the artist as soon as I said, "I will turn on the camera and just introduce yourself and walk us through the studio". He became a bit shy, his eyes glistened with a stride of profound wisdom and enlightenment beyond his goofy smile, and he just transformed into this fragile young man far wiser than his physical form.
He was so nervous being on camera, he kept mumbling " uhmmm" to a point that I had to tell him that uhmmm is not a word. When we were done with the tour and finally sat down, Lungelo was more relaxed and got right down to business.
All the questions that were running through my mind from the moment I saw his post on Facebook were now about to be answered. I could feel my heart tingling a bit, knowing that this young man has changed the game of artistry especially for those who are willing to recognize
the joy and pleasure art contributes to humanity.
As we sat down he said these words, "Hi my name is Lungelo Gumede born and raised in KZN ( KwaZulu-Natal)." He said those words with so much pride in his eyes served with a dish of humility. One can see that very same pride and humility in his work. This is a young man who has created some of the most exquisite statues and paintings of Zulu warriors and Kings.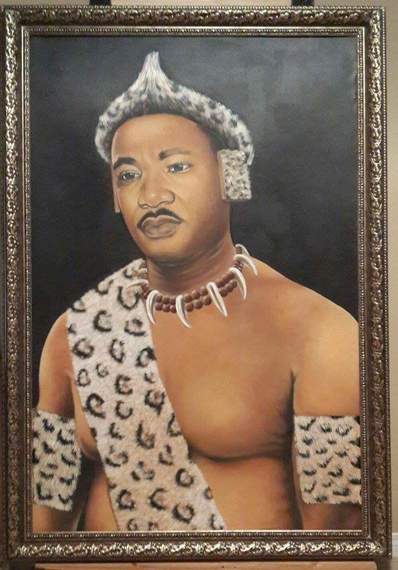 Lungelo's painting of Dr. Martin Luther King.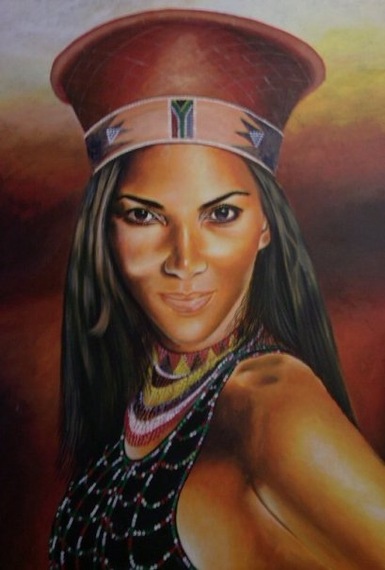 Lungelo's painting of Halle Berry.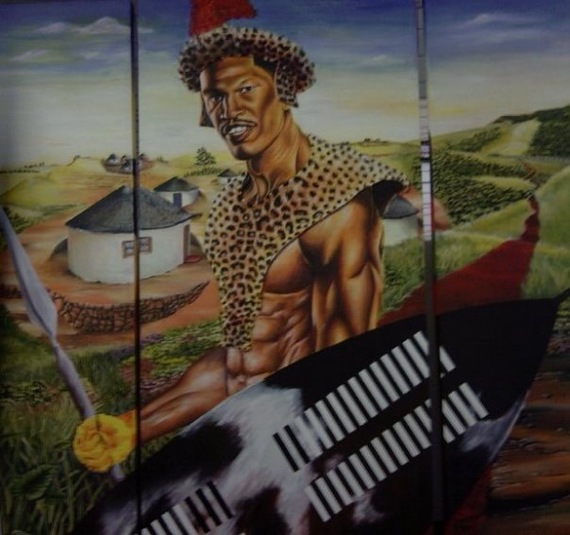 Lungelo's painting of Jamie Foxx.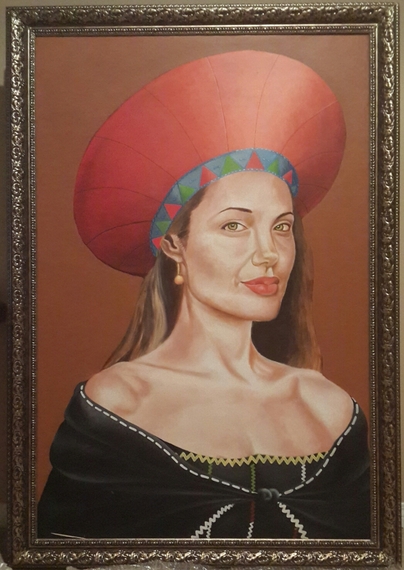 Lungelo's painting of Angelina Jolie.
Lungelo's humble beginnings are evident in every move and syllable he pronounces in his sentences. He then looked me straight in my eyeballs and said
" Joy, You can take me anywhere in the world and give me the fanciest meal on a platter. That won't impress me. Give me a double cheese burger with medium fries, and Fanta orange, and I'm the happiest person alive".
He said those words with a smile, and his face reflected pride and humbleness; proud of his roots, comfortable in his own skin and humble of the opportunities the universe has afforded him.
This is a young man who grew up in a very humble society of
"It takes a village to raise a child".
He has had the privilege to travel the US and Europe to showcase his work and yet remains very humble and true to his nature. This is what Lungelo had to say about his work:
What first interested you in this form of art? It is something I have always been drawn to since I was a child. When I was at school, the teacher would be scribbling something on the blackboard, and I'd be busy with my notepad drawing the teacher.
Almost everyone has someone who inspired them to nurture their talent or gift. Who would you say is your mentor?
My mentor is Lalelani Mbele. He is the guy I Iooked up to growing up. I wouldn't necessarily say that he taught me how to sculpt but I was always around him when he was doing his work, and I learned to perfect my skill by watching him work. We are no longer in touch right now, but he has always been the guy who mentored me and I continue to respect.
Where would you like to see your work in 5-10 years and who would be your ideal collaborator?
I would like to open a wax museum with very influential people from all over the world and not necessarily only South African prominent leaders.
I would also like to do an exhibition at the BET Awards because I believe they do an amazing job in showcasing black talent.
If you could choose any influential leader in the world to build a massive statue of who would it be and, why?
I would say Prince William, because we are the same age, and I can somehow relate to him on a very personal level because our stories are somehow similar
(He then chuckles). Our stories are sort of intertwined. When Princess Diana was pregnant, my mom was pregnant with me, and my mom is the same age as the late Princess Diana.
If I can make a statue of Prince William and he sees it, it will make me so happy.
I love that guy and of course his mother.
How has the South African audience embraced your talent? They have been very supportive and have embraced my work especially the South African government.
I think without their support, I would not be able to survive financially because the material I use can be quite pricey.
What advise would you give to a young and upcoming artist who is struggling for visibility?
I would say it all starts with finding yourself. What I would advise them to do is to believe in yourself and love what you do.
It all comes down to loving what you do and then just letting everything else fall into place.
Lungelo Gumede is planning to open a museum in Durban, South Africa. He is hoping to get his artwork of President Barack Obama and the First Lady Michelle Obama at the White House.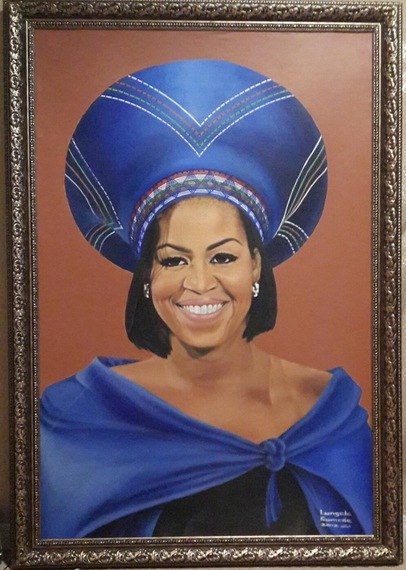 Lungelo's painting of First Lady Michelle Obama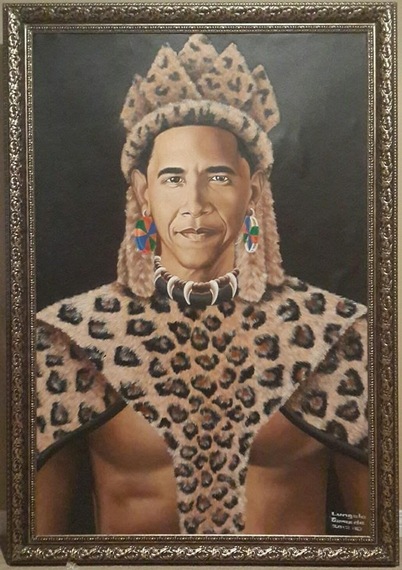 Lungelo's painting of President Barack Obama.
You can see Lungelo's work in person in Durban at 45 Maritime Place, Victoria Embankment, Durban, 4001, and/ or visit his website - http://www.lgarts.co.za He is also on Facebook as Lungelo Gumede Artist.
Lungelo's Short bio: My name is Lungelo Gumede. I'm a Durban boy raised by my grandmother in the rural areas before I moved to the city to live with my mom. I am a painter and the form of art that I am doing is visual arts.
Calling all HuffPost superfans!
Sign up for membership to become a founding member and help shape HuffPost's next chapter