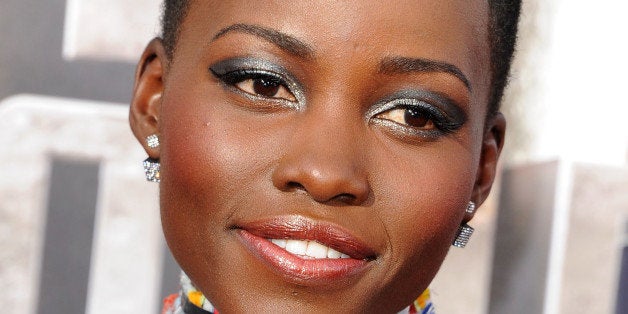 The Oscar Award winning actress Lupita Nyong'o has been named People Magazine's most beautiful person of 2014. She joins the ranks of other Hollywood elites including Julia Roberts, Cindy Crawford and Beyoncé.
The 12 Years a Slave actress shot to the top of the stardom pyramid after winning the Oscar for best supporting actress earlier in the year. Since then she has commanded the attention of Hollywood for her distinct fashion sense on the red carpet and signed a deal with cosmetic titan Lancôme to become the company's first black ambassador.
But the glaring irony behind the news cannot be ignored. That her performance as the slave "Patsy" in Steve McQueen's cinematic adaptation of the slave narrative, who was repeatedly raped, whipped, beaten and psychologically abused (as were most slaves) is the catalyst behind Lupita's fame, is both fascinating and telling of America's complicated relationship with black beauty.
"I remember a time when I too felt unbeautiful. I put on the TV and only saw pale skin. I got teased and taunted about my night-shaded skin. And my one prayer to God, the miracle worker, was that I would wake up lighter-skinned," Nyong'o said during an acceptance speech at the Black Women in Hollywood Luncheon in February. She has admitted publicly that it took her years to equate herself with beauty. One need not look much further than her character "Patsy" to understand why.
The identities, minds and bodies of Black women of the African diaspora have historically been the subject of criticism, the property of the state, and mis-recognized in ways that perpetuated their subjugation and ensured their long-term physical, emotional and psychological damage. The same is true for other groups of women of color from countries colonized by European nations. Skin lightening creams are still popular in many African and South Asian countries. Only recently has the popularity of ethnic beauty become so widespread in American culture. As the fashion world moves towards trends inspired by multiculturalism, more women are seeking an "exotic" look characteristic of ethnic features and many are going to great lengths to get them. Botox used to create the appearance of fuller lips and plastic surgical procedures like breast or buttocks augmentation are almost as common in Hollywood as hair extensions. The Caucasian blond hair, blue-eyed look is no longer the standard of beauty most adored...at least not for the moment.
Despite the numerous advances Black women have made over the last century, African-American women are often characterized in the public domain by negative stereotypes based on a set of social constructs (insert any number of music videos, reality shows or Tyler Perry films here, which in many cases result in an overwhelming sense of shame and inferiority. In her book Sister Citizen: Shame, Stereotypes, and Black Women in America, author and MSNBC host Melissa Harris-Perry explains how shame and stereotypes have impacted the the emotional and psychological health of African American women.
Black women who escape many of these circumstances must still contend with damaging racial and gender stereotypes. They are aware that others see them through a distorted lens that renders them socially unacceptable.
All this begs the question of whether the coronation of Nyong'o as America's sweetheart means that black women are no longer socially unacceptable? I doubt it. Black women have been objects of desire in America and other Western nations for centuries. That desire, however, has usually been compounded by a set of complicated, ambiguous and often sadistic ideals that worked to the detriment of black women; as was the case with the exploitation of Sara Baartman -- the young woman taken from her native South Africa in the 19th century, dubbed "Hottentot Venus" and displayed in London as a semi-nude freak-show attraction.
The myth of the "Jezebel" caricature used to portray black women as hypersexual is still very common today. It has its roots in Southern slave-holding society where the "Jezebel" was often compared to the Caucasian model of respectful womanhood, which operated under a code of purity, subordinate obedience, and domesticity. As Harris-Perry explains in her book, black women were forced to attend slave auctions in the nude, forced to labor in the fields with their skirts hiked up and even punished by whippings in partial or total nudity. "The myth of black women as lascivious, seductive, and insatiable was a way of reconciling the forced public exposure and commoditization of black women's bodies with the Victorian ideals of modesty and fragility. The idea that black women were hypersexual beings created space for white moral superiority by justifying the brutality of Southern white men."
Now it seems America may actually be ready to embrace beauty exuded by Barbie, Brandi, Bianca and Bojing. I'm not implying that we should all regard People Magazine as the gatekeeper of beauty. As Dr. Nancy Etcoff, a Harvard Medical School and Massachusetts General Hospital psychologist who authored Survival of the Prettiest explains: "Beauty is a convenient fiction used by multibillion-dollar industries that create images of beauty and peddle them as opium for the female masses." The complicated nature of race and media is still very much prevalent. Simply recall the multicultural Coca Cola commercial during this year's Super Bowl or the crowing of the nation's first Indian-American Miss America last year that sparked hateful comments on social media.
But as an African American woman, I can't help but feel like the collective recognition of Nyong'o as beautiful by a predominantly white media (given this country's complicated history with black imagery) is a sign of some progress. Old standards of beauty are making room for more diverse images of attractiveness in American culture. More often the varied phenotypic characteristics of black, Latina and Asian women are emerging in mass media as positive depictions of ethnic beauty rather than perverse distortions of an entire group of people. In a 2011 Allure magazine poll 73 percent of women said they found curvier bodies more attractive now than they had over the past decade. 70 percent who wanted to change their skin color said they wanted it to be darker and 64 percent reported regarding women of mixed race as the "epitome of beauty."
Researchers like Dr. Etcoff say the shift in the nation's perception of beauty reflects the changing demographics of the country. "Our standards of beauty are changing and ethnic women are at the forefront today," she said in a recent interview. "It emulates our growing sense of cultural awareness." Others believe the shift can be attributed to the mass media's desire to reach a more diverse audience as the American population changes. If the rates population change continue on the track they have for the last two decades, by 2035, non-Hispanic whites will be outnumbered by minorities in the U.S.
Despite the racial progress that proceeded Lupita's swift rise to fame, universal ideals of beauty within America are shifting but they're not disappearing. The dominant standard of beauty, which is white, still remains. But the success Nyong'o is experiencing may be an indication that America's complicated relationship with race and beauty is finally beginning to unravel, making room for standards of beauty found in minority groups which, collectively, will soon make up the majority of the American population.
Popular in the Community