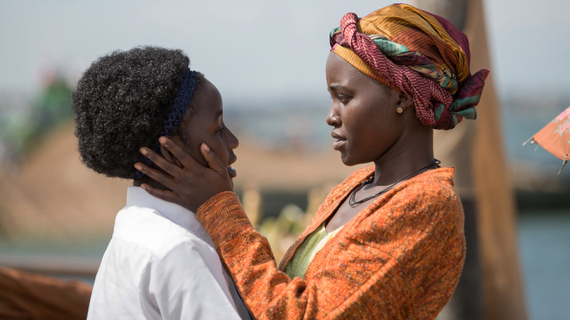 Oscar-winner Lupita Nyong'o ("12 Years a Slave") has worked in Uganda with director Mira Nair before. When Nair was editing "The Namesake," Nyong'o worked for her as an intern. "It was my 'abroad' term when I was at Hampshire College," Nyong'o said in an interview. "I brought her many cups of tea." Nair than invited her intern to join her in Uganda to help oversee some of the production equipment. "That is not a job I will do again," she laughed. "It is not something I am good at."
Nair found something Nyong'o was very good at on their next project together. In "Queen of Katwe," opening September 30 from Disney, the onetime intern stars as Harriet, a young widow with five children in dire poverty. She is strong and independent and fiercely devoted to keeping her children safe. The story is based on the daughter of the real-life Harriet's Phiona, who, without any education, became an international chess champion.
Nyong'o spoke about spending time in Uganda to observe Harriet and her community. "They do not have the same notions of personal space that we do," she said. "In the market, they sit very close. The women sit with their legs bent to one side and yet their posture is perfectly straight. I had to take yoga to be able to do that pose." She also studied the way they walked and moved. "Part of it is the climate, and part is the culture. They do not rush around like people do in New York." And she listened. "Harriet has a low voice and I wanted to pay tribute to that. The accent is very particular. I worked on speaking with a Ugandan accent, and then I went straight from this film to Broadway, where I had to have a Liberian accent. I had to rework my brain quickly."
She loved wearing the colorful textiles of the region. "I have never gasped so much, looking out the window. There is such a fierce sense of style in the way they dress, even with so little money. They may combine a designer piece that arrived as a charity donation with a local scarf and it just looks beautiful." In a key scene in the film, Harriet must sell her most precious possession, a dress she inherited from her mother. "You see her wear that dress just once before, at the hospital, after her son's accident, when she has to make them think that she can afford medical treatment. And then she wears it again to sell it, and you see not just her courage but also, because she is with a man she knew before she was married, you see her as something other than a mother. I remember when I got up that morning, I thought, 'This is the day where I get to flirt a little bit, and I get to smile.'"
David Oyelowo plays Robert Katende, who introduced the children of the poorest areas of Uganda to chess. "You could not ask for a better scene partner or a better person to have on the set. He is completely devoted to whatever it takes to tell the story. And he is so great with the kids. It is hard for them to have to sit and stare at a chessboard all day. Between takes, he would dance with them to keep them happy and energized. I can't wait to work with him again." And she loved working with Nair as a director. "She is so committed to telling the story, and so honest."
Nyong'o had not played a mother before and the children she worked with had not acted before. She spent time alone with each of them to make them feel comfortable with her. Madina Nalwanga, who plays Phiona, lives in an area like the one in the film and like the real Phiona, she worked as a young child selling maize in the street. Nyong'o asked Nalwanga to show her how to buy food and prepare a traditional Ugandan meal. As Nalwanga showed her how to bargain in the marketplace and cook the food, they developed the warmth and trust that shows through in their performances. "And then," Nyong'o said proudly, "we invited Mira and our Director of Photography, Sean Bobbitt, to eat the dinner we made."
She hopes American audiences will see some of what she loves about Africa. "They should see that it is a continent, with many different countries and communities, filled with people who love their families and have great dreams, and, sometimes, with genius."
Popular in the Community