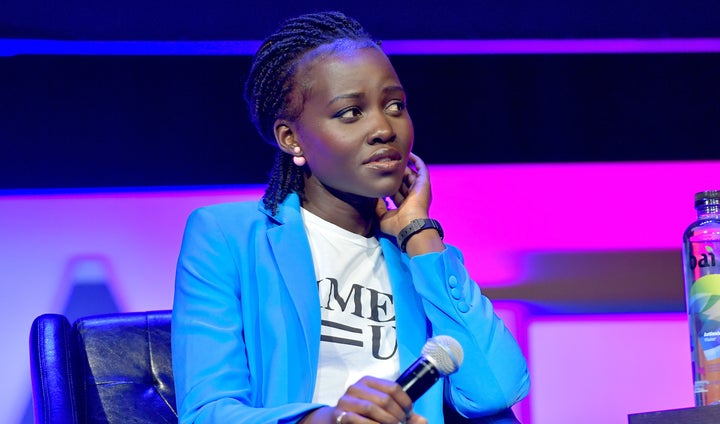 Nygong'o, along with fellow actresses Amber Tamblyn, Cynthia Erivo and Mira Sorvino, appeared on a panel discussion Sunday about the anti-sexual violence Time's Up initiative at the 2018 Tribeca Film Festival in New York City. The discussion, titled "Reclaiming The Narrative," focused on diverse storytelling and the "impact of portraying powerful female characters," according to Tribeca Film Festival's website. 
"I know my story best, and I want to be able to tell my story and tell it with people like me who also feel this gaping hole of representation," Nyong'o said, according to The Hollywood Reporter. 
The "Black Panther" actress told the crowd she wants to focus on African stories in TV and film, referencing her experience as a child born in Mexico and raised in Kenya. 
"I think for me, as an actress who grew up watching everyone but myself, I think part of changing the narrative is changing the perspective of the narrative that's being told," she said, Glamour reported. "For me, the work that I feel convicted to do is to tell to African stories, and to kind of re-examine or reinvigorate or reintroduce Africa to the world and African identity and how global it can be."
It wasn't until I was much older that I started to realize what was missing on that screen and how not seeing myself was causing a subconscious self-hate.

Lupita Nyong'o
She added that the lack of representation she saw on television as a kid affected her greatly. 
"When I switched on my television when I was younger living in Kenya, there was never anybody that looked like me on there, you know? So seldom ... And even when they were black, they weren't that dark," Nyong'o said.
Nyong'o added that diversity is imperative, and television's failure to show it can perpetuate internalized racism. 
"It wasn't until I was much older that I started to realize what was missing on that screen and how not seeing myself was causing a subconscious self-hate that I only grew aware of when I was a teenager," she said. "I started to recognize my insecurities and started to absorb the language around me that said I was not right, that I was not enough, and stuff like that."