Here's an exclusive glimpse of Misty Copeland in the new film:
Nearly a decade in the works, American Masters - American Ballet Theatre: A History feels more like an eccentric personal meditation, or a love letter to the art form, than a historical trek through the company's 75 storied years.
As the talking heads on the film point out more than once, the history of ABT is essentially the history of ballet in America, and with so much vital chronicling to pack into 83 minutes, you'd think the masterful Ric Burns would just get on with it, in chronological fashion. Instead, this turns out to be an erratic, head-spinning meander - punctuated by pearls of wisdom from dance historian Jennifer Homans, choreographer Alexei Ratmansky, critics Anna Kisselgoff and Clive Barnes, current artistic director Kevin McKenzie, dance legends Alicia Alonso, Freddie Franklin, and Lupe Serrano, and by some ravishing slow-motion cinematography, focused on a handful of current ABT principals and soloists.
Ballet to the People is not a fan of MTV-style quick-cuts and epic slow-mo in filming ballet, which often rob a work of context and meaning, reducing it to pretty acrobatics. But the slow-motion sequences captured in this film are breathtaking, revealing the "deep intimacy" that, in Homans' words, is the province of great ballet. Burns captures the fierce beauty of Herman Cornejo as Le Spectre de la Rose. The unexpected poignancy of Hee Seo's hand slipping lightly out of Cory Stearns' in Romeo and Juliet. We share Seo's ecstasy when Stearns catches her in mid-flight and supports her lightly under the rib cage as she floats around him, as if carried by a breeze. We are tempted to call 911 when a distressed Gillian Murphy tries to escape the clutches of the evil Marcelo Gomes in Pillar of Fire. We root for Daniil Simkin, as he battles his own invisible demons in Everything Doesn't Happen at Once.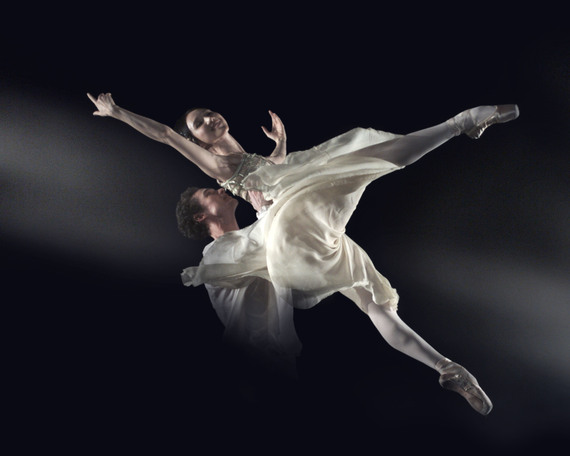 American Ballet Theatre dancers Hee Seo and Cory Stearns in Kenneth MacMillan's "Romeo and Juliet," filmed for "American Masters - American Ballet Theatre: A History" at Kaatsbaan International Dance Center in Tivoli, N.Y., 2013. (Photo: Buddy Squires, ASC)
Viewers who find all the back and forth between eras and color commentators dizzying are urged to seek shelter on ABT's 75th anniversary website. The succinct, year-by-year timeline you will find there is perforce dry, but a welcome and essential anchor for the company's rich, sweeping history.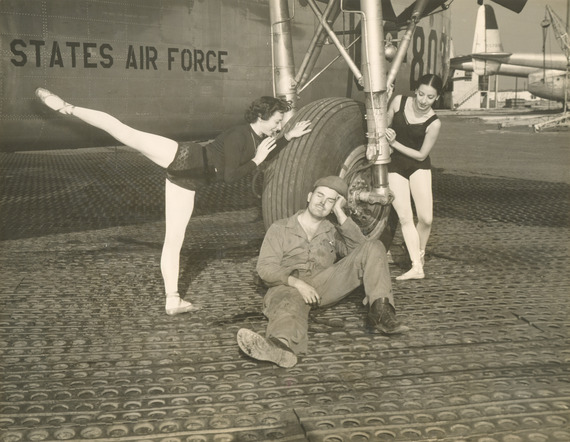 American Ballet Theatre dancers Nora Kaye, Fernando Alonso and Alicia Alonso as they embark on their first tour of Europe, circa 1946. (Photo courtesy of Steeplechase Films, Inc.)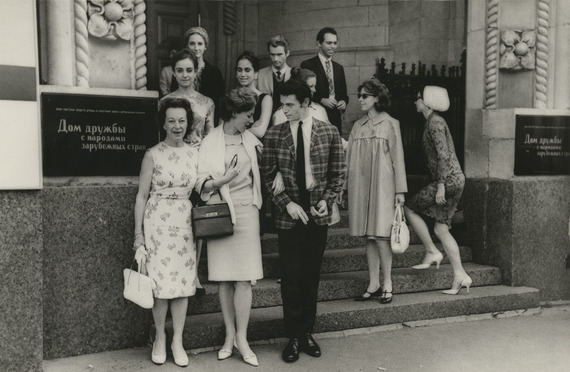 American Ballet Theatre founder Lucia Chase (bottom left) with members of the company sightseeing during ABT's tour of Russia, 1966. (Photo courtesy of Steeplechase Films, Inc.)
Homans' insights are fascinating. "Rules are a form of power," she reminds us, when explaining how ballet evolved in a highly codified manner in the court of Louis XIV.
The story of ballet in the 20th century is really the story of the confrontation between Russia and America... of Lucia Chase struggling with the Russians to make an American company, trying to redefine a Russian tradition in American terms... how boring would it be if it stayed an Imperial art? It couldn't, in America!
- Jennifer Homans in American Masters - American Ballet Theatre: A History
Burns slyly slips in a quip from Ratmansky who, without naming Homans, rebuts the controversial charge she makes in her admirable and ambitious history, "Apollo's Angels," that ballet has never recovered from the death of Balanchine, the last great master.
Elsewhere, the long-winded exegeses on the magic of dance start to pale, and Ballet to the People got the sense that the director was so enamored with the dancers that he couldn't bring himself to edit their giddy commentary. By our reckoning, he could have substituted 15 more minutes of precious archival footage.
That back catalog is ABT's unique edge, which Burns largely failed to exploit: performance, rehearsal and tour footage that no other company in the world can match - not even the Russians and the French, who do not boast a similarly expansive repertory. Ratmansky made a point of identifying ABT as the incubator of new, experimental work from all the great choreographers of the 20th century, from the very start of its existence - experiments that not only expanded style and technique, but also the subject of dance, as choreographers like Antony Tudor, Agnes DeMille and Jerome Robbins made works about real people and their conflicts, not just about mythical creatures, noblemen and goddesses. Clive Barnes points out that ABT is the only major company that has never occupied its own theater, a perennial nomad that has brought its groundbreaking rep not just to major cities worldwide, but also to small towns all across America.
This being ABT, partisan fans will no doubt whinge over the lack of footage of Makarova, Fracci, Nagy, Kirkland, Gregory, Bujones, Van Hamel, Ferri, and other legendary dancers. (Baryshnikov gets some airtime, having been artistic director for a decade.) The historical focus of this film is on choreographers rather than on individual dancers.
Yet the biggest draw at ABT has always been its star dancers: the Russian defectors of the 20th century, the Russian jetsetters of the 21st century, the Cubans, South Americans, and a formidable brigade of homegrown American talent, including matinée idol Ethan Stiefel, and media sensation Misty Copeland. It is mainly the current crop of rising stars who are seen dancing in this film, but celebrating 75 years with so few clips of the stars of yesteryear feels like an egregious omission.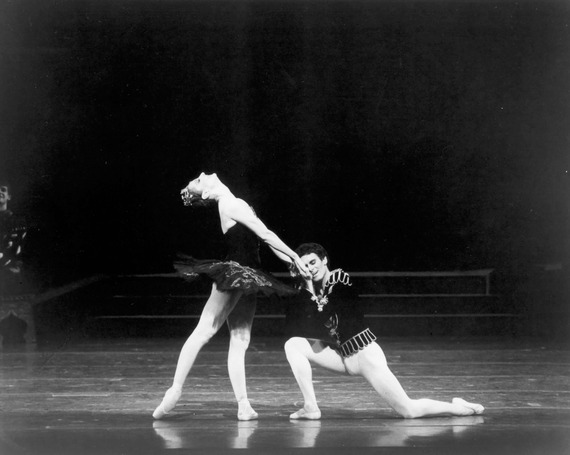 American Ballet Theatre dancer Cynthia Gregory and Fernando Bujones in "Swan Lake," 1972. (Photo: MIRA)
Here's hoping that Burns - who had a hand in the epic series The Civil War with brother Ken, and, more recently, Enquiring Minds: The Untold Story of the Man Behind the National Enquirer, a look at America's obsession with gossip and the cult of celebrity - will film a prequel and give some of the legends their due.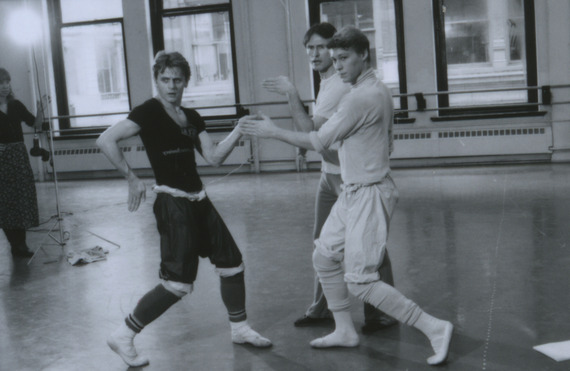 American Ballet Theatre dancers Mikhail Baryshnikov (left) and Robert La Fosse (right) rehearsing with choreographer John McFall (center) in McFall's ballet "Follow the Feet," 1983. (Photo: MIRA)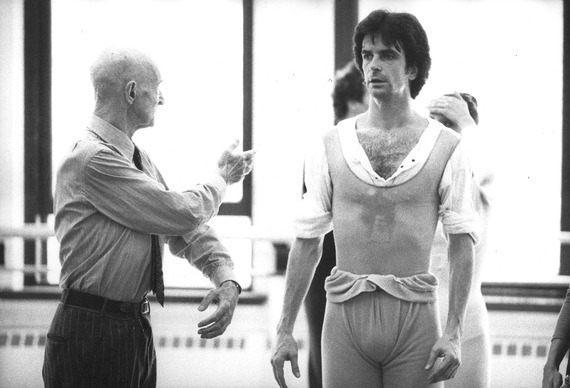 (l to r) Choreographer Antony Tudor, described as the "artistic conscience" of ABT, coaching American Ballet Theatre dancer Kevin McKenzie in Tudor's ballet "Jardin Aux Lilas," 1986. (Photo: Paul B. Goode)
Some choices of footage in this film were disappointing. Rather than show us the incomparable Natalia Makarova dancing, or coaching a soloist in a lead role, Burns captures a trifling moment in the studio with young, awe-struck students. Yes, Makarova is charming and impish in this scene, but it hardly rates inclusion when there is so much else of her available in archives. Other snippets of company class and rehearsal are shapeless, suggesting that whoever edited them didn't know what an "ah-ha" moment in the ballet studio looks like.
Burns serves up plenty of champagne along with the Prosecco, however. The most sublime moment is probably the magnificent splicing of footage from the 1940's of Nora Kaye and Hugh Laing in Tudor's Pillar of Fire with contemporary footage of Gillian Murphy and Marcelo Gomes in the same roles. Similar wizardry is performed with 1940's footage of Alicia Alonso and Igor Youskevitch in Balanchine's Theme and Variations and Isabella Boylston and Cory Stearns in the same roles, as Jennifer Homans in voice over deconstructs the genius of this work.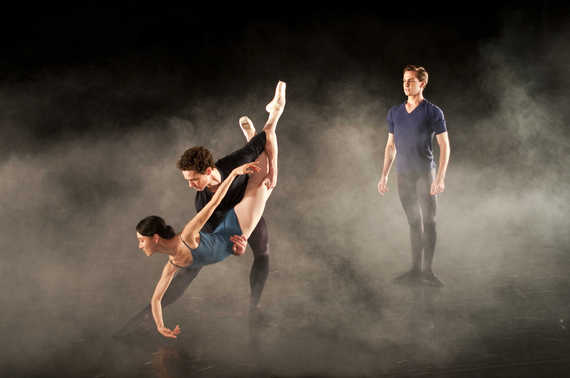 American Ballet Theatre dancers Hee Seo, Cory Stearns and Joseph Gorak in rehearsal before filming for "American Masters - American Ballet Theatre: A History" at Kaatsbaan International Dance Center in Tivoli, N.Y., 2013. (Photo: George Seminara)
Compared to most ballet companies, both in America and overseas, ABT has come late to movie night. It has released comparatively few filmed performances on DVD, and only recently established a YouTube channel, so far populated with a handful of bland, assembly-line videos with no stamp of originality. It is playing catch up to those companies who have figured out that film and video are essential to building audiences. So this documentary is critical for ABT.
What will its legacy be? Kisselgoff identifies ABT as "a company for dancers who want to dance a broad, mixed rep and extend their talents. The challenge for dancers is how to excel in all the styles" - especially true for a large company in which leading roles are parceled out among so many that individual soloists get little time on stage to hone their artistry. Ric Burns might find this an intriguing subject for his next love letter.
Calling all HuffPost superfans!
Sign up for membership to become a founding member and help shape HuffPost's next chapter