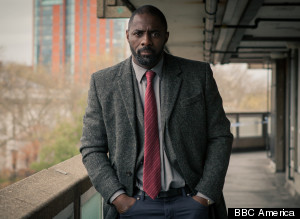 Very few shows get in their own way as consistently as "Luther" (10 p.m. ET Tuesday, BBC America).
The main reason to watch "Luther" is to see Idris Elba inhabit the role of troubled London cop John Luther with effortless skill and abundant charisma.
Elba is also one of the reasons to wish "Luther" wouldn't so often rush pell-mell towards overwrought twists and not-quite-earned Big Moments. The actor is so good and so capable of exploring character depths with subtlety and precision that it's easy to spend a good chunk of each season of "Luther" wishing that the intermittently good show around him would rise more consistently to his level (or, at the very least, would stop dragging him down).
If you simply need an Elba fix -- and who amongst us can resist such a thing? -- you don't need to have seen previous seasons of the show to get the gist of "Luther." The title character is a variation on a very familiar TV type -- a brilliant but unconventional detective who sometimes Goes Rogue but Gets Results. He may get on the nerves of his superiors, but he Has a Gift, etc.
Despite the flirtation with or outright adoption of cliches, "Luther" does have its distinctive elements: The show's washed-out, grimy version of London is a jagged antidote to all things "Downton Abbey"; Elba's English accent (as opposed to the American one he crafted for "The Wire") seems to help make his performance more loose and fluid; and as is the case with any decent U.K. production, the show is chock-full of strong supporting performances. Warren Brown deserves particular praise for his stalwart performance as Luther's junior partner, Justin Ripley, and I've always greatly enjoyed the hangdog work of Michael Smiley, who doesn't have a ton of screen time but thoroughly inhabits the role of the murder squad's deadpan tech guy.
I often wish "Luther" would just embrace its smallness -- not that the murder of human beings is small, of course (and it's not "Luther's" fault that I am exhausted with serial-killer shows, but that's one more reason to wish the show had some original tricks up its sleeve). But it's hard not to come away from the show thinking that a more judicious and focused approach could have kicked this third (and quite possibly final) season up a notch.
As was the case with the second season, Season 3 of "Luther" is only four hours long, and the drama would probably be more satisfying if it didn't try to cover so many bases in that limited running time. This time around, Luther tracks two different killers, attempts a romance (which is, not surprisingly, underdeveloped), and is also investigated for possible corruption. That's a lot to pack in to four hours (and according to a representative from the network, BBC America has trimmed up to five minutes from each episode's U.K. running time).
Then again, "Luther" has always tried to pack 10 pounds of story into a five-pound bag, with predictably messy results. Creator Neil Cross is clearly enamored of the American cop shows and cable dramas of the last decade, but they typically had entire seasons to prepare audiences for important developments. "Luther" repeatedly tries to sell big story turns with wispy or insufficient set-up, and the results are occasionally florid when they're not simply preposterous.
Still, the story has a pulpy propulsiveness, there's the presence of Elba, and this week of TV offers little in the way of competition (the four installments of "Luther" air Tuesday through Friday). At this point, "Luther" is what it is, and we may be wishing we had it back if the film industry, which is doing its best to pry Elba away from TV, fails to use the actor's many skills to their fullest capacity.
Ryan McGee and I talked about "Luther" and "Breaking Bad" in the most recent Talking TV podcast, which is here, on iTunes and below.
Calling all HuffPost superfans!
Sign up for membership to become a founding member and help shape HuffPost's next chapter