In December 2012, Jackie and I had an excellent dinner at the restaurant l'Abeille in the Shangri-La Paris. As I wrote at the time, the hotel was not yet quite complete. A number of additional guest rooms have since been added, along with a handsome garden beside the restaurant, which adds charm and light to the dining room.
Even with the new wing, the Shangri-La has only 101 rooms, which makes it one of the smaller Parisian "palaces," and the staff is proactively welcoming and friendly in a way that is harder to achieve in a hotel half again as big. In this way it reminded me of the beloved Connaught in London (but with more marble and with views of the Eiffel Tower from many rooms).
From our point of view, the most alluring of the new features is the best swimming pool I've seen in a Paris hotel. And not brand-new, but new to us, is the fine Chinese restaurant Shang Palace, where we had dinner. First, of course, we had to swim up an appetite.
When I say that the pool is in the third basement, I'm not telling the whole story. The hotel is built on a steep hill; in its days as the house of Prince Roland Bonaparte, carriages would arrive at the front door on the Avenue d'Iéna (as cars do today), but the stables were through a grand arch down the hill at the rear of the building. Those stables have been converted to the spa, gym and pool, so there is plenty of natural light from that archway - and even a little outdoor café with a bonus view of the Tower. This is an ample space, and the pool is of ample size: 15 meters (50 feet) in length, which is amazing in a city-center hotel and provides scope for real swimming (not that what I do can be called "real" -- that's Jackie's department). Its design echoes some of the neighborhood's classical-cum-Déco architecture: simple columns and bas-relief panels reminiscent of the Palais de Chaillot, but with mildly exotic/Asian themes of palm trees, lotuses and so forth. The room is lofty and airy, but it is not plagued by the sort of echoey acoustics that can make a pool seem institutional: here, we felt almost as if we were at a resort.
It is a lovely, even uplifting place to swim, with nice chaises longues, good changing rooms with steam baths and, more often than not, few other guests. The little gym is well equipped, and the rooms for (expensive) spa treatments are properly tranquil. In fact, if you're looking to treat yourself to a Paris luxury hotel but can't make up your mind which one, the Shangri-La's pool could well tip the balance.
Hardly less tranquil is Shang Palace. Its décor is basically low-key French luxe with harmonious gestures to Asia. I usually disapprove of music in restaurants but was charmed by the elegant -- and not intrusive -- playing on the guzheng (an older relation of the more familiar Japanese koto). In many ways, the mostly Cantonese menu is reminiscent of those in the great hotels of Hong Kong, running through the expected categories of cold and hot starters, gorgeous roasts, soups, seafood, meat/poultry, vegetables and rice/noodles. What you won't find are dozens of variations on luxury ingredients such as abalone (which appears in just one soup) or unconscionable show-off items like shark's fin and swallow's nest: For all the décor, the wide space between tables and the consistently excellent, hospitable service, this is a down-to-earth, "real" restaurant that has become popular with Parisians as well as with travelers.
Our dinner began with tofu skin house-smoked over pu-erh tea and rolled around al-dente vegetables and mushrooms; and flaky pastries filled with lots of caramelized onions and just the right amount of ham. Both were full of flavor, notably the pastries, which had a good zing of regular pepper and aromatic Sichuan "pepper" (which is not a pepper at all). At lunch time, the restaurant serves dim sum, and the quality of our starters suggests that these would be very good.
I'm always curious to see what fancy restaurants make of home-style dishes, so we ordered mapo tofu and a dish of braised eggplant/aubergine with chicken. The tofu itself was fresh and creamy, and its pork-based sauce full of bright ginger and enough chili and Sichuan pepper to make it very lively but not too hot to enjoy -- if you're a chili-head, you will need to ask for a modified version or add some of the delicious chili condiment you'll find on the table. As I'd anticipated, the dish was not as oily as it would be in a Beijing hash-house; when ordering, I'd been a little worried that the lack of grease would compromise the pleasure. It didn't: This mapo tofu was elegant, but it was also authentic in its flavors and its spirit.
The eggplant braise highlighted the quality of the restaurant's ingredients. It was made with a rich, balanced stock and its savoriness was deepened with shiitake mushrooms and dried fish. The dice of chicken was no afterthought: it was well integrated and of such clear poultry flavor that, even though it accounted for only a small part of the dish, it was there in every bite. The rice was plain and perfectly steamed.
A lovely dessert was creamy, lightly coagulated ginger-infused milk that had been steamed. The coagulating agent was a "chef's secret" but the consistency was that of a soft rennet custard: a nice, subtle way to end the meal. We drank white wine from the Loire valley: a delicious Savennières recommended by the engaging sommelier and at €53 ($72) not expensive for this postal code.
Shang Palace would be a good, relaxing option for entertaining guests, too: more dishes, more sharing, more fun. Note that advance booking is necessary: the reservation book fills up very quickly.
Shang Palace restaurant. The Shangri-La Paris. 10 avenue d'Iéna, 75116 Paris; +33 (0)1 5367 1992; shangpalace.slpr@shangri-la.com. Open lunch and dinner Thursday to Monday. Our dinner for two added up to €165 ($225) including wine and service, though a fancier meal with costlier drinking could easily run to twice that.
The Shangri-La Paris. 10 avenue d'Iéna, 75116 Paris; +33 (0)1 5367 1998; http://www.shangri-la.com/paris/shangrila/. According to hotels.com, double rooms can sometimes be had for about $800, but this is rare and more typical rates begin at around $1,000 and go up from there.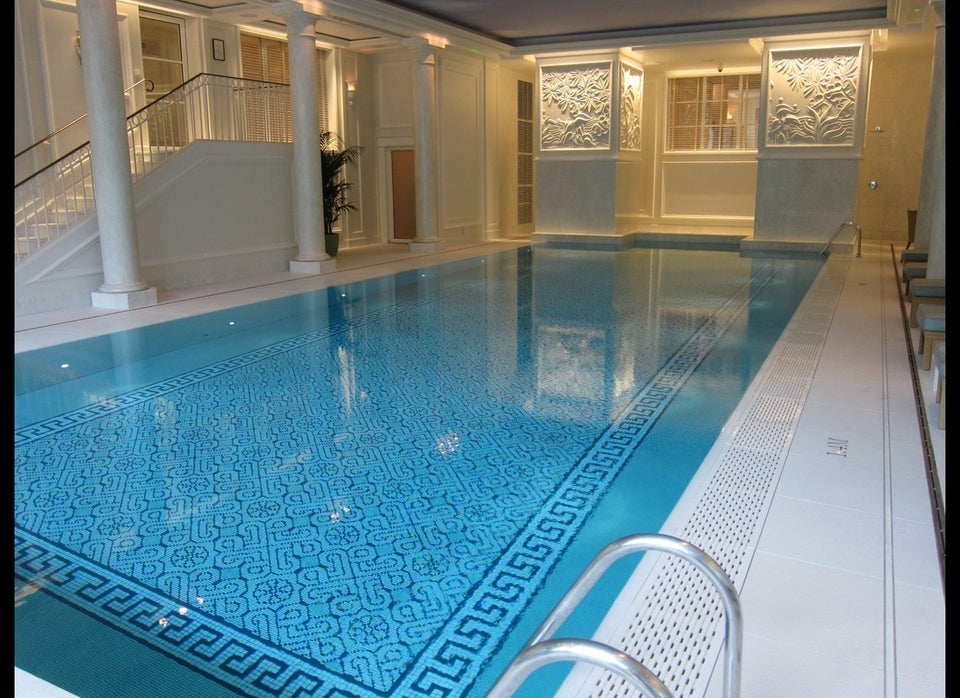 Luxe Chinese Dining And Blissful Swimming At The Shangri-La, Paris