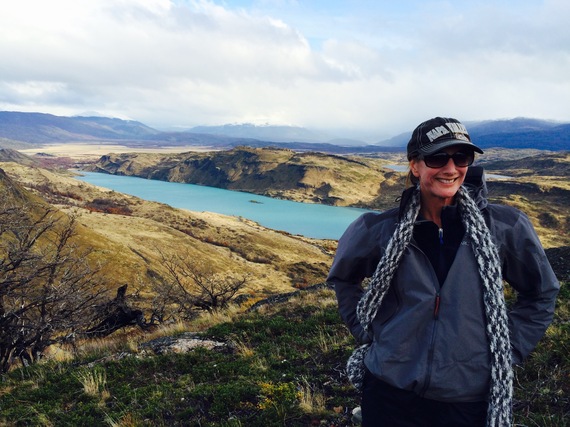 Eco-tourism has been a popular way to travel since the 1980's, but it hasn't always been a high-end affair. In the last few years many lodges have begun amping up their Luxe game. It is the perfect blend of adventure and creature comforts ideal for multi-gen families intent on experiencing unforgettable aspirational excursions. In May, I was able to sample three of the best Luxe Lodges South America has to offer.
Torres del Paine, Patagonia - Chile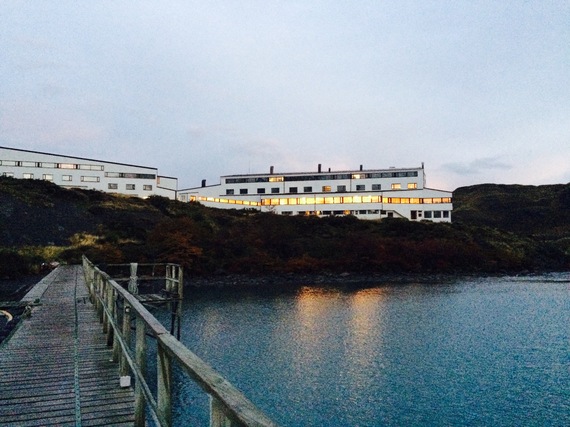 For twenty years now I've harbored a secret desire to visit Patagonia, but what has continually kept me from making the journey was my family's extreme aversion to "roughing it." Then, when a unique opportunity to track the elusive South American Puma came across my desk, I decided it was time to explore my luxe options. I found the answer with the help of Quasar Expeditions. The company, founded in 1986, specializes in creating made-to-order luxury eco-expeditions in South America. They promise a distinctive adventure with attention to detail..and they deliver.
While traveling to the Southernmost point of the planet during the cold Fall season might not seem like the most prudent choice, particularly for thin-blooded Californians, it is at this time of the year that the Puma venture out of the back-country following their prey. Thus, it is the best season to visit the area. So, with our sights set on spotting the feline in it's natural habitat, and a carefully Quasar-crafted experience organized, (months before our departure their team worked with me to carefully design a trip that would suit everyone's tastes, needs and desires), we began our journey.
I'm not going to lie, getting there was a brutal 36 hours. Following the three flight changes and 10-hour layovers necessary to get from LA to Punta Arenas (the last city on the continent) there was another 4 1/2 hour van ride to the Explora Lodge in the heart of Torres Del Peine National Park. Except for a quick stop mid-drive for sandwiches and coffee, at the oldest lunch spot in Chilean Patagonia, the Parador Rubens, the ride was a monotonous sea of pitch-black highway. And any thought of shut-eye was out of the question. The last two hours of the drive are over a bumpy gravel parkland road. Thankfully at midnight, we pulled into the parking lot of Explora.
My Quasar guide, Alvaro Jaime, and a front desk staffer, who'd both waited up for our arrival, warmly welcomed us to the property. It was a speedy check in, debriefing and alas escorted us to the room. There a three decker sandwich and bowl of fruit were waiting on the table. Thank you Romina. Let the luxurious experience begin. I took a few delicious bites. Then slipped out of my "travel uni" - (an oversized t-shirt and leggings) and exhaustedly slid into the king sized bed between the softest, Explora embellished, 415 thread count Egyptian cotton sheets, my limbs have ever touched.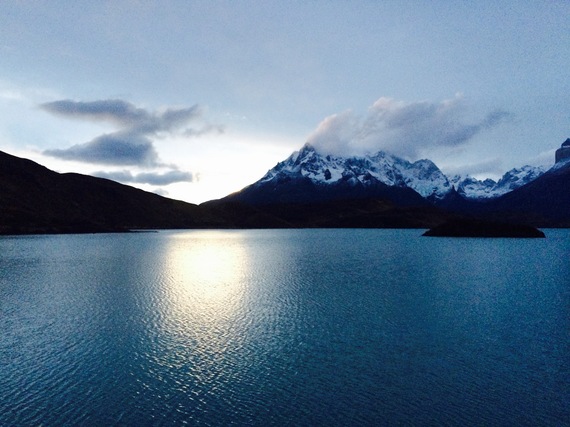 As everything was organized ahead of time the following morning was a family horseback ride at 10am. This gave us time to rest and recoup. (So conscientious!) It also allowed for sun-up, which doesn't occur at this time of year until 9:45ish in the morning. And while I still could have used a few hours of sleep after all that traveling, when the alarm clock sounded and I opened the black-out shades in the room I immediately understood ~the why~ behind that seemingly interminable journey. Explora Lodge sits on the edge of Lake Pehoe directly across from the Paine Massif. The vista is breathtaking. So breathtaking in fact, the resort designers added a low window in the bathroom so you can see across the room to the view outside the window while relaxing in the whirlpool spa tub.
Active Family Activities for All
After breakfast, we took a short drive to the Explora stables and gaucho'd up. Then joined by resident guide, Tim, and a Patagonian cowboy we rode out into the park crossing through bubbling streams and climbing gentle hills created millions of years ago by active volcanoes. Of course, the famous Patagonian winds were at their best, so after an hour or so, we returned to the stable kitchen. It is there that we got our first taste of mate. Originally from Argentina this traditional drink is made from grass shavings found on the plains. I am told that it's very healthy with twice the caffeine of coffee. The mate is placed in a strainer (just like loose leaf tea) over a bulbous cup with a specially designed sterling silver straw. Enough hot water is poured into the cup for one person to drink. When he/she finishes, the same cup is refilled and passed to the next person. This is repeated until the hot water in the pot runs out, or you say "thank you," indicating you've had enough. It's a great way to get to know your fellow cowboys or Lodge mates, as the case may be.
Every evening before dinner the naturalist guides at Explora take turns conducting lectures. They cover everything from the history of the local indigenous people to the geological topography of the area. And with an expertly mixed pre-dinner Pisco Sour for the adults in your crowd, made by resident bartender, Juan Carlos, (his specialty) the whole program is very entertaining and informative for everyone. It is also the time when you and your family will meet with Romina de Pieve, Head of Explorations, (she's kind of like a camp counselor) to organize the following day's excursions. She takes every family member's interests and outdoor skill level into consideration.
In addition to horseback riding, you can enjoy a photo safari, fishing, kayaking, and hiking. You can also choose to split up the family and do activities with other Explora visitors. Romina convinced me I was ready for the 7 hour, 8 mile Sierra del Toro hike. (She had a lot of confidence in me). So leaving the family for a drive, I joined other guests climbing 1800 ft, crossing streams, sloshing through mud, navigating fallen tree branches, and braving some fierce Patagonian winds. At lunch we stopped amidst a beautiful tree forest for some piping hot pumpkin soup (so good ~ and I don't even like soup) plus three different types of sandwiches and a great-for-hiking gorp-like dessert. Then we climbed to the top of the peak for an awe inspiring expansive view of the Park.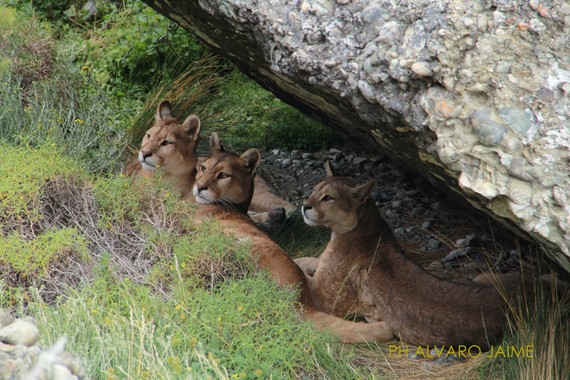 The highlight of the trip was definitely the puma tracking. Alvaro shared that one must be very patient with this activity. One of his earlier guests spent 9 days before seeing a single cat. Knowing we only had one day to make this mission a reality, he contracted one of the best local trackers in the area, Jose D'ardas. We joined him at 6:45 am to begin our search. By sunrise we'd seen lots of tasty guanacos (the Puma's favorite kill) but no Puma. Another hour of searching turned up nothing. We'd reached the main ranger station and needed a new plan, as well as our ubiquitous mid-morning mate. And just then, lo and behold, Jose looked up and spotted them. Our Puma's. They were slinking along the hilly ridge just above the building. We trekked up a path to get a closer look.
After shooting as many pictures as possible before the animals disappeared into the bushes, and feeling the success not matched by many, we headed back to the lodge. There we were greeted by a scrumptious three-course lunch. In fact, all the meals at Explora are multi-course and always include two main course choices, plus a dessert. The menu changes every day and every dish is extraordinary. One evening I had a beautifully braided hake and salmon fish dish, I'd never seen before.
Of course, this story wouldn't be a good story, if I didn't give good travel tips. Or warn you about what NOT to do...or in this case DDWKD (Don't Do What Kerri Did).
DDWKD #1. When the Quasar organizers tell you to review the packing list (they reminded me 3 times), take note. For example, don't take your ski jacket in lieu of the recommended fleece. It doesn't work the same way. It's too hot and bulky. The list also includes a hat. Don't opt for your favorite baseball cap, rather than a warm stocking cap. Patagonian winds are no joke and can whip up to 100mph. That baseball cap quickly becomes no better than an uncooperative sail, blowing you off balance. Not smart when hiking the Andes. The weather is fickle down there, even in the summer it can rain or snow. Bringing clothes you can layer is key.
The next stop on our South American Luxe Lodge eco-journey was a stay at Termas de Papallacta Spa & Resort. It's a short hour and half away from Mariscal Sucre International Airport tucked away between the two volcanoes that tower above Quito. Driving up the road we experienced the 4 distinct microclimates that uniquely co-exist in Ecuador. We made a short stop at Guango Lodge, a privately owned and operated facility. It is home to a wide variety of hummingbirds that drink from the multitude of red juice feeders on the property. You can also book a stay there. We took a few cool photos and continued on.
Termas de Papallacta is the first health spa in the country of Ecuador acknowledged by the medical ministry for its therapeutic applications. (After all the Patagonian hiking, an evening relaxing in the hot springs was very healing. Smart booking by Marianna at Quasar). Because the resort is situated between Cayambe and Antisana volcanoes the natural hot springs bubble up from a deep geological layer into the pools that run through the property. Its quaint cabins, which can accommodate a whole family, are reminiscent of sleep away camp. They have small kitchenettes, modest bathrooms, fireplaces, queen beds and a sprinkling of bunk beds for the little ones. Most of the other guests were local Ecuadorian families, so if you really want to relax like a native, this is the place to visit.
DDWKD #2 DO NOT rely solely on your American Express card in Ecuador. I spent a good 2 ½ hours in Quito searching for a bank that would accommodate an AMEX cash advance. Never found one. Take your Visa, Mastercard or a fanny pack full of greenbacks as the Ecuadorian monetary system uses US currency.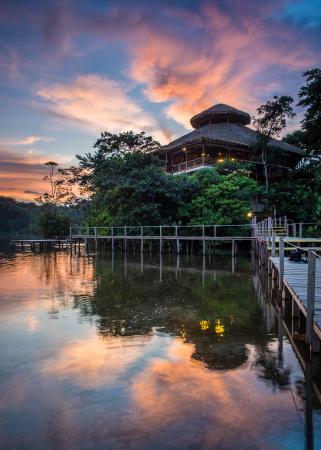 The final South American Luxe lodge stay was deep in the Ecuadorian rainforest at a place called La Selva Eco-Lodge & Spa. I was very drawn to the idea of staying at a property that offered a blissful oxymoronic combination of luxury + treehouse-like accommodations. As with Explora, getting to La Selva was an adventure within itself. There was a twenty-five minute flight from Quito to Lago Agrio, at which time we were again met by a Quasar guide, Luis, who accompanied us on the 2 hour bus drive, half hour motorized canoe trip and additional twenty-minute paddle canoe ride to the resort's dock. Once there you realize the effort was worth it every second, it's a rainforest paradise.
La Selva sits on the edge of Lake Garzacocha immersed in a biosphere known for spectacular bird watching, (I am told there are over 1600 species of birds that call Ecuador home) a variety of monkey troops, oversized Anaconda, crocodiles and piranha. The manager, Carlos, is super friendly making us feel as though we'd arrived to a long lost friend's house. We were immediately served hot cocoa and a delicious pastry while Carlos oriented us to the surroundings and escorted us to the cabana.
La Selva, originally built in the mid-80's was the first lodge in the forest and, at that time, had a more bare bones camping in the woods feel. Purchased by Columbus Travel Group in 2011, it has been completely renovated and upscaled. Our king room had a large master bath, plenty of closet space, indoor and outdoor seating areas. The attention to detail at La Selva adds to the luxurious feel. There's small wooden cabinet the size of a room safe with a bulb in it called a "hot box," used to store your electronic valuables, so the rainforest moisture won't damage. The entire resort is wifi capable and rather than a chocolates on the pillow at bedtime there were bite-sized sweet treats left on the table. One night's offering was a mini-cheesecake.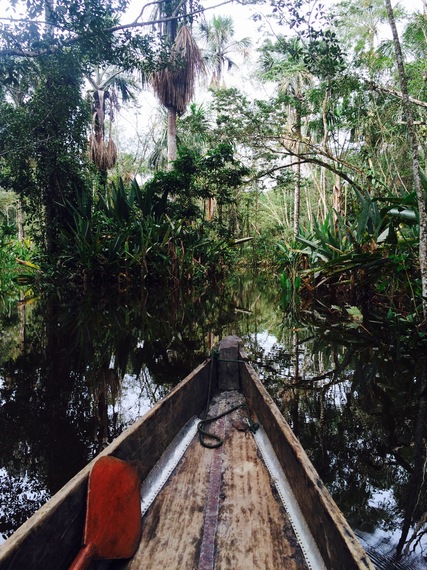 Mornings begin at La Selva with a 6am wake up call at your door. It makes sense to maximize your day, as Ecuador being on the Equator, has exactly 12 hours of daylight from 6am to 6pm everyday year round. Accompanied by our trusty Amazonian eyes and ears, Luis and Sixto, we enjoyed day and night rainforest walks. We encountered many insects, a variety of rainforest medicinal flora and fauna, frogs, bats, snakes, monkeys and a fresh batch of boar tracks. I simultaneously felt like Tarzanetta of the Jungle and wondered what a Hollywood-type girl was doing trudging through the mud. It was dirty, but not too taxing for anyone in our group.
Fortunately, none of us had to forage in the woods for nuts and berries. While the meals at La Selva were not quite Explora worthy, they were good. The resort does their best to accommodate your tastes. For example, if you're a vegetarian they'll make sure they have appropriate options for you. I was asked to fill out a meal request form before departing for the trip. Selva serves three courses on a perfectly set table of silver and china. The elegant irony did not elude me.
In addition to the jungle walking tours, there are canoe trips, kayaking, spa treatments, and you can either fish for or swim with the piranha in the lake. (Really! I am told they don't bite as long as you don't stick your finger in their mouths - duh!) One afternoon motor-canoed across the River Napo to Yasuni National Park for a visit to the observation tower. The deck sits 40 meters high above the rainforest canopy. The climb was not too taxing and certainly something every member of the family, taken slowly, can accomplish. It allows a completely different perspective of the rainforest as you can virtually see 360 degrees for miles. Not only did we spot howler monkeys, macaws, parrots, vultures, toucans, but also a beautiful double rainbow and a spectacular sunset.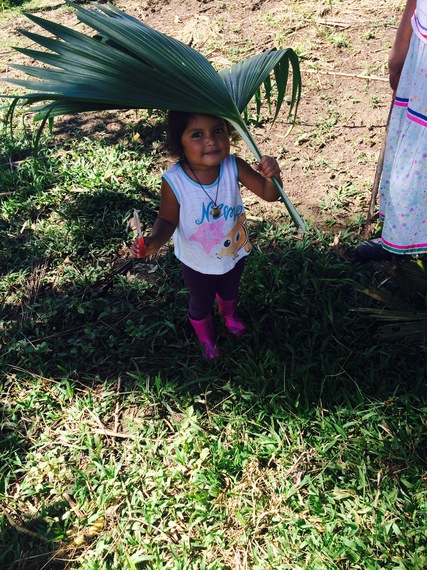 Personally, my favorite excursion of the trip was a visit to Isla Vista village for a day with the indigenous people. We were greeted at the dock by a village mom and her three-year-old daughter. The little girl was precious marching around in her hot pink rain wellies. We toured the long open rooms that serve as multi-grade classrooms, the village soccer field and community room. Half of the building served as a store where tourists can buy handmade jewelry, bowls or chocolate made from the cocoa beans they grow, harvest and prepare in the village. The other half of the building is a communal kitchen. The women prepare a typical village meal for visitors to try. It includes fish wrapped in banana leaf, cooked yuca, hearts of palm, plantains and palm tree larvae on a skewer. The kids suck the larvae out of its skin like an icee.
DDWKD #3 Before you head to the Amazon check your gear. Though the packing list on La Selva's website includes a flashlight, it doesn't specify what kind. A standard issue Rayovac Bright Durable for the thrifty price of $9.99, like the one I took, isn't going to cut it. Because, in the middle of the rainforest, in the middle of the night, when it's pitch black and you want to see where you're walking, you are going to want an industrial grade indestructible LED type flashlight! Thank goodness my guides knew what they were doing.
On the bright side the packing list also includes walking shoes or sneakers, which I didn't take and aren't critical. I ended up wearing the Lodge provided Rubber boots for all my excursions into the forest. They are invaluable. And another, dare I say, luxurious perk.
Getting in and out of the rainforest is an all day affair, so I suggest one night's stay in Quito to re-acclimate before returning home. After so many Lodge type experiences, albeit luxe, it was a privilege for us to stay at a place that was simply luxurious, Casa Gangotena, situated on the Plaza San Francisco in old town Quito. This boutique hotel was once the residence of Republican-era presidents and the Gangotena family. From the moment the doorman politely swung open the glass door, I knew we'd entered a special place. The staff is exceptionally solicitous and the lobby fragrant with the scent of the stargazers that populated the glass garden room. Interesting to note, because of Ecuador's situation on the equator and the position of the sun straight overhead it is the largest exporter of many flowers including stargazers, orchids and long stem roses...they grow straight up! Which is probably why there were huge floral centerpieces all over the airport, even above the sink in the ladies room.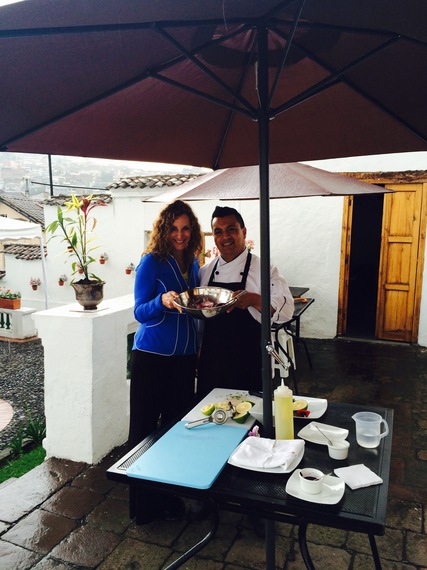 With all the wonderful moments of this extraordinary bucket-list trip, the one I personally will remember most is my cooking lesson and lunch at Los Milagros Restaurant. It is a hidden breakfast and lunch spot tucked away on a narrow cobblestone street in Loma Grande, the oldest part of the city. The building is a seventeenth century chapel that owner/executive Chef Carlos Roldan along with his partner Fausto Caballero converted into a restaurant. Under Chef Carlos' careful tutelage, I learned how to make Ecuadorian ceviche. Then we sat down in the anteroom and had a three-course lunch, which included the ceviche I'd just prepared, a traditional Ecuadorian rabbit dish and a crispy Sauvignon Blanc. Carlos was trained to be a chef in France, and then worked in NYC before returning home to Quito to open his restaurant. Everything they prepare at La Capilla is homegrown on Carlos' property. It is literally farm to fork. The restaurant has only been open for six months, and to date a hidden gem, but not for long I suspect. In addition to their Tuesday through Sunday breakfast and lunch service, every Friday, or by reservation, they will organize a made to order gourmet dinner and dance show, all enjoyed in the magnificent chapel garden. Taking your family to Los Milagros is a definite DO what Kerri did.
DDWKD #4 The last tip I can offer is don't think you can travel to all the highlights of an entire continent in one 10-day trip like I did. Every place we visited takes effort to get to and are amazing...so give yourself the time to enjoy each of them. It is worth it.
For More information on Multi-gen family travel or Single Mom Lifestyle visit kerrizane.com.