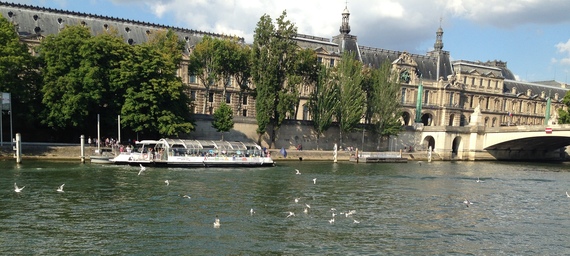 I recently spent a few days in Paris, at the height of the summer. It was beastly hot, and the downside of Paris being voted the #1 tourist destination is, well... tourists - an overcrowded, cacophonic abundance of them. Yet I had a fairly blissful trip. Why? I chose hotels that enhanced my visit, removed me from the hustle and bustle of the crowds, and catered to my needs and even to my whims. Let me tell you, it made all the difference.
BOUTIQUE HOTELS
I much prefer a boutique hotel to the large chains - local properties give you a true feel for the city you're staying in, and the attention you get when the staff has under a hundred rooms to manage is delightful. Coming back to one of these properties at the end of a long day was like shedding the thick, dark cloak of my journey and stepping into a garment of light.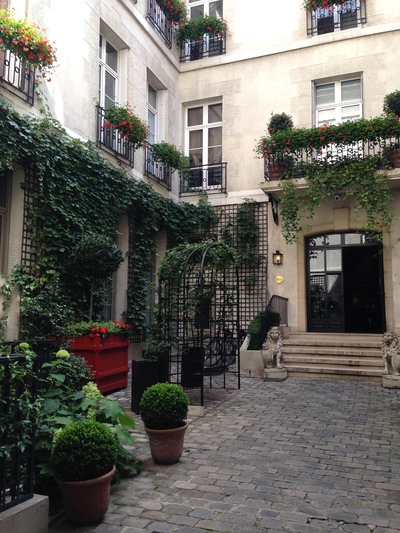 The beautiful Relais Christine Hotel seems like a getaway to a little French village, while the Hotel Recamier, in the square adjacent to Saint-Sulpice Church, is a little more citified. Both hotels are 4-star and each, in its own way, completely enhanced my vacation in ways I did not expect.
To say the Relais-Christine was enchanting is an understatement. A former residence-turned-nunnery-turned-hotel, the 49 rooms are set back on a quiet street and several of the suites open to a private garden. Each room is individually designed, and breakfast is served in the 13th century crypt, completing the historic mood of the property. The hotel will loan you bikes to get around, though the cobblestone streets are easily accessed on foot.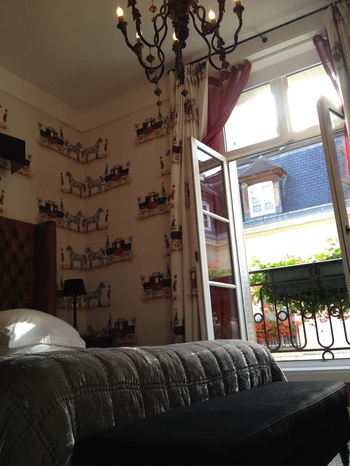 The view out of your room (even if you are not lucky enough to have a view of the private garden, booked a year in advance!) is a quiet, traffic-less Cobblestone Street. It's hard to believe you're around the corner from the Ponte Neuf, one of Paris' most famous bridges, and many local galleries, designer shops and charming restaurants are within a few easy blocks of the hotel.
The Hotel Recamier is just 24 individually-decorated, well-appointed rooms and the cozy atmosphere is enhanced by an outdoor courtyard for breakfast and complimentary afternoon tea. The decor is French-chic-meets-modern-funk, and despite the small space, they've managed to tuck amenities in everywhere. If you can, stay in the large club rooms, but all the rooms overlook the wonderfully quiet square and the church. Recamier is ideally located just a few blocks from the pulse of the up-and-coming local designers and terrific nouveau bistros, making it especially ideal for a shopping holiday.
When I originally booked these hotels it was more based on location and convenience, and my memories of Paris are that the city itself is so memorable, who cares where you stay? In retrospect, the hotels themselves improved, and in some cases "made" the trip, and I realized the vital importance of picking places to stay that enhance your experience.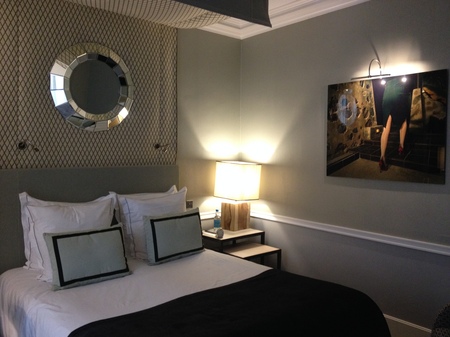 THE BED
I'm a woman (you know this already) and for us, it's all about the bed. The crisp white sheets, the down comforter, the sink-right-in pillows, the supportive yet cradling mattress - all these things done right can give you a great night's rest that will make you feel pampered as you fall asleep and delicious as you wake the next morning. On the other hand, stay in a lousy bed (older mattress, lumpy pillow, God forbid even a small stain on the sheets making you wonder what else is not clean) and see how you feel wandering around crowded streets and waiting on lines the next day.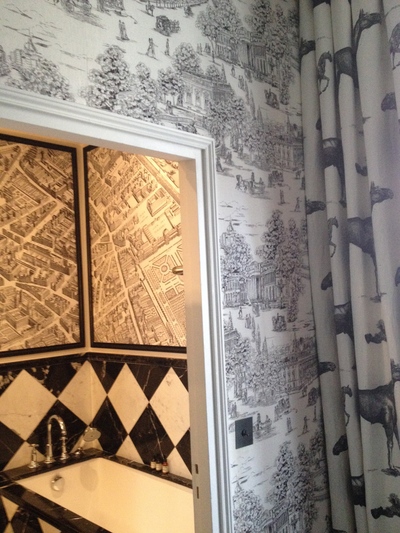 THE ROOM
Are you a shower person? A bath person? Relaxing in a bubble bath can really help after a long day, even just a foot soak. A hot shower can wash away even the grimiest feelings. Hotel Recamier and Relais Christine had a soaking tub in the room I stayed in, and both hotels had wonderful shower heads - this is something Americans usually take for granted, but in Europe, you might find a hand-held shower only, or a hotel that doesn't have mixer taps in the tub. Also, don't assume the rooms will be air-conditioned. July in Paris this summer was exceptionally hot, and I was tremendously grateful for the air-con (as it's called over there) in both rooms. When you make your reservations, you might want to call and check on these simple comforts.
THE STAFF
Whether it's being referred to by name, an extra cup of coffee whisked to you at breakfast, or a special request taken care of, the staff of a boutique hotel can offer you a level of service that makes you feel pampered from the moment you walk in the door. I watched a family checking in for a single night at the Relais Christine - when they mentioned a visit to the Moulin Rouge; the clerk shook her head, glancing at the children. She took the time to find out what they wanted - which was to experience French music - and recommended several places appropriate for a family experience. I got several suggestions, months in advance, by writing to the hotels once I had booked them and telling them the types of places I wanted to visit - I received long, helpful responses in reply.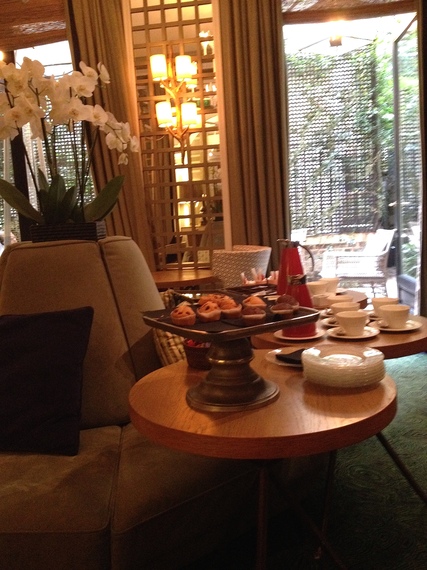 AMENITIES
Hotel Recamier offers a daily complimentary afternoon tea in their cozy breakfast room/lounge, which spills onto an outdoor patio. Relais Christine has an honor bar in their lounge - you just take what you like and mark it down, handing your chit to the front desk to be added to your bill. Recamier has a "chic picnic box" in each room that holds a map of the most romantic places to picnic, a bottle of wine, foie gras, and directions to a local bakery where you can buy fresh bread. If they don't have spas on-site (like Relais Christine) they can certainly suggest local places or often have in-room mobile spa services. It's exactly these types of special or unique amenities that can take you out of the hustle of the places you're seeing back-to-back on your trip, and give you a respite that will become one of your favorite moments of your vacation.
THE BUMP
One of the best ways a hotel can help your vacation is contained in that magical French word: concierge. One got me tickets to skip the line at the Louvre, saving me at least two hours standing in the hot Parisian sun. While other museums aren't quite that ridiculous, the Musee de Orsay is extremely popular and cut-line tickets are available there, too. My other hotel concierge provided me with tickets to an Eiffel Tower tour, which was well worth it. Not only an education about the history of the iconic structure and an aerial walking tour of the city below, it allowed the small group to skip ticket line that snaked around the block, as well as the long line to take the elevator up to the marvelous second-story views. Last, the concierge will make restaurant recommendations (wonderful if you're not familiar the city you're staying in) and also your reservations, and sometimes can even get you a table at a place that's booked solid. All these experiences can give your trip a bump that makes you feel special and add an often overlooked element: the gift of time.