This week marks the end of my international, whistle stop tour to Dubai, New York and Versailles, where I shared ideas about the future of luxury with some of the most inspiring thought leaders from around the world.
Luxury runs deep at Marriott International. Our luxury portfolio encompasses The Ritz-Carlton Hotel Company, BVLGARI Hotels & Resorts, EDITION Hotels and JW Marriott Hotels & Resorts, with over 200 properties spanning the globe.
Each one is defined by impeccable quality of design, service and world-class amenities. But, each evokes a distinct emotional connection with its guests, and it is my mission to make this connection as meaningful as possible.
Marriott International's Cultural Game Changers thought leaders forum took place in the tallest dedicated hotel in the world - the JW Marriott Marquis Dubai, with fifty visionary leaders in art, design, fashion, film and social media.
Conceived by Marriott International as a supportive platform for big thinkers from a variety of creative disciplines to engage with each other and share ideas for the future, Cultural Game Changers also advances our cultural intelligence, helping us to engage "next generation" travelers and enrich their hotel stay with profoundly new and exciting experiences.
Our guests at the inaugural Cultural Games Changers, which took place at the London EDITION in 2015, included James Gay-Rees, producer of Amy, the 2016 Oscar Winner for Documentary Feature, and George Yabu and Glenn Pushelberg of international design firm Yabu Pushelberg, which is designing our brand new, young at heart Moxy Hotels in New York, scheduled to open in 2017.
In Dubai, among our panelists, all of whom happened to be women, fashion designer Khulood Thani, the first UAE national to hold a degree from ESMOD, the Paris fashion school, emphasized the importance of local relevance and global resonance in building an authentic brand, and Suzanne Trocmé, internationally renowned art curator reiterated how successful design combines both craft and innovation. As we evolve our portfolio of brands, I will ensure that these subtle nuances are built into the experiences we are developing for our guests around the world.
At the French-American Luxury Symposium, I joined more than 180 delegates from French and American luxury brands and industry leaders to explore and navigate the luxury goods and services market, which is now a global industry surpassing $1.7 trillion.
I participated in a panel discussion, 'Strong Heritage Brands: Artisans, Ateliers And Métiers', that included Alex Bolen, Chief Executive Officer, Oscar de la Renta, LLC, which examined how heritage brands can adapt to a new evolving millennial consumer and maintain their exclusivity.
As part of our luxury portfolio, The Ritz-Carlton's reputation for rare and special luxury experiences extends across generations and all over the world as a living legacy, equal parts past, present and future. Instead of viewing legacy as something that brands inherit, The Ritz-Carlton believes the more powerful form of legacy is one that is written by brands in the present.
At Marriott International we are not afraid to write new chapters.
I wrote down brief musings from the symposium on what luxury is today:
• Luxury is what is rare
• Luxury is trust and authenticity
• Luxury is emotional connection and flawless experience
• Luxury is transparency
• Luxury is when technology removes the transactional portion of the experience so that you can deliver seamless, transactionless, personalized experiences
Understanding our guests' expectations is critical. Our commitment to creativity, innovation and technology allows us to anticipate the precise needs of our customers of all ages, to stay relevant and connect with them directly.
Luxury travel has increased by 48% in the last five years and luxury spending increased by 6.6% in 2015. To meet this rising demand from both domestic and international markets, Marriott International's luxury portfolio, which is comprised of the The Ritz-Carlton Hotel Company, BVLGARI Hotels & Resorts, EDITION Hotels and JW Marriott Hotels & Resorts will grow by more than 50 hotels by 2018, solidifying it as one of the most robust and compelling collections in the world.
Grand Finale in Versailles
Hosted and moderated by New York Times fashion director, Vanessa Friedman, and award-winning New York Times journalists, the New York Times International Luxury Conference was billed as "addressing the most critical challenges -- and unexpected opportunities in today's luxury battlefield."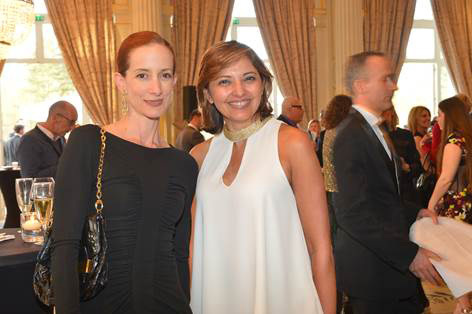 With New York Times fashion director Vanessa Friedman at the New York Times International Luxury Conference in Versailles.
I went into battle as host of a lunchtime roundtable discussion, 'Customer Service - Designing The Customer Experience And Building Loyalty'. I found no enemies, only great brand allies who believe, like we do, that the new luxury consumer cares deeply about the global impact of corporate social responsibility. Your purpose, your moral imperative and what you stand for must be transparent. Tiffany & Co., I learned, produces a sixty-page sustainability report to document its social responsibility and Brunello Cucinelli of eponymous Italian luxury fashion house, reminded the group of the importance of "working to foster human dignity not to harm mankind".
Christophe Brunet, Primum Familiae Vini wine ambassador, who joined the round table I was hosting, recounted a new luxury legend from last year's Auction Napa Valley, which illustrates unprecedented metrics of collaboration. The Chair's Lot, comprising a 35-year vertical wine collection of Opus One magnums, plus a two-week tour and visits to the eleven families, who form the Primum Familiae Vini association, became the auction's highest grossing lot of all time when it was tripled and sold to three bidders - lured by a rare combination of prestige, personal access to the greatest wine estates, and a philanthropic commitment to reinvest and sustain the vineyards.. The combined sale generated $2.4 million!
Marco Bizzarri, President and CEO, Gucci, who I sat with at dinner believes brands sell dreams, and with new creative director Alessandro Michele he is reviving the Gucci brand. He spoke to the power of technology to change the way consumers connect personally and emotionally with brands - about how they now own brands. He added that brands, which stand for authenticity, transparency and consistency, will own the future. I plan to follow his example, which is best captured by his quote, "Timeless doesn't mean being stuck in time. Take risks, listen, but have your own vision."
Photo Credits from top in order:
Marriott International Cultural Game Changers London at The London EDITION, July 8, 2015, photo Tristan Fewings for Getty Images.
Marriott International Cultural Game Changers Dubai at JW Marriott Marquis Dubai, March 19, 2016, photo Francois Nel for Getty Images.
Getty Images for The New York Times International Luxury Conference.