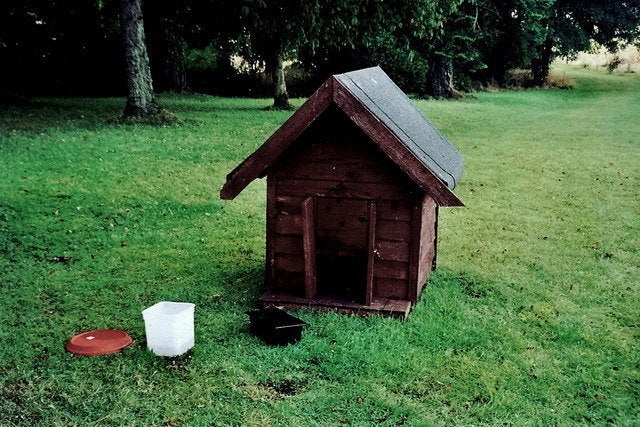 Back in Rin Tin Tin's day, dogs lived in the backyard chained to a tree, grateful for any crudely built shelter that protected them from the elements. But now simple doghouses have morphed into designer dens and puppy palaces, and even become a multimillion dollar industry.
Before the era of deluxe doghouses, the world was a simple place where dogs chewed on bones and fetched the paper. That all changed though. One of the first dogs to be treated to a cozy dog house was Snoopy from the Peanuts comic series. He showed his appreciation by rudely sleeping atop his house, ignoring the cozy confines below. This attitude proved contagious and it wasn't long before celebrity dogs turned the pet world completely upside down. Bud Lite spokesdog Spuds McKenzie arrived on TV and pretty soon dogs were wearing sunglasses, partying with bikini-clad ladies and cracking open bottles of light beer. An audacious talking Chihuahua had the nerve to demand fast food tacos. And we won't even mention the things Triumph the Insult Comic Dog has threatened to do to people and inanimate objects.
Despite these celebrity dogs leading some impressionable hounds astray, most dogs still long for little more than a spot on the couch instead of fancy doghouse. While most outright refuse to fetch slippers, a good dog is probably content with a patch of carpet or a corner of the bed. But for those who insist on a designer doghouse, their dogs will probably appease them by curling up inside to dream of fat, slow squirrels, just like they did when they were wild and lived under the stars.
While dogs have increasingly moved indoors, there are still plenty of American homes that have outdoor doghouses. Strangely, while housepets routinely appear in Estately's real estate listing photos, the appearance of doghouses is far less frequent. High-end indoor doghouses occasionally appear in wealthier neighborhoods in Los Angeles and San Francisco, but almost never in Miami or Washington, D.C. Outdoor doghouses are sighted more frequently in less urban areas where there are usually larger yards.
With business booming for all things related to dogs, the stylish doghouse trend is destined to continue. There's even a site called Architecture for Dogs that launched on November 15, 2012. The Frank Gehry of doghouse design could soon be discovered and who knows what other wonders or absurdities may come?
*By the way, if you're relieved to have read an entire article related to dogs without once seeing a corny play on "Who Let the Dogs Out" then please show your gratitude by sharing this article with others.
REAL LIFE. REAL NEWS. REAL VOICES.
Help us tell more of the stories that matter from voices that too often remain unheard.