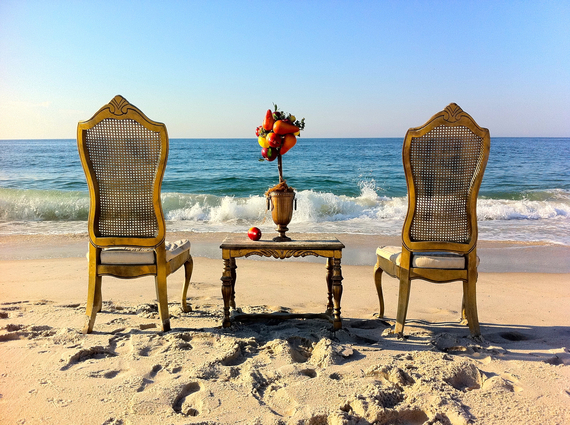 Just another day in the Hamptons. (Image credit: Misha Pinkhasov)
Luxury is bound up with notions of leadership, innovation and justice. Luxury can inspire both desire and disgust. One of the most emotional of industries, luxury is an important subject, both for luxury brands and the society that variously reveres or rejects them.
On which side of this line luxury brands fall depends on the approach they take. Hyperallergic were reacting only to luxury's most obvious facets, and reflecting today's concern about social and economic inequality. But do luxury brands exist only to cater to the wants of the privileged or do they have something more fundamental to offer?
We are living in what economist Thomas Picketty calls a New Gilded Age: a time of conspicuous accumulation and concentration of wealth. The images we retain from the original Gilded Age are of the luxurious trappings of the upper classes.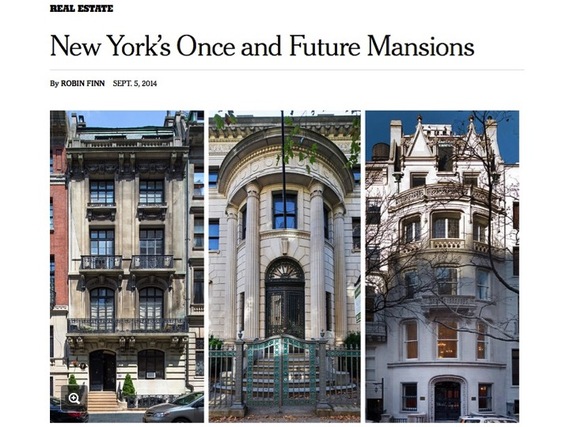 Gilty realty. (Source: NYTimes.com)
But those were only a patina over the struggles of those trapped underneath; a situation that eventually brought the world into the violent conflicts that defined the first half of the 20th century. The problem was not the inequality so much as the elite's perceived indifference to it - their penchant for luxury over leadership.
And yet: "The luxury sector has been an important arena for the preservation of traditional skills, as well as for technological advances since the middle ages," said Glenn Adamson, the director of MAD. "The history of luxury is intertwined with many other subjects such as the early development of mass production; the refinement of electricity and domestic appliances; the expansion of rail, car and air travel; and cross-disciplinary experimentation in contemporary fine art."
The most valued luxury goods, more than mere symbols of wealth, are revered today as art. The world's museums are vast repositories of goods made for the world's political, religious, business and intellectual leaders, from Ancient Egyptian funerary totems to iMacs enshrined at New York's Museum of Modern Art, by way of illuminated manuscripts, Louis XVI dressers, Tiffany & Co tea services and Yves Saint Laurent dresses. History retains luxury and converts it into cultural heritage. That is because luxury both reflects and shapes society's values. So luxury itself must lead if it is not to be forgotten.
This is difficult in luxury's current state because the concept has become so muddled. The word luxury is so commercially compelling that it appears on everything from cookie-cutter apartments in New York, to a line of Cadbury cookies, to a hand-dryer in the men's room at a gas station outside of Paris. Beyond the word, luxury's imagery and styling has been imitated by 'cheap chic', often fast-fashion brands, allowing them to challenge genuine luxury brands for appeal. And let's be honest: luxury brands have had a hand in this themselves. Driven by the growth imperative, many climbed down from their pedestals into the realm of "accessible luxury" and the hilarious but sadly un-ironic "masstige."
The luxury business' chosen path of the last several decades forces it to cater to a broad swath of the market. The co-opting of popular culture, the outsize infrastructure of manufacturing and retail networks that put luxury brands in every airport and department store reveal its dependence on a vast core of aspirational customers that once would have been at the margin. These consumers often do not -- and do not care to -- understand the difference between real luxury and a remarkable facsimile.
The language that brands use to qualify luxury -- quality, creativity, heritage, exclusivity and the rest -- only describe its outline. None of these words explain the source from which luxury arises. None of them capture the vision and dedication, the pursuit of excellence and innovation that result in luxury. And that is the point: luxury is not a label, it is an outcome. Luxury is the product of being simultaneously best in category and out of the ordinary. Luxury is literally "extraordinary," or an antidote to our daily lives.
According to Riccardo Viale, Chairman of La Fondazione NY:
The concept of luxury depends on context. As societies in the West become more reflective and focus more on ethics, luxury means timelessness, artisanal quality and heritage as well as social and environmental sustainability.
For the customer, luxury is lived through contrast. The rarity of luxury is not just in its limited supply and exclusive access, but also in the rarity of our experience of it. Otherwise it is a high-priced, high-quality commodity. For the trade, luxury highlights the outer limits of what is possible. Others then follow in line and the whole profession progresses.
In this potent physical and metaphysical cocktail, we find the same qualities as those in leadership. To achieve them requires copious, single-minded effort and raw, inimitable talent, combined with obsessive dedication. The expertise of those best in category gives them license to break the rules, to break new ground in the fulfillment of a unique and compelling vision. This is the moment that expertise turns into leadership, by harnessing imagination. It means taking the intellectual, technical and financial risks that luxury can best afford -- and that luxury can ill-afford to ignore -- even when the "safety" of sales-friendly popularity would encourage otherwise.
Cesar Ritz, Coco Chanel, Ettore Bugatti, Yves Saint Laurent, Cristobal Balenciaga and the other legends of luxury were artists and innovators, actively engaging the radical shifts of their era. They embraced the social change brought by new possibilities and emerging ideas about globalization, technology, gender and racial parity. They were iconoclasts rather than traditionalists. And they created designs and products that served as catalysts for emerging values and as practical tools for a modernizing society. This is what lent timelessness to their names.
Fifty years of relative peace and prosperity have softened us and have allowed purveyors of luxury to focus on the simpler mandate of providing self-indulgence. That is fine for the customer, but luxury brands must stay ahead of the curve. As it is, they are falling behind, feeding desire rather than shaping it. The contest of ideas has become a competition for market share, a race to the bottom that is difficult to reverse.
Today, we are facing challenges similar to those that ended the last Gilded Age: unsettled, new social and economic realities sparked by technological innovation. But this time, luxury's critics are not calling for a storming of the palace gates. They are simply turning their backs, which is arguably worse. They are looking for relevance. They are looking for responsibility. They are looking for leadership.