Jackie and I live a 15-minute walk from New York's Waldorf Astoria. Even though, as locals, we rarely set foot in the place except occasionally to get out of the rain, for us the New York Waldorf is THE Waldorf. But nowadays there are Waldorf Astoria properties scattered around the world, one fancier and more luxurious than the last, judging by the brand's website. A couple of years ago we spent the night at one of them, the Trianon Palace in Versailles, and had a lovely time, thanks in no small part to the excellence and helpfulness of the staff.
More recently we visited the Netherlands and stayed three nights at the Waldorf Astoria Amsterdam, which opened in spring 2014 in a clutch of grand seventeenth- and eighteenth-century townhouses along the Herengracht canal: among the city's most exalted addresses (the mayor's residence is just down the street, as our taxi driver noted when we drove by). Canal-side architecture in Holland tends to be handsome but low-key - houses were designed to convey bourgeois solidity rather than aristocratic flamboyance - so as you ascend the stairs to the hotel's front door there's little hint of the luxury and comfort that reign beyond the threshold.
But the Waldorf is indeed luxurious and - very - comfortable. Public areas are spacious and bright, taking good advantage of the gardens at the back of the half dozen connected houses: Like the buildings themselves, these have been combined into a single space: a generous belt of green with lawns, flower beds, paths and patios that is entirely unexpected in this tightly packed part of town. In weather warmer than January's, it would be delightful to sit there, peer at the tulips and drink a beer or a glass of Champagne.
Some original architectural features have been retained (beyond the façades, which are essentially unchanged, as required in this historic district), most notably the carved staircase off the main lobby and its ornate plasterwork walls and ceiling (the architect was the Frenchman Daniel Marot among whose clients had been Louis XIV), and the eighteenth-century décor of the Maurer dining room, used for private functions and worth asking to see during your stay. The previous tenant of all but one of these houses was a bank, and another feature that the hotel has repurposed is the vault, which now contains a pleasant bar. Near the bar are two restaurants: the Goldfinch Brasserie (named after the Carel Fabritius painting and - probably more so - after the popular novel of that title) and the precision-cooking restaurant Librije's Zusje, which earned two Michelin stars soon after it opened and in which an excellent breakfast is served each day. I was particularly taken by the jams: loose in consistency and with great clarity of fruit flavor.
Breakfast time provided a good example of the attention the hotel pays to service. After the first morning, the man who served us remembered our coffee order, our preferred table, our room number and our name. Indeed, in the course of our stay we were addressed by name by many staff members we'd never even seen - a mysterious phenomenon we've encountered in very few hotels. It's partly a matter of training and procedures, of course, but it does have a magical effect.
Like most hotels nowadays, the Waldorf smells good, thanks to perfumed sprays and aromatic candles from Cire Trudon, which, appropriately enough, was founded in 1643. As we were installed in our room we were offered a choice of scents to be spritzed when the room was made up and turned down. A gimmick? Sure, but it made us smile and feel cared for. The room was ample, very quiet and relaxing, with a neutral palette and simple art including a bold line drawing of the townhouse in which we were living. The bath tub was comfortable, including its built-in cushioned head rest; I mention this because it is not something I take for granted. A Nespresso machine and tea kettle were on the desk, and little treats were deposited each afternoon, such as chocolates or macaroons. Our room had a canal view, which was an object of much gazing; rooms facing the rear overlook the garden, which is lovely too.
Also overlooking the garden through glass walls, at ground level one flight below the main lobby (and the Peacock Alley lounge), is a swimming pool with a waterfall at one end to provide a gentle, soothing roar. It isn't big, but it's nice to relax in it and do a few strokes; off the pool area are a steam room and a sauna, and down a corridor is a well-equipped gym with its own garden view. We used these facilities twice. Once we were the only people there (which is typical for a hotel, isn't it?), and the other time we shared the gym with just one other couple. The whole complex is sleekly good-looking and, thanks to the garden, bright and airy.
Attached to the gym and pool is an excellent spa operated by the French perfumer Guerlain. Jackie and I each had a full-body "Imperial Relaxing" massage (named after the company's classic Eau de Cologne Impériale), and came out smelling delightful and feeling limp and well moisturized. I think this was the best hotel massage I've had, and I was pleased that there was almost no New Age double-talk involved. Something I liked was the lack of a bogus "medical" history form to fill out: the therapist conducted a conversational interview while doing an initial foot bath/massage. Far more hospitable.
The Waldorf is in a fine location: A six-minute stroll got us to the opera house on the River Amstel, and it took us about a quarter of an hour to walk to the Rijksmuseum and its neighbor institutions on Museumplein - longer when we took a detour through the interesting Albert Cuyp street market (open every day but Sunday).
The Waldorf Astoria Amsterdam has a freshness not always shared by other luxury hotels in the city. With 90-odd rooms, it's just the right size for me: big enough that it can provide all the services of a "palace" hotel, and small enough to look after guests with charming personal attention. I look forward to our next trip to Holland so we can spend another couple of nights there.
Waldorf Astoria Amsterdam. Herengracht 542-556, Amsterdam 1017 CG; +31-20-7184600; reservations.amsterdam@waldorfastoria.com. Double rooms can start at around $400 depending on date and availability, but a more typical entry-level rate is about €600 ($650).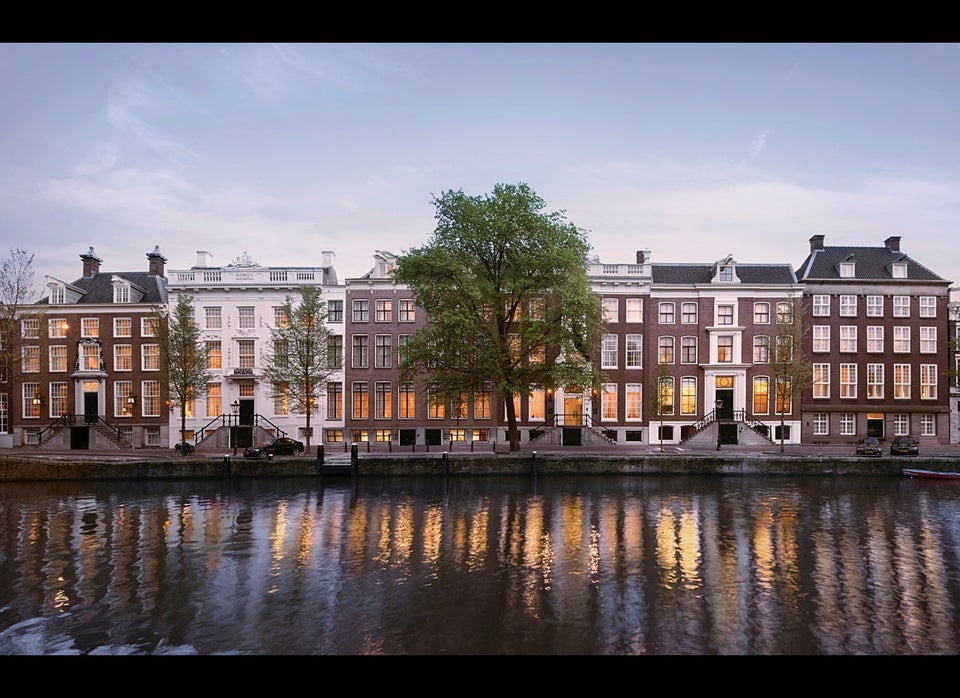 Luxury International Travel: The Waldorf Astoria Amsterdam