Decades ago I wrote for a magazine whose publisher had difficulty paying his writers - specifically, paying them in cash. He was, however, good at bartering advertising space for goods and services and passing the swag on to those of us who were willing to accept payment in kind. This system enabled Jackie and me to stay in hotels we could never have afforded, such as the Dorchester in London, the Imperial in Tokyo and the George V in Paris (where, unforgettably, our bill for extras - presented with a smile - came to exactly one franc: for a phone call).
We also got to stay at the Mandarin Oriental in Hong Kong (the first of the group's hotels). I still remember the almost instantaneous room service and the elegance of the principal restaurant, Man Wah: such a contrast to the rough and ready joints in which we avidly ate most nights.
In February, we returned to the Mandarin Oriental for five nights on our way to Japan. It had been 23 years since our previous visit to Hong Kong, well before it reverted to China in 1997 after more than 150 years as a British possession. I can't say the city is unrecognizable - happily, those rough and ready eating places continue to do land-office business on packed but non-intimidating streets - but it has certainly changed. When it was built in the 1960s, the Mandarin Oriental (then The Mandarin) was the tallest building on the island; that was no longer true in the 1990s, but now its 25-story height seems almost quaint.

So, yes: Since our last stay the hotel has been transformed, notably in the past ten years. In 1993, for one thing, it didn't have its sleek two-story spa/gym complex - and it certainly didn't face the kind of competition it does today from brand new hotels housed in spectacular skyscrapers. It continues to have a great deal going for it. Its lobby may not sprawl over what seems like acres, as at some of the newcomers, but on comfort and service it continues to excel. It is also in a far better location for those of us who still like to walk around a city: Newer properties tend to be away from the core of the town and attached to mixed use developments, while the Mandarin Oriental is on a real street, a few minutes' walk from the pre-skyscraper Hong Kong that's so interesting to wander in. That may not matter to travelers who are going to take taxis everywhere, but for Jackie and me it's kind of important.
Our room had a picture-window view of the harbor from a desk and sofa area - almost an enclosed porch - that was decorated in a pale-painted nod to colonial style, as was the entrance area. The honey-colored wood-paneled bedroom lay in between, the three sections separated by taffeta curtains that created a warm and cozy sleeping place. It had a tea kettle and a Nespresso coffee machine (almost de rigueur nowadays) and uncommonly efficient air conditioning/heating which altered the air temperature in a matter of minutes. Just as in the old days, it had a valet box: leave your laundry in it, press the pickup button, and it is taken away through a little door in the corridor (and it comes back in a matter of hours, beautifully washed, pressed and packed up).
Here are some other things we liked about our stay:
Our limousine pickup at the airport. It may sound expensive at about $135, but it was a lovely way to emerge from an airplane after a fifteen-hour flight. We were met not at the arrivals exit, but at the gate: we got a ride on an electric buggy to immigration; our greeter picked us up again beyond passport control and took us to baggage claim, where he dealt with our suitcases. He then passed us on to a hotel representative, who guided us to the waiting car (which had refreshing moist towels - and wi-fi). When we arrived at the hotel there was no need to approach a reception desk: we were scooped up on the doorstep by a staff member who took us to our room and brought us tea. Not unique in an Asian hotel, but impeccably executed.
The top-floor sky-lit swimming pool and the way a pool attendant brought me a towel as I climbed out of the water - and the way he and his colleagues continually squeegeed the stone deck to minimize slipperiness. And the excellent, delicate butter cookies placed by each poolside chaise longue (along with a couple of apples for those who find swimming and cookies incongruous).
The little Velcro bands with which the housekeepers tidied our tangle of computer/phone cables.
The large number of ever-replenished bottles of water scattered around the room: By the bed, in the bathroom and next to the Nespresso machine and the tea kettle.
The stylish cards that replaced the usual note pads near the telephones.
The breakfast buffet, which included a daily selection of creditable dim-sum and a noodle station, in addition to everything you'd expect. The coffee was particularly good.
The spa. Jackie and I both got ourselves massaged by powerful, skilful women, with gorgeous aromas in the air (there was a choice of massage oil scents, and the session began with the inhalation of vapor from a bowl of steaming aromatized water). I only wish there had been a post-massage visit to a relaxation room.
The large staff and the solicitous, lightning-quick service it provides.
There is something very Hong Kong about the Mandarin Oriental because of its history and its location in the fabric of the city. If it didn't work hard to maintain standards and retain the loyalty of its clientele, that wouldn't matter except to an intense nostalgiac. But it does, and it continues to be a top choice for any business or leisure traveler with a fondness for this fascinating place.
Mandarin Oriental Hong Kong. 5 Connaught Road Central, Hong Kong; +852 2522 0111; mohkg-reservations@mohg.co; http://www.mandarinoriental.com/hongkong/. Double rooms start at around $400 depending on date and availability, but prices are typically higher.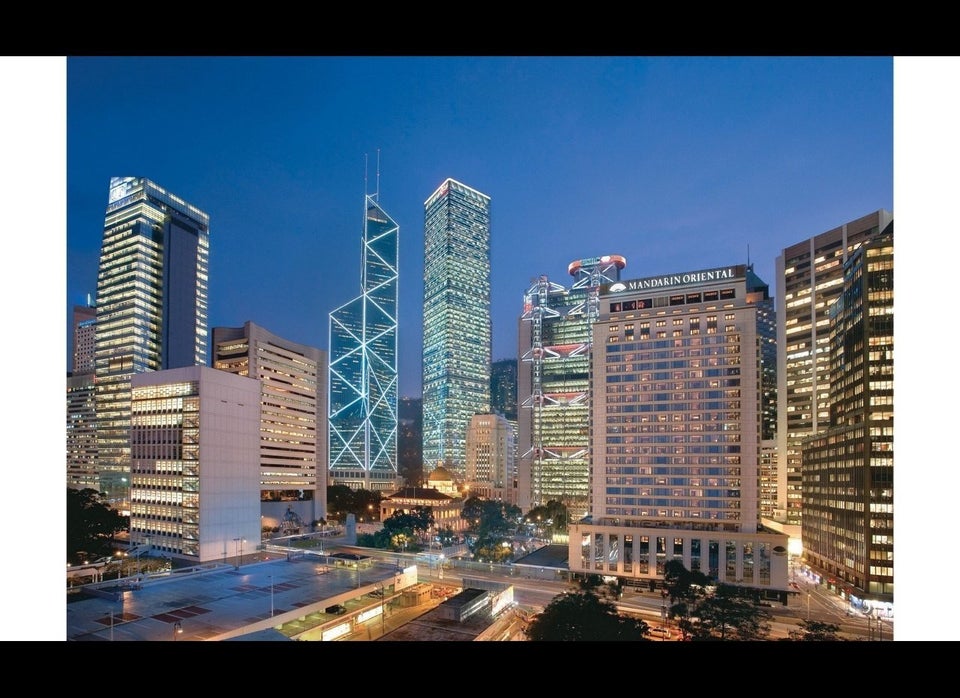 Luxury International Travel: The Mandarin Oriental Hong Kong