What draws twenty-first century travelers to San Sebastian (aka Donostia) in Spain's Basque region? Often, it's the food: If you do a Web search for the town, you could easily get the impression that it is all Michelin-starred restaurants and lively bars serving delicious and varied pintxos (pronounced "pinchos" and the Basque equivalent of tapas). That does not do justice to the elegance of the place, which possesses two gorgeous sandy beaches and which used to be a seaside destination akin to pre-high-rise Monte Carlo: there were casinos, therapeutic baths, luxurious hotels and handsome promenades on which to stroll of an evening. From 1919 it was the home of Balenciaga's first couture business, which suggests a pretty well-heeled clientele.
Now, the ornate casinos are gone (one became the town hall in 1945 and another - the Kursaal at the mouth of the River Urumea - was replaced in the late 1990s by a handsome convention-cultural center), but the site is no less spectacular and the relaxed elegance remains, notably at the Hotel Maria Cristina, where we stayed for a few nights in November. Its location could hardly be improved: It is a couple of minutes' walk from the old town, dense with those pintxo bars and restaurants, and just across the river from the newer, not quite so dense Gros section. Judging by the comings and goings in the bar, the Maria Cristina is a favorite of locals in need of a martini and an hour's relaxation.
The hotel is now San Sebastian's grandest; it opened in 1912 and was built by the French architect of the Ritz hotels in London, Paris and Madrid, which will give you an idea of its expansive style. It was renovated in 2012 to gain a modern lightness without losing any of that grandeur. Ample public spaces, including the vast salon/terrace in which breakfast is served, are painted in neutral tones - so many grays! - with original moldings (and some new ones, I fancy) and plenty of chandeliers supplemented by a canny use of lamps and concealed sources of light. Art is everywhere. My favorite pictures were clones of portraits by Giovanni Boldini; I fondly remember the one of the famed dandy Count Robert de Montesquiou from the cover of my crumbling Penguin paperback of Huysmans's A Rebours.
Richer, more enveloping colors prevail in the atmospheric bar and in the library-like business center. These spaces are inviting and cozy; Jackie and I spent more time in the bar's easy chairs and banquettes than we thought we would, both at cocktail time and following an after-dinner stroll. The drinks were carefully and elegantly mixed and the accompanying nibbles generous.
Our room gave us a charming view across a well-tended plaza to the river and over to the striking convention center and the Bay of Biscay; again the décor was in light shades of gray, here enlivened by bright abstract art that added a contemporary note but did not betray the room's essentially traditional looks.
Room service was quick, and the man who took the order grasped the concept of really, really strong tea, something not universally understood outside the Anglophone world. The concierge desk was staffed by people who knew their stuff and took pleasure in sharing the knowledge; one woman in particular recommended just the right quirky place for a non-hotel breakfast (Café Koh Tao, right nearby, with its mismatched furniture and excellent coffee and pastries) and suggesting some unexpected twists in our touristic itinerary. Housekeeping was efficient and discreet: Things seemed to happen by magic, as they should in such an establishment. It almost, but not quite, goes without saying that there's a fitness center and free Wi-Fi.
The hotel has its gastronomic side, as expected given many people's reason to be in San Sebastian in the first place. There's a new, well-equipped cooking school offering classes in spheres such as Basque cuisine, Ibérico ham slicing and high-tech modernist cooking. And just off the entrance foyer is a delicatessen selling well selected high-quality food and drink from the region. To me, this came as a pleasant surprise, because many hotel-lobby shops don't contain much of interest beyond tote bags and boxes of fudge.
In fact, next time we're there, I will sign up for some cooking classes; my excellent experience at the Hotel Gritti Palace in Venice reminded me that there's no substitute for a hands-on lesson or two.
And there will certainly be a next time, both for San Sebastian and for the Maria Cristina.
Hotel Maria Cristina. Paseo República Argentina 4, San Sebastian, 20004, Spain; +34 943 437 600; http://www.hotel-mariacristina.com/en. Double rooms start at around $245, depending on season and availability.
(While you are in San Sebastian, take a break from snacking and visit the Naval Museum and, a half-hour bus ride away in Pasaia San Pedro, Albaola. In both places you will learn much about the seafaring history of the Basques and, at Albaola, will see a replica whaling ship being built, based upon a sixteenth-century wreck uncovered in Canada. Take the 70-euro-cent ferry from Pasaia San Pedro to the village of Pasaia Donibane and have a glass of Basque cider and a snack before returning.)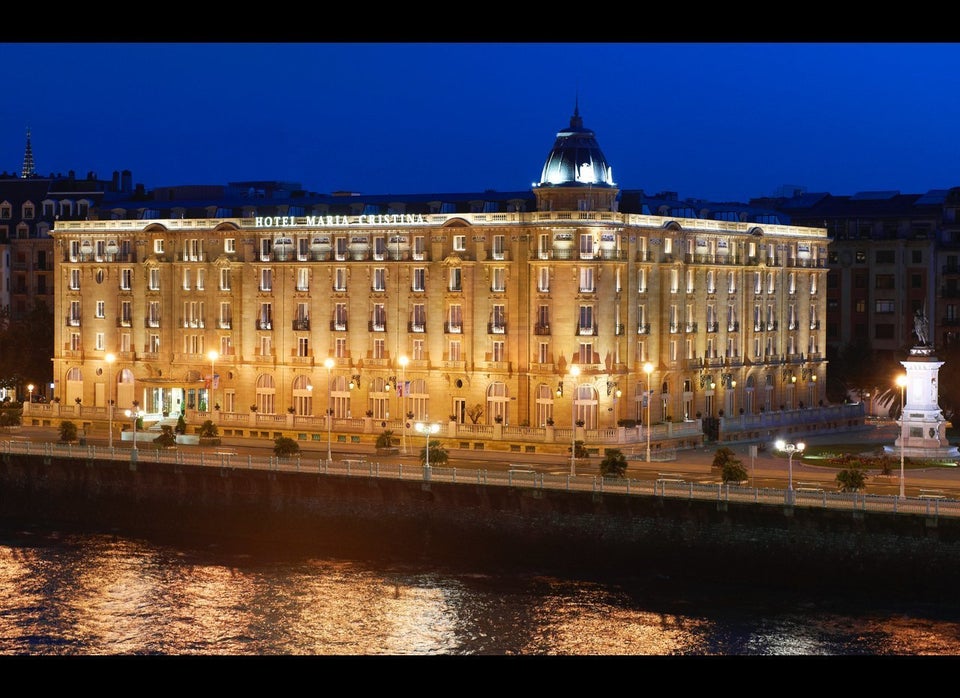 Hotel Maria Cristina in San Sebastian, Spain