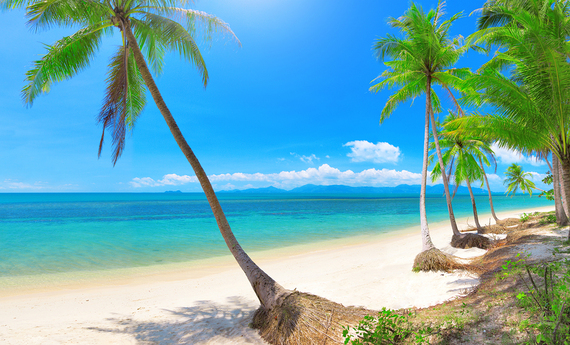 No matter what time of year you're searching for a round trip plane ticket to Thailand from the United States, it's going to cost you north of $1,000. Yet once you get there, food, massages, hotel and entertainment will cost you far less than any Western European excursion, even with the price of the euro heading south.
Better yet, you can indulge in a luxury style vacation hobnobbing amongst elite high net-worth individuals and celebrities from around the world (if that's your thing). If budget is a concern, the jet-set surf, sun and sand lifestyle can cost you just a fraction of the prices at other drop dead gorgeous locations in Europe or St. Bart's, simply by booking a villa that fits within your designated price range (without feeling badly about what you can or cannot afford) on the beautiful island of Koh Samui with Your Koh Samui Villas.
The pristine beaches and virgin rainforest of Koh Samui are easily reached via plane or boat. Quality beach time will be greatly appreciated after experiencing the hustle and bustle of some of the major cities you likely have on your itinerary already: Bangok, Nonthaburi, Nakhon Ratchasima and Chiang Mai.
Your Koh Samui Villas features nearly 250 short and long-term rental villa and apartment possibilities complete with modern amenities, ranging in price from $175 to $15,000 per day, so there is truly something for everyone, whether you are looking for a romantic escape, girlfriends-only getaway, or family vacation. Many of the properties feature views or pools. Your Koh Samui Villas has properties located in the busier sections of the island, as well as the less developed and quieter parts. Tell-all photos show you exactly what you will get for your money.
Your Koh Samui Villas was developed with you in mind; they pride themselves on their customer service, on paying close attention to tending to your needs and desires by creating a hassle-free escape. They will tend to your airport pick-up and return, any rentals of cars, motorbikes, chefs, or entertainment arrangements (such as world-class snorkeling), and answer any and all questions you may have in an efficient and timely manner. There are many wonderful day trips you can take by boat from Koh Samui.
For many, a visit to Koh Samui is a once-in-a-lifetime experience. Your Koh Samui Villas ensures that the images in your mind match the realities of your experiences and that the feelings you will long recall from your time spend on Koh Samui are all treasured.