Our favorite anonymous art collective Luzinterruptus is back with a suspended water installation that is sure to make the modest among us blush. Consisting of 800 liquid-filled condoms hanging from strings in a public square, the illuminated art project is playfully dubbed, "Prophylactic Rain That Doesn't Wet Anything."
The precariously hung droplets are located in the Campo de la Cebada, a popular space in Madrid that previously housed the city's public swimming pool. The location has since been transformed into a meeting space where neighbors and artists congregate to play sports; however, plans are in motion to turn the land into a luxury tourist market.
In typical Luzinterruptus fashion, the group paid homage to Madrid's Campo de la Cebada by creating the unconventional water work. Resembling a sexier interpretation of Urs Fischer's giant raindrop exhibit or rAndom International's now-famous "Rain Room", the (extra-large) condom installation is best described in a cheeky press release as having the "feel and form of silicone breasts, very pleasant to touch and squeeze."
The work was constructed with the help of volunteers in the area and was left overnight in the square for everyone to admire. Watch the video above for a closer look at the "balloon" artwork and let us know your thoughts on the giggle-worthy art prank in the comments.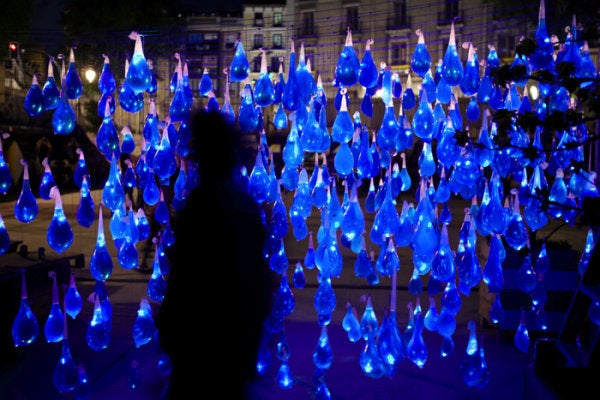 Luzinterruptus
Popular in the Community