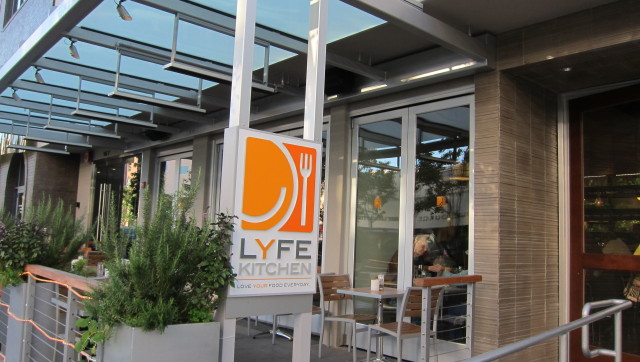 A health-food restaurant started in Palo Alto, Calif., by a former McDonald's executive described as a "maniac" is about to make its national debut. Should owners of smaller, slow food outlets be worried?
Bloomberg BusinessWeek reports that Lyfe Kitchen (an acronym for Love Your Food Everyday) is set to open roughly 10 new restaurants around the country next year in cities that include Chicago and New York.
The restaurant was founded by Mike Roberts, a former McDonald's president who spent 30 years at the multinational behemoth. So, as you'd expect, Lyfe aims to bring a fast-food sensibility to healthy fare: Food is delivered quickly and is supposed to taste good.
Indeed the chain's goals go beyond McDonald's-ifying grass-fed beef. Roberts told Wired's Frederick Kaufman in a July profile that he is looking to revolutionize healthy food by overhauling global supply chains: "The former Golden Archers hope to transform the way the world produces organic ingredients, doing for responsibly grown meat and veggies what McDonald's did for factory-farmed beef," writes Kaufman.
By all accounts Roberts is a force to be reckoned with. Kaufman describes the intense process behind the former McDonald's executive's push to get sliced Apples onto the burger chain's menu -- a months-long effort that resulted in the successful Apple Dippers line. A former McDonald's communications officer who is now at Lyfe Kitchen described Roberts, who at one time had planned to become a priest, as "intense," and a "maniac."
Roberts left McDonald's six years ago and launched Lyfe Kitchen once his noncompete ran out in 2011 with about $15 million from 120 investors, according to BusinessWeek. Both Oprah Winfrey's former chef and NBA player Derek Fisher are investors.
The company won't stay small for much longer, as this latest expansion shows. Lyfe Kitchen in March also launched a line of heat-and-serve soups to be sold in Costco, according to the San Francisco Business Times. "Our plan is to grow as fast as we can," Roberts' partner Stephen Sidwell told the paper in March.
Worth noting, as Wired does: After Roberts' Apple Dippers hit the McDonald's menu, the company became the country's largest apple-seller.
REAL LIFE. REAL NEWS. REAL VOICES.
Help us tell more of the stories that matter from voices that too often remain unheard.
BEFORE YOU GO