Q: How do you prepare mentally and physically for training camp?
Troy Polamalu: Playing professional sports, it's important to eat healthy and take care of your body. In the offseason, rest is really important to me. I also follow a unique training regime under the guidance of trainer Marv Marinovich. I focus on agility and coordination to build faster muscles opposed to the conventional way of gaining strength by lifting heavy weights.
Q: What is your favorite post-practice meal or snack?
TP: After a training camp workout, my body is eager to replace nutrients and energy that are lost during the workout. It's best to have a quick bite about 30 minutes after practice. I like to have yogurt and granola, the combination of carbs and protein helps me recover after a long and tiring workout.
Q: Do you have any advice for kids and teens practicing and preparing for their sports seasons?
TP: No skipping meals and drink lots of water. If you don't eat right as an athlete, you'll get tired and won't be as sharp. It's simple to drink sodas and sports drinks, but water is the most essential drink to put in your body.
Q: What is your go-to food to give you energy?
TP: Lots of fruits and veggies. Anything green, especially kale. I love to create this green juice shake made from kale, spinach, cucumber and wheatgrass. The nutrients in the juice help me recover after a tough workout. The Kale Banana Smoothie at LYFE Kitchen is very similar to my recipe and is fantastic. You can get the recipe here.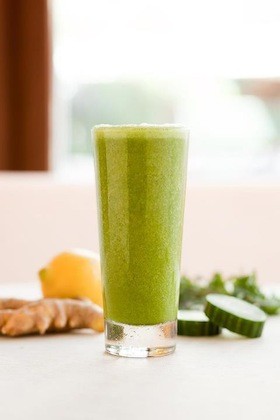 Q: What's important to remember aside from healthy food and exercise when it comes to your routine?
TP: To always use effective muscle recovery routines after a hard workout. Both compression and icing is important to me in post-workout routine.
Q: What keeps you motivated during training camp and the regular football season?
TP: My family is very important to me and the fans mean so much. I wouldn't be able to do what I do without their support.
Check out this video from Troy's trip up to LYFE Kitchen in Palo Alto, CA.