This article is part of HuffPost's Project Zero campaign, a yearlong series on neglected tropical diseases and efforts to fight them.
UMA, Congo ― Snappily dressed Bafimbo Baudoin used to enjoy his appearance, walking proudly around his rural village in suits, sunglasses and colorful hats.
But that changed three years ago, when he began struggling to hide the growth in his groin area ― even with his jacket buttoned.
"Sometimes, I can't walk properly, because the swelling blocks and hurts me," the 62-year-old said, sitting outside a clinic near his home.
Although he still manages to eke out a living farming cassava, the ballooning of his scrotum due to a disease called lymphatic filariasis makes it difficult to work and to be seen in public.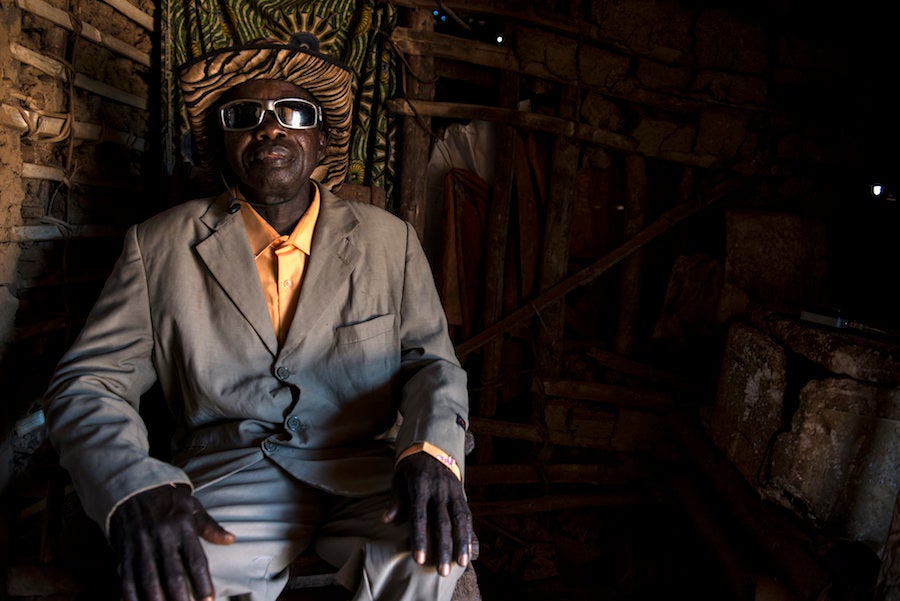 Baudoin's condition, also known as elephantiasis, is caused by parasitic worms transmitted to humans through repeated mosquito bites. The parasites lodge in the lymph vessels, where they multiply for years. Blockages in the lymphatic system can then lead to extreme swelling in various parts of the body.
Although most victims have no outward signs of the illness, some 15 million people around the world experience the characteristic swollen limbs that can grow to giant proportions and become leathery and heavily creased ― like those of an elephant.
Baudoin has developed a more common symptom ― a hydrocele, or buildup of liquid around his testes. Testicular hydrocele afflicts 25 million men, yet it receives less attention.
Without proper care, elephantiasis can disable victims, prevent them from earning a living and isolate them from family and friends. In extreme cases, men have been known to rest their engorged testicles in a cart so they can walk.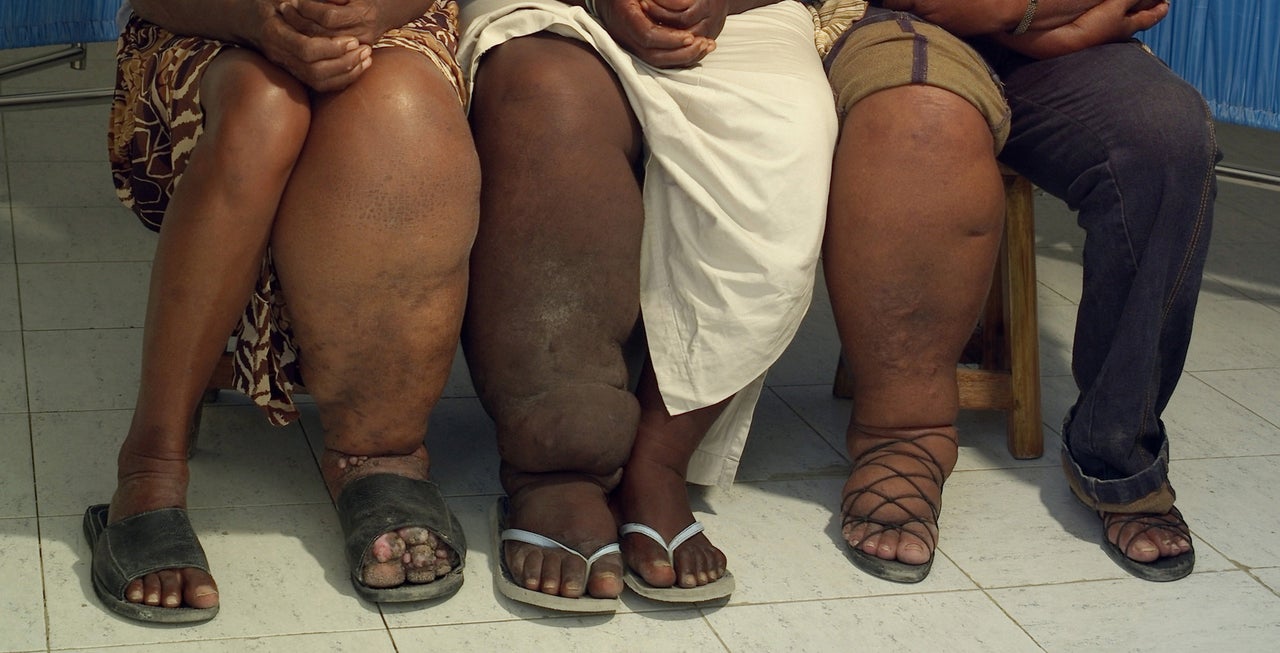 Over the past two decades, significant strides have been made in tracking and controlling elephantiasis in multiple countries around the world. But in tropical regions of Africa, especially the Democratic Republic of Congo, mapping and monitoring of the disease remains inadequate. Vast, poor and ravaged by decades of violence and political instability, Congo presents a myriad of logistical challenges for health workers and patients alike.
Almost 40 million Congolese, just under half the country's population, are thought to be at risk of elephantiasis. Only 30 percent of them were treated with preventative medicines in 2015. There is no reliable figure for how many people are actually infected.
"I don't think [we] really know the size of the problem," said Dr. Belén Pedrique, a specialist in tropical medicine at the nonprofit Drugs for Neglected Diseases Initiative.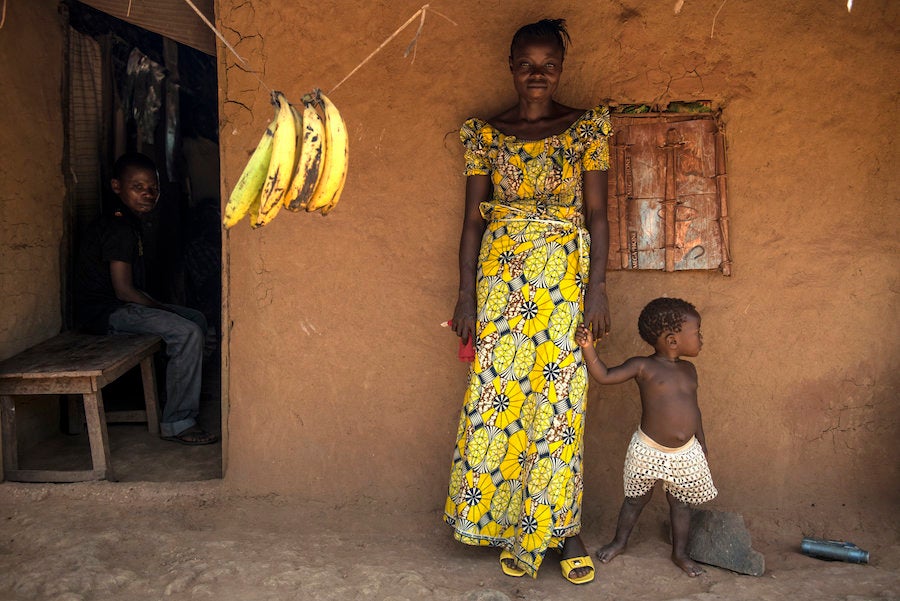 The people most at risk of developing elephantiasis tend to be the ones whose lives are already hard. They struggle to make ends meet in remote places with limited job prospects. They lack adequate health care and education. Baudoin's village, Uma, is located in a forested region in the north of the country, a five-hour drive from the nearest city.
Even if people in Congo can get their hands on the available medications and participate in prevention efforts, these measures focus on stopping the spread of the disease to others, not curing patients. New and better treatments are needed to attack the parasitic worms growing within the body and to bring down the swelling of body parts. There is currently no effective way to reverse the disease's disfigurement of legs and arms.
Baudoin has taken deworming pills that won't destroy the adult parasites in his lymphatic system, but will kill off the next generation of parasites in his blood so that mosquitoes that bite him don't pass the disease on to other people. The medication also won't cure his hydrocele, which he said has destroyed his social life and damaged relations with his two wives.
"I don't go out anymore," he said, gesturing to the melon-sized bulge near his right thigh. "I've only come here today because I knew doctors were coming."
There is one option: A hydrocele can be surgically removed. Unfortunately, Baudoin doesn't have the $100 to pay for the procedure. He barely earns or grows enough to feed his family.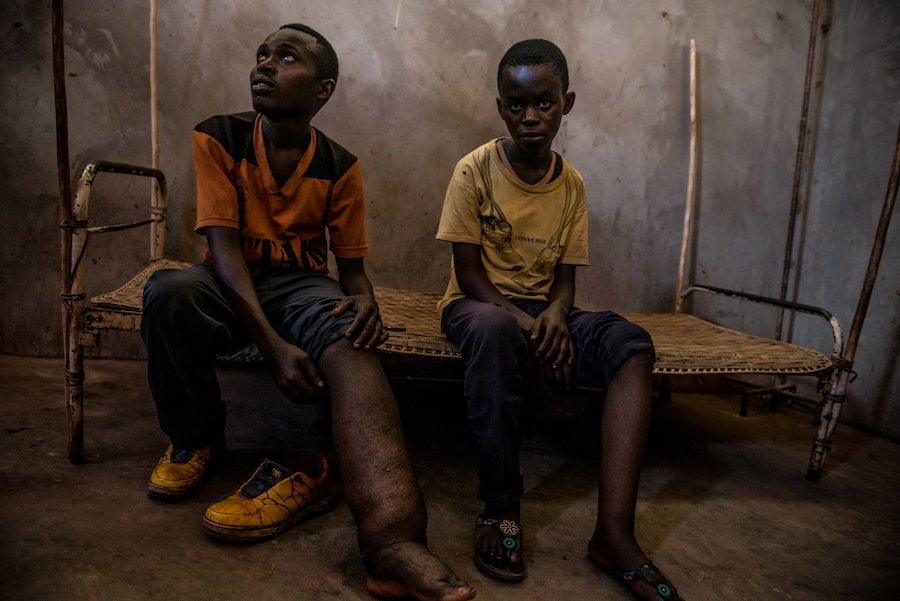 Counting the victims of elephantiasis is hard in part because they can be difficult to find. Some can't leave their homes due to their severely swollen limbs or genitals, while others deliberately hide out of shame and widely held beliefs that the condition is caused by bad luck.
"The problem is the stigma and disability for people who cannot move," said Dr. Pedrique. "They are hidden in their houses. You don't see them in the village."
That's one of the reasons local volunteers in Congo and elsewhere are critical to the ongoing effort to fight this disease.
In 2000, WHO launched the Global Programme to Eliminate Lymphatic Filariasis, with the help of public health agencies, pharmaceutical companies and philanthropic donors. Vulnerable populations are given free or inexpensive deworming medications at least once a year over a period of several years. In Congo, the pills are handed out at no cost to people in places where the disease is endemic. Community volunteers go house to house in remote areas.
Another part of the strategy is to prevent infected mosquitoes from biting people. Insecticide-treated bed nets, which are typically distributed to protect against malaria, have proved effective in blocking transmission of elephantiasis as well. About 70 percent of homes in Congo have one of these nets, according to a recent survey.
While the current range of prevention and treatment methods takes years to produce results, success stories exist. In July, the Pacific island nation of Tonga became the latest country to show that eliminating elephantiasis is possible.
But in Congo and nine other Central and West African nations, there is an additional challenge. A different filarial infection called Loiasis, or African eye worm, is endemic in parts of those countries. One of the key medications used to fight elephantiasis can in some cases cause brain damage, coma or death in individuals infected with eye worm ― which has left some people scared to take the drug at all.
"The regimen in Africa is complicated because you have to check for all the co-infections," said Pedrique.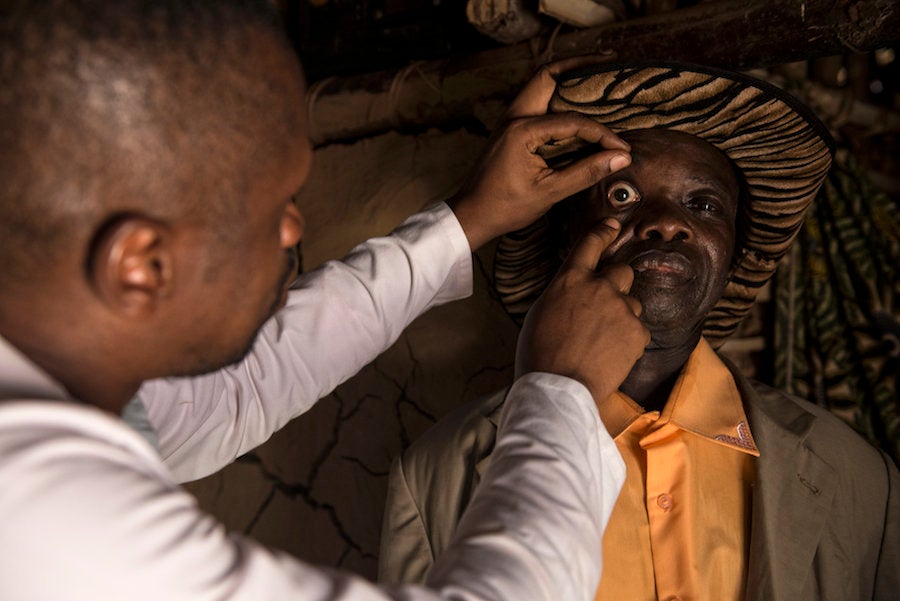 In the years to come, new drugs or different combinations of existing ones might prove more effective in combating elephantiasis. For now, experts are calling for additional international funding to increase certain mass drug distributions in Congo and other countries from once a year to twice a year.
That won't end Bafimbo Baudoin's suffering. Free surgery for his enlarged scrotum is basically his only hope of returning to a normal life.
"My wish is to have the money to get a doctor to fix this," he said. "I feel so much pain and shame."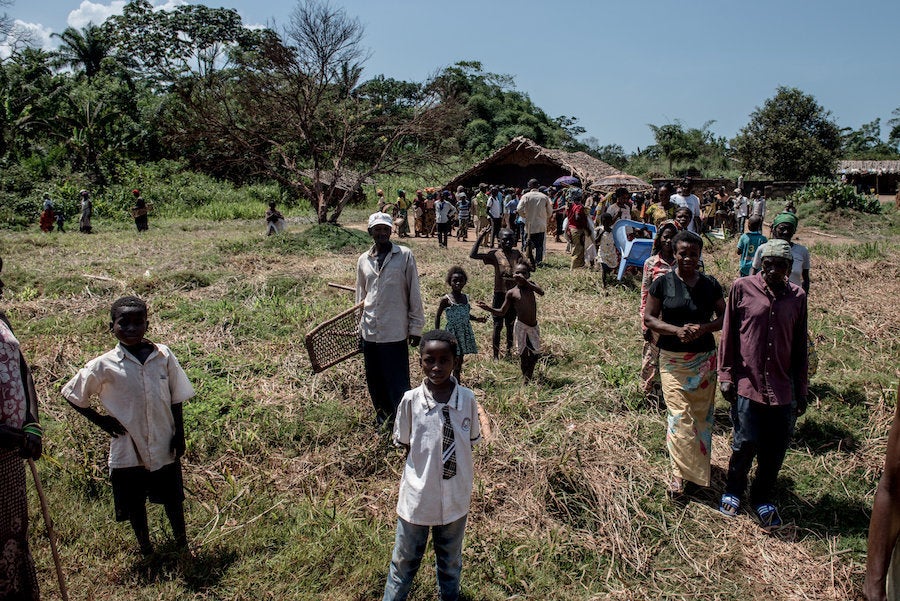 The Drugs for Neglected Diseases Initiative is a recipient of grants from the Bill & Melinda Gates Foundation, which also funds HuffPost's Project Zero series. All content in this series is editorially independent, with no influence or input from the foundation.
If you'd like to contribute a post to the series, send an email to ProjectZero@huffingtonpost.com. And follow the conversation on social media by using the hashtag #ProjectZero.
Before You Go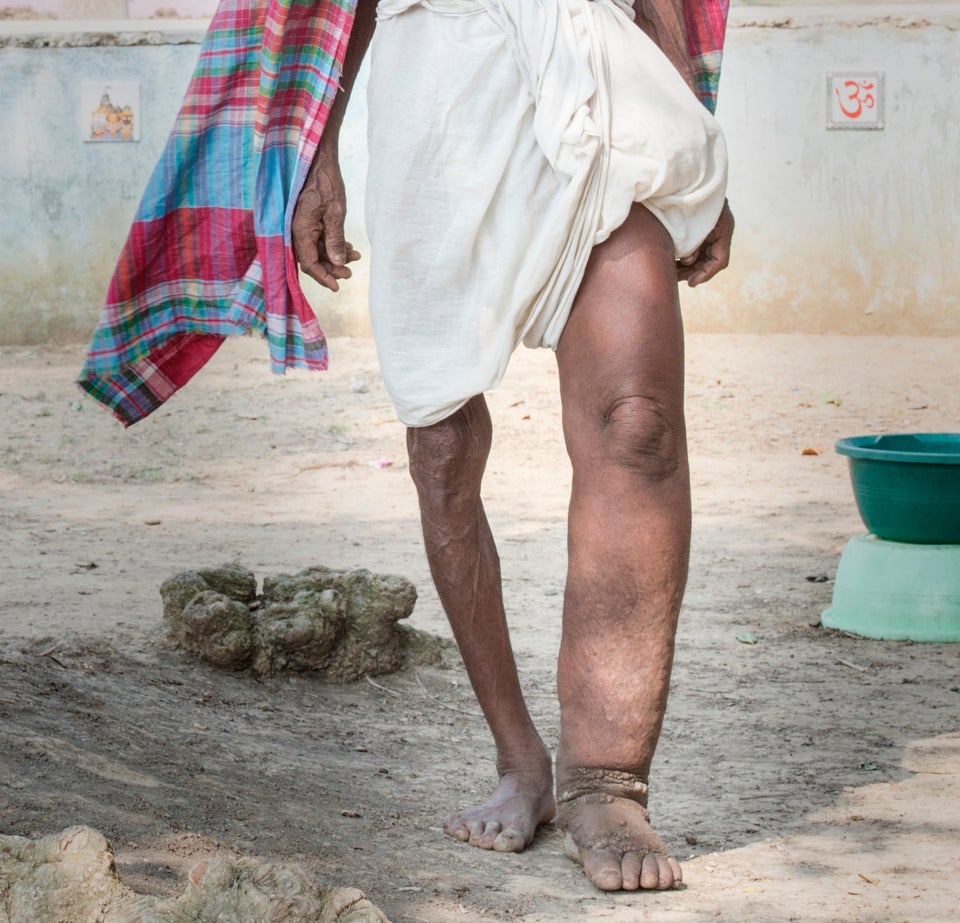 Neglected Tropical Diseases
Popular in the Community