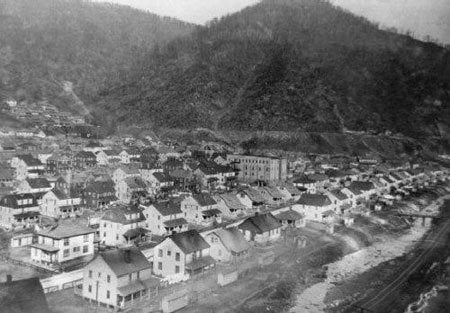 Paging Hollywood screenwriters: The drama unfolding in Lynch, Ky., has all the makings of a big-screen hits like "Erin Brockovich" or "Silkwood," where regular folks took on big companies over environmental and worker safety issues.
The residents of this eastern Kentucky town are in the middle of a long fight to halt mountaintop removal coal mining of the hills that surround it. The hamlet, known for its tradition of African-American miners, was built by U.S. Coal & Coke Company in 1917 to house 10,000 miners and their families. Already, the nearby Black Mountain, the tallest mountain in Kentucky, has been blasted in recent months to access the seams of coal beneath the surface.
The small town, which in recent decades has lost much of its population -- and tax revenue -- has also been trying to get money from the county to help restore an old fire station. Now, the town's mayor is claiming that those funds are being held hostage by Harlan County executive Joe Grieshop. At a heated city council meeting, Lynch Mayor Taylor Hall accused Grieshop of blackmail. He told Hall that he must negotiate with the coal company or the county would not fund the fire station. Virginia-based A&G Coal Company has planned mountaintop removal mining in the area.
"Criminal coercion is when you take or threat to omit action unless someone else is changing what they are doing or saying," said Hall, according to the Harlan Daily Enterprise. "When you say to us, that we will negotiate with the coal companies or not receive any money through the fiscal court, I think that is paramount to criminal coercion."
Grieshop countered that he was simply telling Hall that tax revenue from the coal companies could help fund the station. "I just told them that the coal companies are where the money comes from. If you're not willing to work with them and you're anti-coal, then the fiscal court members are not going to support you. They have already stated that. They don't feel comfortable helping out cities with coal monies, when the city is not trying to work with the coal company."
Here is a video of resident Stanley Sturgill discussing the operation on Black Mountain:
The $15 Billion Hole To Nowhere
Deep under the desert of Nevada, a 25-foot-wide, 5-mile long tunnel intended to carry 70,000 tons of nuclear waste will probably never be used.
The Yucca Mountain project recently halted by the Obama administration, is almost certain to die despite several lawsuits in progress, reports the Washington Post. Calling a "case study in government dysfunction and bureaucratic inertia," this must-read story details the $15 billion project to find and build a place to put the spent nuclear fuel.
Back in the early '90s, my father was brought in to consult the Energy Department (DOE) on ways to warn future generations about the waste buried deep underground. In rapt fascination, I listened to his account of riding an elevator thousands of feet under the ground to visit the repository and his quasi-anthropological discussions with other experts about the challenge of anticipating how people in 3000 A.D. will interpret warning signs.
In related news, a federal safety board blasted the DOE and contractor Bechtel for safety failings at Hanford nuclear plant's waste treatment facility. Among the accusations by the Defense Nuclear Facilities Safety Board: burying technical reports that raised safety issues and creating an atmosphere that discouraged workers from expressing their concerns, reports the News-Tribune of Tacoma, Wash..
The plant, still under construction, is required to start treating 53 million gallons of nuclear waste held in underground tanks at Hanford, which produced plutonium for nuclear weapons.
Despite Human-Trafficking Concerns, Firm Still Gets Contracts
Despite issues raised by the State Department and the Federal Bureau of Investigation that a catering firm was involved in human trafficking, the subcontractor to Kellogg Brown Root continued to get government contracts, reports the Project on Government Oversight and the Center for Public Integrity.
Najlaa International Catering Services, based in Kuwait, has been awarded six government contracts in the last two years, most recently on March 23, despite a State Department diplomatic cable in early 2009 and FBI email in late 2008 that both raised suspicions about human trafficking.
Those communications followed a December 2008 protest by 1,000 Najlaa laborers being held without pay in abysmal conditions, according to a 2008 KBR inspection. The men, who were lured to Kuwait on the promise of lucrative wages, were confined in a windowless warehouse and dismal living quarters without money or work for up to three months.
EPA Allows Florida To Write Its Own Clean Water Rules
The Environmental Protection Agency raised the concerns of clean-water advocates by allowing Florida to write its own water quality rules. State lawmakers and industry representatives criticized federal standards to regulate nutrient overload in waterways, saying they would be too costly and difficult to implement.
It's uncertain whether the state will design criteria sufficient to meet the EPA's standards -- the current standard is considered vague and ineffective, reports the American Independent. The agency's regulations merely state that "in no case shall nutrient concentrations of body of water be altered so as to cause an imbalance in natural populations of flora or fauna."
SEC's Budget Frozen By House Committee
Despite being financially outmatched by the Wall Street firms it regulates, the Securities and Exchange Commission may not end up with a bigger budget. The Republican-controlled House Appropriations Committee passed a bill Wednesday that freezes the agency's budget at $1.2 billion in fiscal year 2012. GOP lawmakers rejected the Obama administrations' request to boost the SEC's funding by $222 million to help it handle the new responsibilities it was given under the Dodd-Frank financial reform bill.
To put that in perspective, the SEC's budget is one-fourth that of JPMorgan's litigation reserves, the money it sets aside to fight or settle lawsuits. It's also equivalent to about half a year of Bank of America's marketing expenses, notes Forbes' Halah Touryalai.
In 2009, SEC chair Mary Schapiro testified that its 3,600 staffers oversee more than 30,000 public companies, mutual funds, investment advisers, broker dealers and transfer agencies.
Among its current tasks, the agency is investigating Merrill Lynch's sale of a complex mortgage-related security it created for hedge fund Magnetar. That controversial sale was the subject of the Pulitzer Prize-winning story by ProPublica's Jesse Eisinger and Jake Bernstein.
Millions Of Fish Die Due To Industry Intransigence
Hundreds of millions of fish die every year in the Great Lakes because power plants have resisted using environmentally-safe cooling equipment. As a result, fish eggs, larvae and young fish are sucked in by powerful intake systems and cooked to death by intense heat and pressure inside the plants, reports the Chicago Tribune.
"Industry lawsuits have delayed the phaseout of once-through cooling at older plants," the Tribune explains. "Echoing their arguments about tougher air-pollution rules, power company lobbyists say the expense would force dozens of plants to close, costing jobs and making the nation's electrical grid less reliable. Some plants have tried to reduce fish kills by building intakes offshore away from spots where fish congregate. Others have installed systems designed to deter fish with sound or air bubbles."
OSHA Fines Lumber Mill $1.9 Million
In one of its largest recent sanctions, the Occupational Safety and Health Administration fined an Alabama lumber mill $1.9 million for hazards that constituted "egregious disregard" for worker safety.
The company, Phenix Lumber Co. and its owner, John M. Dudley, were cited for 27 willful safety violations in the wake of complaints that workers were at risk of losing hands or fingers from machines that lacked safety guards. OSHA has clashed with the lumber mill for years, citing it 77 times for serious safety and health violations since 2007, especially last year after a worker was killed and another one suffered a broken neck on the job.
Popular in the Community