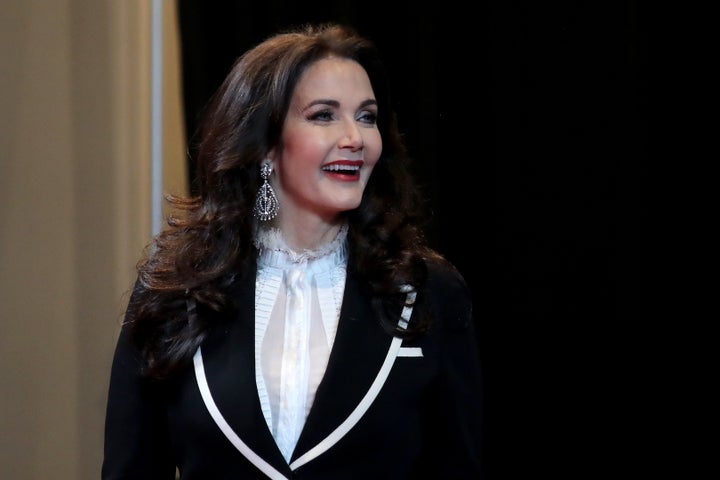 Although the actress says she doesn't go out of her way to tour or talk about her time on the 1970s TV show, it does naturally come up. All. The Time.
"I let it be what it was and people talk about it. I talk about it, but I'm not going on, necessarily, to talk about it," she told HuffPost.
She is, however, currently talking about Wonder Woman and how the character relates to female empowerment as part of the DC Wonder Woman Run, a run event series that aims to bring out the heroine in everyone with 5K and 10K courses throughout California. The next race is scheduled for Sunday in San Diego ― and Carter hopes to be on hand to provide inspiration and support for the participants.
We caught up with Carter about about the run, playing Wonder Woman and whether she'll appear in "Wonder Woman 1984."
Why is it important for you to take part in the DC Wonder Woman Run Series, especially now? 
The idea that it is a call to action, not just for women but those who love women. It is Wonder Woman, but there's a larger piece, I think, that it is not to exclude men. It is for women to get together as we do in life, as we do in everyday life, that we are for one another, that there is something about community that we do. We do it every day of our lives. We do it from the time we are tiny. We build our own little communities... We dress for each other, for crying out loud. I still dress for my girlfriends. My husband would not remember what I wore for this thing or that thing for the life of him. My girlfriends will say, "Why don't you wear that? Remember that thing you wore?" I know this may sound airy-fairy, it may sound silly, but it's because we enjoy it. We love to look at each other. We love it. We make each other feel good. 
How do you try to support other women? 
We're the first ones to cheer one another on about working out or looking good or feeling better or about a health scare or coming together for our own health or our children's health. We look out for each other as we do for our families. Yes, we do in our work. We're always for each other as we are for one another's families. I think that's part of something that we are born with, as well as our competitiveness, as well as our courage, as well as our stamina, as well as all the rest of it... That's just who we are. I am not taking away anything from the men who support us, and I think it's one of our jobs as women to say to the men that champion women, "We love you and we need you, too. We need you, but we got this part of us." We got the feminist part of us. We don't need you to do that. We've got this. 
You've been an advocate for women's rights. Now that we're a year into the Me Too and Time's Up movements, how much more relevance do you feel like it's taken on, and what do you think about the longtime impact for women's rights and equality?
I think that we must not lump all men into "You better be careful." I think that we need to lift men up that champion us. Fathers, men in the barroom, the locker room, you have to teach your sons, like we had to teach our sons that being smart was cool... When you diss a woman, you're dissing your sister, your mother, your grandmother. So when you are making fun of or trashing a woman, you're trashing my mom. You're trashing my sister. You're trashing my grandmother, my aunt. We need fathers to teach their sons, so when you lump all men into one big thing and you say, "Well," they are resentful of that. "I don't behave that way. I didn't behave that way and I don't behave that way." I think a lot of the men who have behaved that way would not do so in front of other men. They do it in secret... We need to acknowledge that when corporations, even with valuable employees, this is what we've heard, that if either one stops them, that it challenges them about their behavior, that it empowers women to come forward, and that there are consequences.
It's been over a year since the new "Wonder Woman" hit screens. Were you surprised at the amount of success the film had?
I'm not surprised at all. And the reason I'm not surprised is because of who was at the helm: Patty Jenkins. Patty and I talked, just a couple of weeks after she got the job. She called me and we talked because she wanted to put me in in some way in the film. It didn't work out, but scheduling and things, but she grew up with my version of Wonder Woman, because my version was not on the pages of the comic books. In the comic books, she was intelligent and a feminist and strong, but they had this alter ego where she's dumb, and I didn't play that. You can't have her as [that]... You just have to suspend reality that it's not the same person.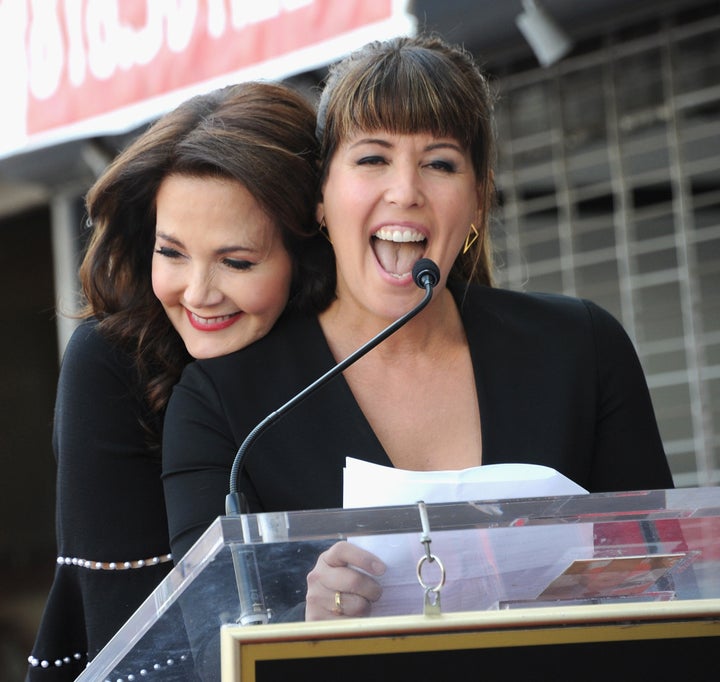 What do you think about Patty's direction bringing Wonder Woman alive on the screen?
She's always Diana, and that's really the key to what I think Patty did, is that she was always Diana even when she was Wonder Woman. She's always who she is, the kindness. She doesn't suffer bullies. She is the same person with the sense of humor that ― that wry sense of humor and self-deprecation and doesn't take herself so seriously and has a sense of humor and engages both men and women and doesn't objectify herself. I did not objectify myself. It is just what I was. When she put on her outfit, she didn't put it on to necessarily... It's like I said. We dress for each other. It isn't to create lust. Maybe it is. So what if it is? We just want to look good when we... But if something scary happened, we would not be happy. That costume was not particularly revealing. It was a one-piece bathing suit... I just think she was a wonderful character. When I played her, there was a kindness and a goodness and all those great and wonderful things that we are. It's who we are. Yet, she can't be victimized. It's everything we are, but she cannot be taken advantage of by men.
I understand you didn't give any advice to actress Gal Gadot, who took on the role of Wonder Woman in the film.
Oh, God no. Because an actor would never do that to another actor. Patty and I talked, but an actor would never give it to another actor... I think that they bring such a great message and it's so much fun. I'm just so grateful that they, in particular Patty, really got it, what people loved about the character and why so many people loved her. 
I know you said it didn't work out for you appearing the last movie. I understand you and Patty have been in talks the last several months. What is the likelihood of you appearing in the sequel?
I can't comment, really, on that. We have not... She's still filming. We have not really come to any... I really don't know. We'll have to wait and see.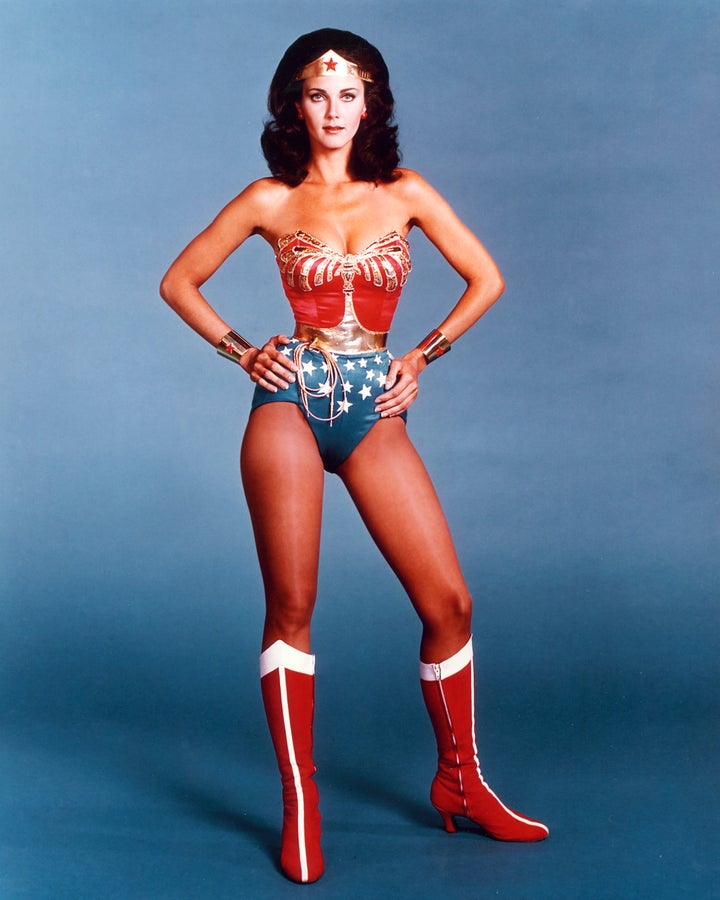 How has it felt to have the character be back in the spotlight for a new generation?
I can't tell you how many young girls have been inspired by the new version, the old version, not just adults... That was the main thing, why I loved it so much, is that over all of these years, I really never, I never ran away from it. I didn't try to promote myself as it. It has a life of its own. It has always had a life of its own...  I love hearing people's stories. I think that's the thing I like the most, is just to hear other people's stories. I just want to hear what they've got to say. I want to hear what it's meant to them.
This interview has been edited and condensed. 
REAL LIFE. REAL NEWS. REAL VOICES.
Help us tell more of the stories that matter from voices that too often remain unheard.
BEFORE YOU GO