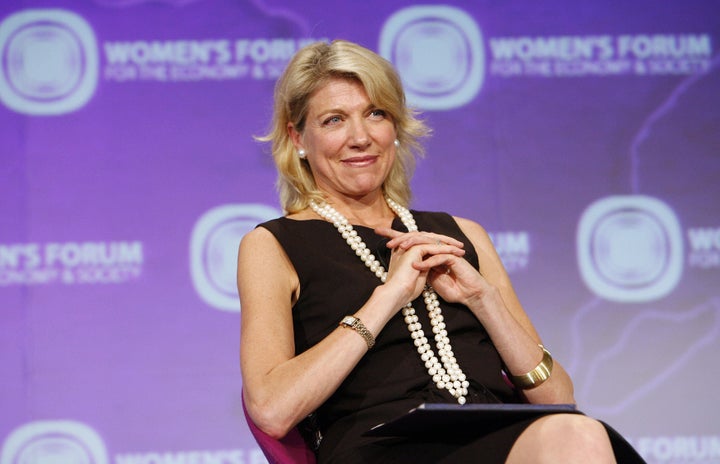 WASHINGTON -- As much of the country fixates on Iowa for the next two weeks, former Utah Gov. Jon Huntsman is preparing to make his stand in New Hampshire, where he's quietly gaining in the polls. Just last week, Huntsman replaced Ron Paul in the third place spot among GOP presidential primary candidates in the state -- a first for the moderate Republican, who has struggled to gain traction in a field of seemingly more conservative candidates.
Two-hundred fifty miles south of Manchester, N.H., in Manhattan, an unlikely and influential Huntsman supporter is excited for the candidate's prospects in the primary. Lynn Forester de Rothschild, a former Telecom executive and the wife of financier Sir Evelyn de Rothschild, was an outspoken Hillary Clinton supporter in 2008, and she backed John McCain after Obama won the nomination, angering many in the Democratic party.
Now de Rothschild has backed another Republican, Jon Huntsman, although she's still a registered Democrat. She has also joined the board of a new hybrid political/nonprofit group, Americans Elect, which appears poised to place a third party candidate on the ballot in as many as 20 states next year.
Earlier this year, de Rothschild co-hosted a major New York fundraiser for Huntsman, whom she had urged to run for president while he was still serving as Obama's ambassador to China. A few weeks ago, de Rothschild and designer Diane von Furstenburg co-hosted a lunch for Huntsman's wife, Mary Kaye Huntsman.
"The impetus for the lunch was a private and personal lunch, because Mary Kaye is a wonderful woman, and that's why we made it clear it wasn't a fundraiser or a lunch about political support," de Rothschild told The Huffington Post, "but I will continue to host fundraising events for Jon [Huntsman], and I really do believe he should be the nominee."
But while Huntsman polls at less than 3 percent nationally, it's a tough road ahead for de Rothschild and team Huntsman. "It's not that Huntsman is blameless" for his low poll numbers, de Rothschild said, "but it's sad because he's such a decent, pragmatic, thoughtful person."
Lynn de Rothschild first caught wind of Jon Hunstman in 2009, when the Obama administration's then-ambassador to China gave a commencement address at the University of Pennsylvania, where both of their children were studying. "I remember thinking he was so bold," she said, a word that few political observers employ to describe the soft-spoken governor. de Rothschild admitted as much, but said that "while he doesn't have a reputation for boldness when he talks on stage during debates, I believe his tax plan is a bold, pro-growth plan."
"I didn't know he was thinking of running for president, so when he announced he was going to retire from his diplomatic post I sent him a note and said, 'Dear Jon maybe this is a great opportunity for you to consider a run for president.' But I did not hear back, so I thought, 'he probably thinks it's foolish,'" she said.
"But after he got back from China I received a note that said, 'Dear Lynn, forgive me for taking so long to get back to you, but this is last thing I'm going to do before leaving China. I've had your note on my desk, and it has made me smile,'" de Rothschild added. "Jon's so nice, but it does not seem to be helping him in this toxic political environment."
In addition to his tax plan, Huntsman "boldly supported the Ryan [Medicare reform] plan, he is in favor of civil unions, and he believes that [the] Dodd-Frank [Wall Street reform bill] didn't go far enough," she said. "Those are the positions of a very courageous and bold politician."
In a Republican field campaigning for votes among the party's largely conservative primary-goers, "bold" may well be an accurate description of Huntsman's more moderate positions, which will likely do little to help him in states such as Iowa and South Carolina.
As for what's working against Hunstman, de Rothschild points to the GOP base. "The Republican base has gotten much too irrational," she said, and if the party loses the general election, then "the base has to blame the base. They're getting what they want [right now] -- a candidate who is unelectable in the general election -- and they're getting an opportunity to lose the White House. This is snatching defeat from the jaws of victory."
The Huntsman campaign declined to comment.
Like Huntsman, de Rothschild isn't afraid to ruffle a few feathers in her own party. "I took a lot more grief [from fellow Democrats] in 2008 than I have this year," she said, referring to her endorsement of McCain over Obama. "More Democrats I know this year would consider an alternative to Obama, whereas in 2008, largely because of Hillary Clinton support for Obama [after she lost the primary], people didn't want to consider someone else."
Despite having supported McCain, de Rothschild acknowledges that, for independent voters, there were problems with the 2008 GOP ticket. "Truthfully, and understandably, Sarah Palin was a big barrier for a lot of voters who might have considered voting for McCain," she said.
And while she stressed that she was backing Huntsman 100 percent, de Rothschild also acknowledged that the road to the nomination is difficult for the former Utah governor. "I would ultimately back Romney over Obama," she said, if she were forced to choose, "because I think Obama has shown a lack of leadership that will not just disappear overnight."
De Rothschild's vocal support for Huntsman isn't the only way she has jumped into the 2012 presidential race -- she's also on the leadership board of a group called Americans Elect (AE), a moderate, bipartisan nonprofit that aims "to nominate a presidential ticket that answers directly to voters--not the political system."
The group seeks to do this by first guaranteeing ballot access for its candidate in as many states as possible, and only then allowing voters to choose a candidate through an online process.
"The goal is to create a nominating process where any legitimate voter can go online and answer the question, 'Who would you like to see as president and vice president?' so people don't have to take the disappointing options being offered by the frontrunners of the GOP and Obama right now," de Rothschild said.
"For me, I support Americans Elect because I believe our democracy needs to give individuals more power, not the parties," she said.
Questions remain about exactly how the nominating process will work for AE, but "we keep it open by having a completely open platform," said de Rothschild, acknowledging that "there are rules you need to follow in order to qualify. You need to have excelled [in order to be on the ballot], and mechanisms are built in to prevent unqualified candidates from entering the AE election."
Asked who her wish-list candidates might be, de Rothschild named CIA Director David Petraeus, former Washington D.C. Schools Chancellor Michelle Rhee, and David Walker, a former comptroller general of the United States under Presidents Bill Clinton and George W. Bush.
"The polls show we as a nation are fiscally conservative and socially tolerant," de Rothschild said, "and neither party is offering a candidate on that platform."
She stressed that she hopes Huntsman will win the Republican nomination, and that if he doesn't, she'll back Mitt Romney. But it is impossible not to at least wonder whether de Rothschild's two current political causes -- Huntsman and AE -- might ever collide, with Huntsman as a third party centrist candidate, perhaps even on an AE ticket. Not surprisingly, neither de Rothschild nor the Huntsman camp would discuss that possibility, but Tara Malloy, associate counsel at the Washington-based Campaign Legal Center, told HuffPost that at the very least, it's probably not illegal.
"Right now, [Huntsman's] access to the AE ballot would rely on the group's internal mechanisms," she said, "as well as the individual state laws that govern ballot access."
In all likelihood, Huntsman would also be able to apply the money he has raised so far to a third-party run, if that were in the cards for him. According to Malloy, one of the only things forbidden by the Federal Election Commission would be if Huntsman attempted to "convert campaign funds for personal use, and that does not appear to be the situation here," she said.
Support HuffPost
The Stakes Have Never Been Higher
Popular in the Community