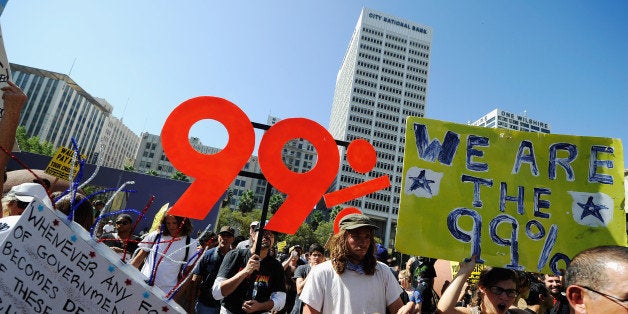 It is no coincidence that the jargon of capitalism borrows so heavily from the essential language of human relationships: think equity, credit, trust, share, bond, and fair value. Capitalism has been an extension of these basic human aspirations throughout history, a way to preserve and improve societies. It has guided the world economy to unprecedented prosperity.
Yet faith in the institutions of capitalism has rarely been lower than it is today. In some parts of the world, we have seen public demonstrations big enough to topple governments. In other places we see repressive governments stepping in to curtail the free expression of thought and commerce. The West is not immune. We not only have the memory of Occupy Wall Street demonstrations but, in a recent Financial Times poll, 61 percent of Britons said the next election winner needs to be tough on big business. Meanwhile, the new mayor of New York City was elected on an agenda of being tough on companies and the rich.
For those who believe that capitalism is a system for the public good, these trends are dangerous and demand a response -- from businesses, from individuals, from foundations and from civil society. We cannot just leave it to the politicians. While it may not be the business of business to solve society's problems, it is wrong and perilous when business is viewed as a problem -- rather than a solution -- for society.
There are four main causes of the general discontent with capitalism: first, the lack of economic growth and crushing of the middle class; second, powerful investors that focus on short-term financial results; third, a tolerance by the private sector for disparities of opportunity among different segments of society; and fourth, a failure of business to define its social purpose in the context of its corporate purpose. Essentially, business is no longer widely trusted as a positive force for the common good. If these tendencies are left unchecked, the public cannot be expected to renew its faith in capitalism.
The business community needs to play its role in promoting broad-based economic growth. The correlation between economic growth for the middle class and the level of optimism that business needs in order to flourish is clear. During the 1990s, middle class American household incomes improved by 14 percent in real terms. Over the same period (1992-2000) the proportion of people who believed that the country was headed in the right direction went from 28 percent to 51 percent. From 2000-2012, the average income of this group declined by over 8 percent and, not surprisingly, the percent who believed their children would be better off than they themselves declined from 71 percent in 2000 to 15 percent in 2013.
Business has an opportunity to use its research and development funds, its human resource departments and its public relations apparatuses to work toward policies that benefit the entire country rather than their own narrow interests. Imagine a world in which 25 percent of lobbying budgets was dedicated to solving general economic problems rather than limited business issues, where policy makers could trust that advice from business was unbiased and not self-interested. That would make a real difference.
REAL LIFE. REAL NEWS. REAL VOICES.
Help us tell more of the stories that matter from voices that too often remain unheard.