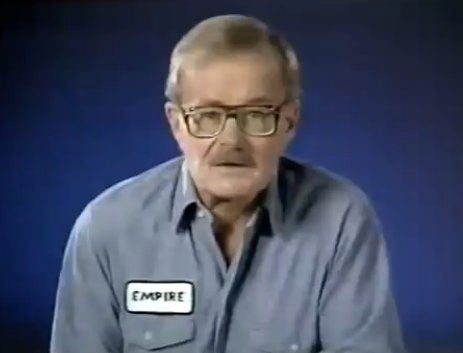 If you've lived in Chicago long enough, it's a jingle you know well: "588-2300...Empire!" The man behind the jingle was ad copywriter Elmer Lynn Hauldren, who passed away Tuesday at the age of 89.
Hauldren, better known as the Empire Carpet Man, was the face behind the carpet company since the 1970's, and worked until his death, the Chicago Sun-Times reports.
"Lynn was truly passionate about the Empire brand," Steve Silvers, company CEO, told the Sun-Times. "He has made an indelible mark on advertising history with his creativity and warmth. Lynn will always have a special place in the hearts of many."
The Chicago Tribune reports on Haulfren's life before Empire:
Mr. Hauldren was a decorated World War II veteran who continued to lend his voiceover talent to Empire's commercials until his passing.

In addition, he was known as a key singer in the barbershop quartet arena, recording several albums with the quartet, Chordiac Arrest, and a vocal ensemble called Chicago Natural Gas.
"People are good-natured," Hauldren told the Tribune in 1997, "but once in a while they'll grab at you and say, 'Here's that carpet dude!' or 'Hey! Aren't you somebody?' I always hope folks understand I'm not a celebrity. I'm just a TV pitchman, a glorified salesman."
WATCH one of Hauldren's Empire commercials from the 80's here:

Popular in the Community