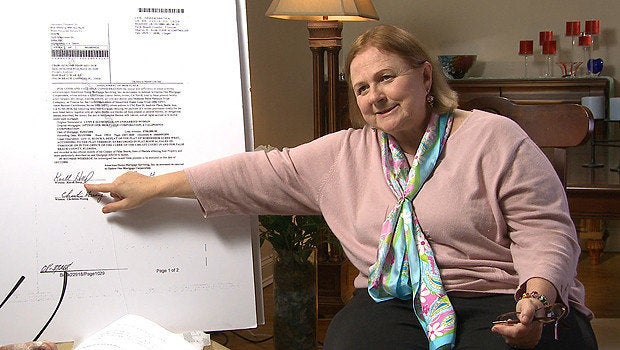 The last four years have not been easy for Lynn Szymoniak. Since early 2008, she has waged a seemingly endless series of legal battles against some of the nation's biggest banks in an effort to save her Palm Beach County, Fla., home from foreclosure. But Szymoniak is about to get some help -- a check for $18 million for her role in uncovering evidence of massive bank fraud.
It's a significant win for the foreclosure fraud activist, but in an interview with HuffPost, she emphasized that the settlement now does not undo the damage done to homeowners who were improperly evicted.
"It's very satisfying to have recovered this money for the government," Szymoniak said. "Would it have been more satisfying to have recovered it for homeowners? Possibly."
Szymoniak's own battle to save her home is one that very few homeowners in Florida ultimately win. Local courts are swamped with foreclosure cases, and judges are profoundly reluctant to rule against banks. In some "rocket docket" courts that specialize in foreclosures, judges issue judgments quite literally within seconds -- and they almost never pose problems for Wall Street.
When Szymoniak's bank attempted to raise the interest rate on her mortgage in the spring of 2008, she refused to pay the higher rate on the ground that the increase violated the terms of her mortgage and began researching the documentation practices being carried out in Deutsche Bank's name. What Szymoniak, a lawyer who focuses on white-collar crime, found was a pattern of forged signatures and fabricated documents in tens of thousands of cases -- a pattern that seemed to have become standard operating procedure at the nation's largest banks.
The $18 million is going to Szymoniak because she gathered evidence central to the federal government's recovery of $95 million in allegedly ill-gotten gains that big banks wrangled from the Department of Housing and Urban Development. The money comes from the partial settlement of two cases -- one in North Carolina, the other in South Carolina.
The check has not yet arrived, but Szymoniak is already planning which charities to shower with her newfound wealth. She's picked housing-related efforts, from We Soldier On, which helps homeless veterans become homeowners, to the Hole in the Roof Foundation, which provides funding to churches that shelter the homeless, to Operation Hope, a nonprofit devoted to financial literacy and economic empowerment.
"That part is very exciting," Szymoniak said. "I'm very psyched about all that and have been visiting some of the agencies I want to help. I can't wait for that to begin."
Just a few months ago, Szymoniak had little hope of even remaining in her own house, much less being able to give millions of dollars away to charity. Her investigations into forged signatures in the foreclosure process had ignited a firestorm of media attention, culminating in a lengthy feature segment with Scott Pelley on CBS' "60 Minutes" in April 2011. But the blowback from Wall Street was furious.
In Florida, attorneys Theresa Edwards and June Clarkson say they were forced to resign by state Attorney General Pam Bondi, a Republican, after investigating Szymoniak's claims and subpoenaing documents based on her findings. The pair had compiled an alarming PowerPoint presentation detailing obvious differences in signatures on key foreclosure documents. In identical letters of resignation, Edwards and Clarkson argued that their work did not always line up with the "philosophical and political views of Tallahassee."
Shortly after appearing on "60 Minutes," Szymoniak won a victory in her own foreclosure case. The court found that Deutsche Bank was unable to demonstrate ownership of her mortgage and threw out the case, although the bank was permitted to refile if it could obtain proper documentation. In May 2011, the bank did so, naming Szymoniak and her son as co-defendants -- even though he had no interest in the house or the mortgage.
When asked about the case, independent foreclosure experts accused Deutsche Bank and its mortgage processing partner, American Home Mortgage Servicing, of retaliating against Szymoniak for going to the media. Deutsche Bank has long said that although the Szymoniak case is being pursued in its name, all actual decisions are being made by American Home. American Home, in turn, insisted it was not trying to intimidate Szymoniak, claiming to believe that her son was a tenant in the house. Her son has not lived there for seven years, however, and American Home eventually dropped his name from the case.
Beyond the specifics of Symoniak's case, the banking industry has repeatedly insisted that the foreclosure irregularities Szymoniak and other activists uncovered were mere "technicalities." A recent investigation by the HUD Inspector General, however, found that banks repeatedly rammed through foreclosures without knowing key details, including the amount the borrower actually owed. These were not the deeds of just a few rogue employees. The inspector general found that shoddy practices were institutionalized by bank managers and enforced through the employee evaluation process.
Astoundingly, banks are still relying on many of those same documents to move foreclosures through the pipeline.
"It's also very frustrating that the same documents that have been deemed unacceptable in HUD cases are still being used in foreclosures, including my foreclosure," Szymoniak told HuffPost.
Szymoniak is conflicted about actually ending her own mortgage problems. The easiest way out of her current foreclosure difficulties is to abandon the case against the banks that have been making her miserable for four years and simply pay off the loan. She keeps the house, but the banks she believes have been trying to rip her off will get paid in full, plus fees and penalties.
"I have a lot of qualms about it, but I'm a realist. If something changed in Palm Beach County courts, I'd be more than happy to change my position on that," Szymoniak said. "But probably the situation is such in Palm Beach County that I should settle this, and I would tell most homeowners to do the same thing. Most homeowners are experiencing the same thing -- they can have a handful of documents that are fraudulent, and it doesn't mean anything in foreclosure courts."
WATCH Lynn Szymoniak explain foreclosure fraud on "60 Minutes":
Related
Popular in the Community