 Lynn Woolsey can't sit still.
Over coffee at her Petaluma home, the retiring Democratic congresswoman fidgets and scolds, cusses a little and raises her arms in exasperation.
She speaks passionately about her opposition to the wars in Iraq and Afghanistan, a position that earned the septuagenarian acclaim as the conscience of the Congress, and derision from the political right as a traitor to the nation.
She's sat with Stephen Colbert, sparred with Newt Gingrich and Tom DeLay, been fawned over by former President Bill Clinton and been virtually ignored while speaking on the House floor. She's been lauded, arrested, mocked and emulated. Through it all, she handily beat every challenger who dared try to dethrone her.
On the verge of retirement -- her replacement will be sworn in Thursday -- Woolsey, 75, offered an assessment of her career as only she could, dismissing her critics as "full of sh--," and making no apologies for being "a liberal for 20 years in an organization where people would rather you go along to get along."
She is, in many ways, the same outspoken everywoman who shocked the North Coast's political establishment in 1992 by winning what was then the 6th District Congressional seat. She was the longest of long shots, a former welfare mom running against better-known and better-financed opponents. But it was the "Year of the Woman" in California politics, and Woolsey surfed the wave to victory.
In the ensuing two decades, she built one of the most consistently liberal voting records in the House, earning both praise and scorn and raising her profile well beyond Sonoma and Marin counties.
Her greatest legacy is her anti-war activism that included an unprecedented string of speeches on the House floor -- often to an empty chamber -- in which she denounced conflict and demanded that the troops come home. She delivered her 444th and final such oration Dec. 12.
All that is behind Woolsey as she sits in her kitchen, clutching one of the four cups of coffee she consumes daily. Other than a few magnets with political messages stuck to her refrigerator -- "Stop the Party of No!" -- there is little to suggest that this is anything but the home of a doting grandmother, albeit one who recently surpassed 3 million airline miles commuting to work and now professes a desire to stay put.
"I wouldn't mind learning how to relax," she said.
Boxes filled with the remains of her Capitol life occupied the living room of the 1,900-square-foot Petaluma home Woolsey paid $24,000 for in 1971 and refinanced twice to underwrite her early political campaigns.
More stuff was piled on a child's play table in Woolsey's home office, the walls of which were adorned with several photos of the congresswoman with Bill and Hillary Clinton.
A sliding glass door opens onto a large backyard where Woolsey last summer announced her retirement to about 200 supporters, including her close friend and political ally Rep. Barbara Lee, D-Oakland, who called Woolsey "a warrior for peace and justice."
Others have been less kind. In 2011, conservative pundit Michelle Malkin labeled Woolsey the Lindsay Lohan of American politics, writing that the "far-left exhibitionist congresswoman" has "never shown any restraint when it comes to trashing America's military leaders before the world."
Although she supported a 2001 joint resolution of Congress that paved the way for President George W. Bush to launch the invasion of Iraq -- a vote she came to regret -- Woolsey was the first member of Congress to call for the withdrawal of troops from that country.
In 2006, Woolsey earned national headlines after she gave a guest pass to Bush's State of the Union address to anti-war activist Cindy Sheehan. Three years later, Woolsey was arrested for trespassing outside the Sudanese Embassy in Washington in protest of that country's genocidal policies in Darfur.
To counter those who say she's unpatriotic, Woolsey cites her success in getting medical leave benefits extended to military veterans.
"The leaders of their platoons will tell them, and have told them, that there's no member of Congress who's more supportive of you . . . than Congresswoman Lynn Woolsey," she said.
Woolsey said she grew up bristling against a woman's perceived role in American society. She said her mother, who died before Woolsey was elected to Congress, would have been proud of her, while also worrying that her daughter would lose her "sex appeal" in the male-dominated institution.
About her childhood in Seattle, Woolsey says vaguely that she has been responsible for herself since she was "4 1/2 years old." Asked to elaborate, she said she'll tell it all some day in a book.
Welfare was another defining issue for Woolsey, who collected Aid to Families With Dependent Children, Medi-Cal health benefits and food stamps in Marin County after her first husband left her in 1967. A second marriage took her off the welfare rolls three years later.
Woolsey used that background to her advantage in 1992 when she bested a field of nine -- seven of them men -- in the primary for the 6th District seat that had been held by Barbara Boxer.
Among those Woolsey defeated was former Sonoma County Supervisor Eric Koenigshofer, who offered his own assessment of her career last week.
"I think she performed as a member of a safe Democratic district would be expected to perform," he said. "I don't think she distinguished herself among the membership of Congress in any special way. But not everyone can be a star."
Woolsey won the primary with only 26 percent of the vote, and in the general election, beat Republican Bill Filante, who was ailing with a brain tumor and unable to campaign.
Critics say Woolsey didn't earn or deserve the seat. But her story as a former welfare mom who went on to start her own business and serve eight years on the Petaluma City Council resonated.
Woolsey said she was able to stay in Congress as long as she did because she was in sync with her constituents. She also benefited from her incumbency and the fact Democrats outnumber Republicans in the district more than 2 to 1.
Woolsey potentially would have had a harder time getting re-elected in November under California's new system in which the top two vote-getters square off in the general election regardless of party affiliation. She said the change had no bearing on her decision to not seek another term.
"I could have had the seat for life," she said.
David McCuan, a political scientist at Sonoma State University, said Woolsey deserves credit for talking about issues that were unpopular or out of favor, citing as examples her opposition to the wars and her push for equality in the workplace.
"She's tried to run politics from her heart and much of Washington isn't about that," McCuan said. "The question is, what has she been able to turn into actual legislative action? On that score, the record is a little more lean."
Asked for the legislative achievement she's most proud of, Woolsey did not offer the types of local bridge, highway or jobs projects that are the campaign fodder for many members of Congress. Instead, she cited a relatively obscure bill signed by Clinton in 2000 that provided $13 million for a pilot school breakfast program in six school districts, including Santa Rosa.
She also takes credit for twice saving the Two Rock Coast Guard base from closure and restoring wetlands at Hamilton Air Field, renaming the Inverness Post Office in honor of a fallen soldier and the transfer of Skaggs Island from the Navy to the U.S. Fish and Wildlife Service.
Woolsey said her legacy also will include expansion of two marine sanctuaries that effectively puts the Sonoma Coast off-limits to energy development, an announcement that was made Dec. 20.
"What I've done for this district is outstanding, but I can't go around telling people that," she said.
Former state Assemblyman Jared Huffman, who is replacing Woolsey in Congress in a reconfigured district, said comparing Woolsey's style to that of somebody else is to miss the strength of her service, "which is providing moral clarity and standing up for some righteous causes, like ending the wars and fighting for social justice."
He said the thing he finds most remarkable about Woolsey is that she didn't let the power go to her head.
"She left Congress the same engaging and warm person that she was when she went in. That's pretty special," Huffman said.
Any consideration of Woolsey's legislative record must be weighed against the fact she was a member of the minority party for all but six of her 20 years in Congress.
She was not considered a legislative powerhouse by most political observers, and at times seemed to not appreciate the unintended consequences of her actions.
As an example, Woolsey said she never would have supported Bush's No Child Left Behind Act had she known it would not be adequately funded.
Likewise, she said she would not have introduced legislation backing federal recognition of the Coast Miwok Indians had she known it would lead to the tribe breaking ground on a controversial casino in Rohnert Park.
Woolsey, who acknowledged that she likes to play the slots, said she "got rolled by our senator" on the tribal issue. She refused to name that person but it was an obvious reference to Boxer, who reportedly removed Woolsey's language in the bill that would have prohibited the Coast Miwoks from building a casino.
More recently, Woolsey did not take a position on whether the Drakes Bay Oyster Co. in Tomales Bay should be allowed to have its lease extended after she earlier supported Sen. Dianne Feinstein's bill giving Interior Secretary Kenneth Salazar sole discretion to make that decision.
Salazar informed the oyster farm Nov. 29 that he would allow the 40-year lease to expire, effectively shutting the operation down pending legal action filed by the company's owners.
At her house, Woolsey said she did not know which position to support in the oyster farm debate and she made the case that her opinion didn't matter anyway because the decision rested with Salazar.
She said he called her before announcing his decision publicly.
"I gasped. I was so surprised. He's a cattleman!" she said.
Kevin Lunny, who owns the oyster company, said he was "surprised and disappointed" that Woolsey did not advocate on his behalf after the many discussions he said he had with the congresswoman in Washington and in Petaluma.
"We even brought oysters to her home because she loves oysters," he said.
He said he holds her "partially responsible" for his business being shut down.
"She turned on local, sustainable agriculture and allowed this travesty to happen, when she should have taken a leadership role and represented her constituency," Lunny said.
David Keller, a former Petaluma City Council member and current member of the Petaluma River Council, called the oyster company's fate a "tough decision," and said he could have argued it either way.
He praised Woolsey for her environmental record, saying she "recognized early on that Northern California really stands by its natural resources."
Other supporters praised Woolsey for setting a good example for women in politics and for remaining true to her core values.
Tiffany Renee, a Petaluma councilwoman whose term expires next week and who ran to replace Woolsey in November, said she was a single mother and a student at Santa Rosa Junior College when she volunteered for Woolsey's 1992 campaign.
"She showed me there were other possibilities for my life," Renee said.
Petaluma Mayor David Glass recalled one occasion when he took Woolsey up on her invitation to visit her at her home if ever he needed something. He said he knocked on her door bearing a letter outlining concerns about the city's flood-control project.
"She opened the door and she was actually in her bathrobe," Glass recalled. "She looked at me and asked what I needed. I said, 'I hate to bother you, but this is a matter of urgency to the city.' I handed her the letter."
Glass said Woolsey took his concerns to the Army Corps of Engineers and the result was the problem got worked out.
"Without her support of that project, which actually began under Barbara Boxer, we never would have made the progress we did," he said.
Now when people knock on Woolsey's door, it likely won't have anything to do with politics.
Woolsey, who earned $174,000 in her final year in Congress and will collect retirement benefits that include a pension, Social Security and health care, finds herself at peace, if not rest.
"When I was a little kid, my grandfather said he'd pay me a nickel if I sat still," she said.
"I never collected a nickel." ___
(c)2012 The Press Democrat (Santa Rosa, Calif.)
Distributed by MCT Information Services
Before You Go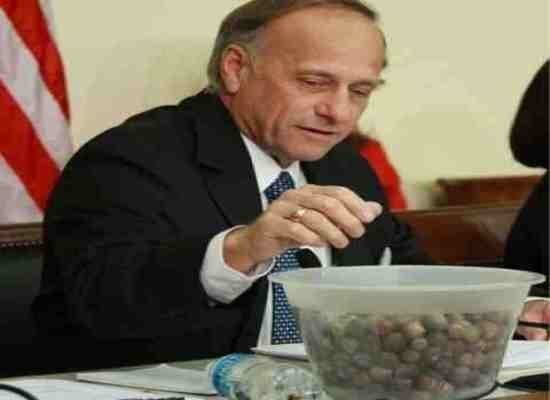 More Crazy Examples of Congressional Theatrics
Popular in the Community