Advice to Jamie and Lynne Spears — stop treating your celebrity daughters like cash registers! Do you think it's a coincidence that one of your girls has had to be committed to the mental ward of a hospital and that the other is 16 and six months pregnant?
Could that have anything to do with the fact that they've been put to work from the moment they could sing and read a script? Has it occurred to you that they might feel more like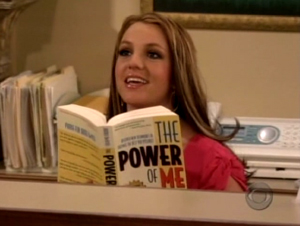 bank machines than like precious members of a loving family?
But that's the point, it has only been a month and a half since she was released from the hospital a second time. And while Brit was sane and smiling on screen, apparently she was a mess off-screen while taping the show. The new issue of Star magazine reports that at one point she stood in a hallway in full hearing of other cast members and screamed on the phone to her younger sister, Jamie Lynn — "You're turning on me like everyone else. First Mama wanted to sleep with Kevin and now you're calling him. And you live in a house I paid for!"
To me, the words "A house I paid for" are very revealing. I wouldn't be surprised if Britney feels angry about having had to bankroll the Spears family operation for her whole young life and yes, the house her mother and sister live in, in their hometown of Kentwood, Louisiana was paid for out of the proceeds of her tremendous success.
And now almost the first thing that her "guardian" father, Jamie Spears, does once Britney is well enough to appear in public, without embarrassing herself, is to put her back on her work hamster wheel. "Britney could easily be asking herself 'Does my father want me to get well for me or because he wants me to work?'" points out psychiatrist Dr. Carole Lieberman, author of Bad Boys: Why We Love Them, How to Live With Them, and When to Leave Them.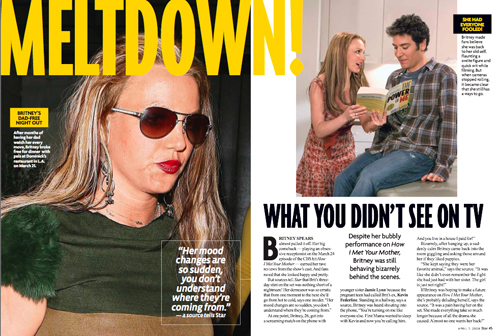 Imagine if you felt that your parents loved you only because you were a performer, not a person? You might well think you'd been exploited. You might well rebel against the image they had given you of being America's Little Miss Perfect.
Psychiatrist Dr. Keith Ablow, author of Living the Truth, also worries that Britney's current situation — living with a parent (her dad, Jamie Spears) and going to work — is reproducing the exact same childhood situation that could have led to her mental issues. And it doesn't help that Jamie is now being paid $2500 a week from Britney's accounts to be the conservator of her affairs.
"It's not OK to be her dad and her employee," warns the psychiatrist. Wouldn't it be great for her if he could just be her dad? And how about just letting her work on her psychological issues?
Now, as for little sister Jamie Lynn, who derailed her promising career and is planning to marry her 18 year-old baby daddy, isn't it interesting that she also found a way to get off the Spears family moolah-making machine, at least for a while. "Both Britney and Jamie Lynn are doing things that get in the way of making money because they are angry that they aren't being loved for themselves," believes Dr. Lieberman. Their antics even managed to successfully squash their mother's ability to publish her own potentially-lucrative parenting book. Somehow, I don't think that is coincidental!
So I say to Jamie and Lynne Spears, if you really want to prove your love to your daughters, how about trying to nix the reported deal to sell Jamie Lynn's upcoming baby pics for $1 million?
Why not try to break the pattern of "pimping" the family's children out to make money starting NOW? That might really get through to your girls in a way they would truly appreciate.
Calling all HuffPost superfans!
Sign up for membership to become a founding member and help shape HuffPost's next chapter