Taking a step back, we must consider the peculiarity of producing a Feininger retrospective at the Whitney Museum of American Art. Despite his upbringing in New York, a technicality that allows the museum to claim him as their own, the artistic vision presented by curators Barbara Haskell and Sasha Nicholas effectively identifies the dilemmas of a German artist during the tumultuous period from 1907 through 1919. As an active participant in Die Brücke as well as Die Blaue Reiter and a professor at the Bauhaus, Feininger played a vital role in cultural history of the 20th century as a socio-cultural aggregator.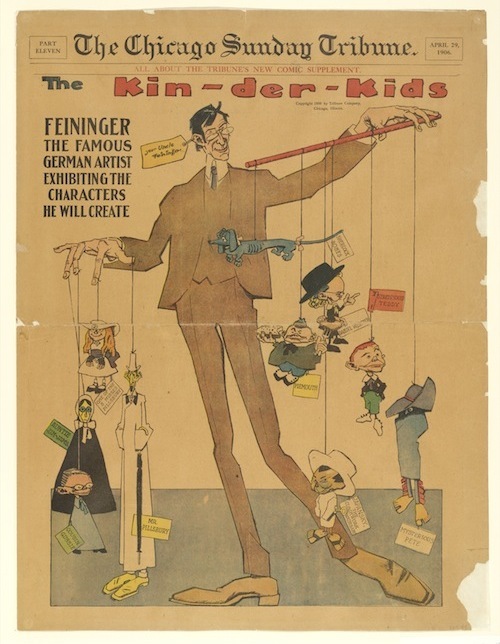 Lyonel Feininger, "The Kin-der-Kids," from The Chicago Sunday Tribune, April 29, 1906, Commercial lithograph, 23 3/8 x 17 13/16 in. (59.4 x 45.3 cm), The Museum of Modern Art, New York; gift of the artist 260.1944.1 © 2011 Lyonel Feininger Family, LLC./Artists Rights Society (ARS), New York Photograph © The Museum of Modern Art/Licensed by SCALA / Art Resource, NY
Walking through, one realizes that Feininger managed to absorb three generations of artistic output as we see elements of Cézanne's fracturing juxtaposed with the harrowing spirit of Munch's more dramatic scenes, Delaunay's bold color schemes, Kandinsky's reinterpretation of folk-art prototypes, and Picasso's foray into Cubism. As for the Germans, Kirchner's touch becomes evident in the crystalline vectors that streak through Feininger's more mature work while August Macke's fascination with fantasy as well as his Fauvist palette directly influence a broad range of the work namely those featuring more figurative components. We also see glimpses of Grosz's grotesque watercolors, and Beckmann's perspectively challenged sheets of street walkers and martyrs alike all treated with shades as luminescent and varied as those engineered digitally in present day.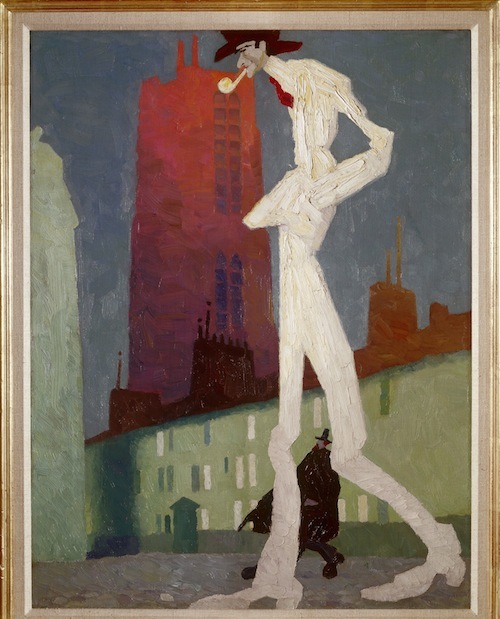 Lyonel Feininger, The White Man, 1907, Oil on canvas, 26 7/8 x 20 5/8 in. (68.3 x 52.3 cm), Collection of Carmen Thyssen-Bornemisza, © 2011 Lyonel Feininger Family, LLC./Artists Rights Society (ARS), New York
Brought up in New York, Feininger moved to Germany to study music at the age of sixteen but found his calling as an illustrator, working steadily from 1894 onwards for the weeklies Ulk and Lustige Blätter culminating around 1906 with a critically acclaimed series of comic strips for the The Chicago Sunday Tribune. Turning to painting in 1907, Feininger began to experiment with formal qualities, namely perspective, while infusing his genre scenes with the same intangible whimsicality evoked in his commercial work dating back to the turn of the century. Paintings such as "Carnival in Acrueil," 1914, acquired early on by the Art Institute of Chicago, represent a distinct advancement in Feininger's already proficient caricature technique while showcasing his abilities as a colorist. Centered on an elongated trumpet player, the painting captures a snapshot of a carnival or procession in a small town. The vibrant yellows overshadow the striking linearity of the sky and newly heightened tensions. The tone remains severe in this picture when compared to "Green Bridge," 1909 and others placed in physical conjunction with it.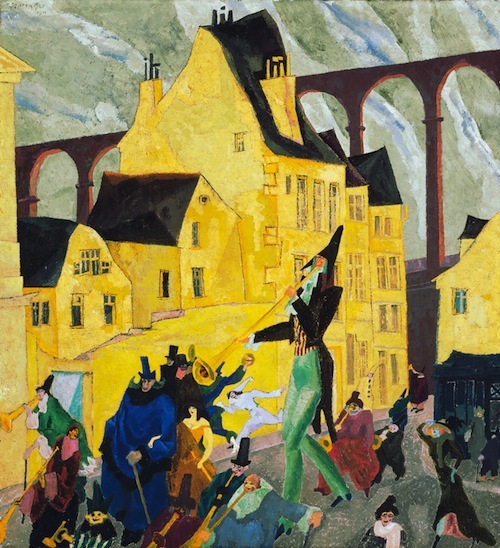 Lyonel Feininger, Carnival in Arcueil, 1911. Oil on canvas, 41 3/10 × 37 8/10 in (104.8 × 95.9 cm). Art Institute of Chicago; Joseph Winterbotham Collection 1990.119, © Lyonel Feininger Family, LLC./Artists Rights Society (ARS), New York, Photograph © The Art Institute of Chicago
Capitalizing on the undefined spatial constructs of the canvas in contradistinction to a broadsheet, Feininger narrated pseudo-silent films set in suburban landscapes. As the war began, Feininger embarked on a series of cityscapes focusing on a fairyland of aberrations; worn-down figures in transit, some with facial distortions and others caked in makeup. Feininger's early compositions have an almost stifling effect that leaves the viewer continuously guessing about the circumstances surrounding his actors. Time and motive play a crucial role in an Oatesian fashion almost as if to whisper "where are you going...where have you been?" The pictures function as Pop antecedents, an outgrowth of the comic practice nuanced to a point of differentiation not mere appropriation. Reaching both backwards and forwards, each picture tells a story, a sort of repressed Kentridgesque chronicle in which the tensions and stresses of the current political reality resonate but are simultaneously masked by each figure's anonymity.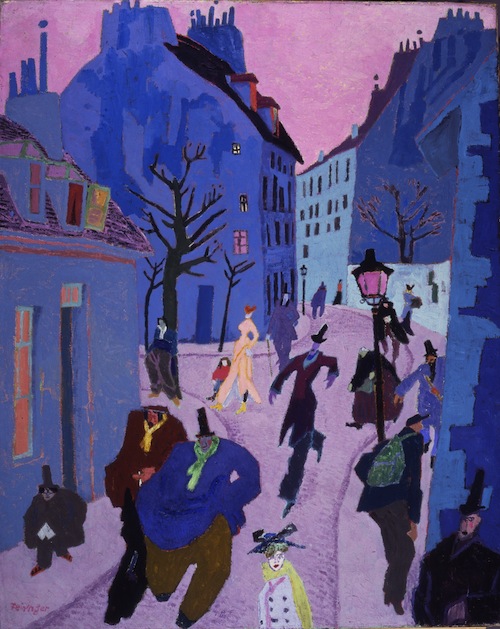 Lyonel Feininger, In a Village Near Paris (Street in Paris, Pink Sky), 1909. Oil on canvas, 39 ¾ x 32 in. (101 × 81.3 cm). University of Iowa Museum of Art, Iowa City; gift of Owen and Leone Elliott 1968.15, © Lyonel Feininger Family, LLC./Artists Rights Society (ARS), New York
In "The Green Bridge II," 1916, Feininger creates a denser, sharper version of his 1909 picture "Green Bridge." Rigid angles and the muted pastel tones vary as analytic cubism begins to play a more prominent role in his work. Still fixated on figuration, this painting remains one of the more pictorially unified of the group. By the end of World War I, Feininger's work had become increasingly abstract with an emphasis on pure color and the "crystalline" structures over genre. Images such as "Bridge V,"1919, a dashing landscape or conflagration of cold grey, yellow, and green, evidence this stylistic alteration in which the artist re-collages a landscape in a Cézannesque fashion yet fills the canvas factoring in negative space as a waste of time and precious canvas. The palette and piercing vectors jutting in every direction collapse into central vortex, dark and impenetrable.
In the late 1920s onto the early 1930s, the Bauhaus' lingering influence in conjunction with his affinity for the Baltic village of Deep altered the compositional structure of Feininger's paintings which appeared to extend off the picture plane. The presence of fog and glimmers of light that drift on and off the canvas play an allegorical role recording the Nazi ascension. The cooler palette of these sparser works captures lonely cityscapes and projections of the sea. The absence of human agents reflects what can only be described as Feininger's longing for stability which he allegedly found, at least in part, when summering in Deep.
What becomes so clear from the exhibition is Feininger's innate ability to assimilate stylistic variations and reassemble them in pictorial form as well as the distinctly German element that pervades his early work on through the First World War. The coarse, sometimes muted colorations of the later, more abstract paintings reveal an increasingly confidence and independence of vision but also express a level of sensitivity and a certain indescribable pain in landscapes void of human actors.
The Whitney's retrospective comes at an interesting time for contemporary and modern art. Exhibited alongside Buffalo-born Cory Arcangel's showcase of digital technology and coming off the coat tails of New York-born Glenn Ligon's highly politicized America, Lyonel Feininger: At The Edge of The World represents a different struggle. The exhibition conveys a level of cultural discomfort that stimulated some of the most visceral creative production in Western history. Sadly, Feininger's place in history remains too vaguely defined and compromised by the politics of nationalism that affect institutions, collectors, and historians alike. Because of the art world's inability to easily characterize the work as American or German, a truly remarkable career stands under appreciated.
Lyonel Feininger: At The Edge of The World
Whitney Museum
June 30-October 16, 2011-07-05

Calling all HuffPost superfans!
Sign up for membership to become a founding member and help shape HuffPost's next chapter