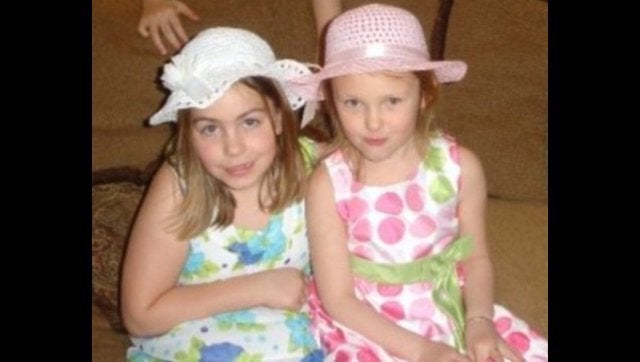 Two bodies found in a cluster of trees in Iowa were positively identified Monday as two young Iowa cousins missing for nearly five months.
The full results of the autopsy have not yet been released to police.
"We have been so blessed by the [outpouring] of all the (prayers) and support tonight with the gut wrenching news that my beautiful daughter and niece's bodies were found by hunters ... This was [not] the outcome we wanted but we know that they are up in heaven with our Savior and [our] nightmare of where they are and what is happening to them has been answered," Elizabeth's mother, Heather Collins, posted on her Facebook page on Wednesday after the bodies were tentatively identified. The comment is no longer public or has since been removed.
The girl's bodies were found by hunters at about 12:45 p.m. Wednesday. Authorities were still searching the area for clues last week, and the exact location of the discovery has not been released.
"Preservation of that scene is paramount," Black Hawk County Chief Deputy Rick Abben said.
No arrests have been made, and police have not elaborated on what, if any, evidence was found at the crime scene.
Wednesday's discovery was just the latest chapter in one of the widest missing person searches in Iowa history.
Lyric and Elizabeth were last seen July 13, when they left their grandmother's Evansdale home on a bike ride. The girls' bikes and one of their purses were found later that day on a nature trail that runs along Meyers Lake.
The sheriff's office conducted multiple searches of the lake, but nothing of interest was found. Multiple large-scale searches for the girls were also conducted on land, but their whereabouts remained a mystery until Monday.
Investigators previously said they suspected the girls were kidnapped. There was initial speculation that they may have been held prisoner.
The anguish in the children's close-knit community intensified Wednesday night, when detectives announced the two bodies were discovered. About 50 people attended a vigil for the girls at Meyers Lake, about 5 miles outside Waterloo.
"The hope was very high that these girls were going to come home alive, so this is quite traumatic for everybody that was involved," Barb Collins, a local resident who attended the vigil, told the Press-Citizen.
The families of the girls have yet to comment and have requested privacy.
Last week, a reward for information in the case reached $150,000, after an anonymous donor contributed $100,000.
Anyone with information in the case is asked to call the tip line at 319-232-6682 or 1-800-346-5507.
CORRECTION: A previous version of this story said the bodies were positively identified on Thursday. They were identified on Monday.
This story has been updated to include further information about a Facebook post.
PHOTO GALLERY
Elizabeth Collins And Lyric Cook-Morrissey
REAL LIFE. REAL NEWS. REAL VOICES.
Help us tell more of the stories that matter from voices that too often remain unheard.
BEFORE YOU GO