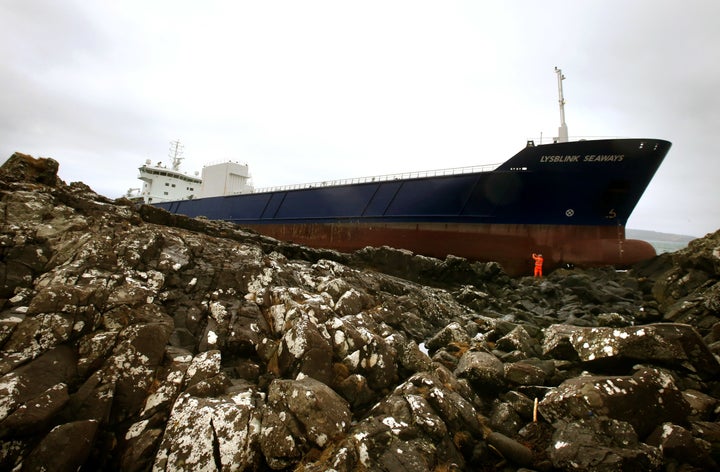 Ignore Captain Jack Sparrow -- it's actually a terrible idea to drink rum while sailing the high seas.
A Russian maritime officer drank half a liter of the liquor (17 ounces, or about 11 shots) on Feb. 18 before going on duty and crashing a 7,400-ton, 423-foot cargo ship into a Scottish peninsula, according to an investigative report the United Kingdom's Marine Accident Investigation Branch released Thursday. About 25 tons of marine gas oil spilled into the surrounding waters following the crash, the report added.
While off duty in his cabin, the 36-year-old unnamed chief officer of the vessel, Lysblink Seaways, "made a private telephone call which caused him anxiety, after which he consumed about 0.5 liter of rum," the report noted. The officer drank the alcohol between 6 p.m. and 11:50 p.m., according to investigators. 
The officer went on duty at midnight, and deviated from the planned route at 2:22 a.m. The ship was meant to be carrying 50 tons of waste paper from Belfast, Northern Ireland, to Skogn, Norway. The vessel crashed into the New Rocks around 2:30 a.m. at a speed of 13.3 knots, or about 15 mph.
The other eight crew members on board were off duty, and two alarms that could have alerted the crew to imminent dangers facing the vessel were not enabled, according to the MAIB. None of the nine crew members on board the ship were injured, the BBC reported in February.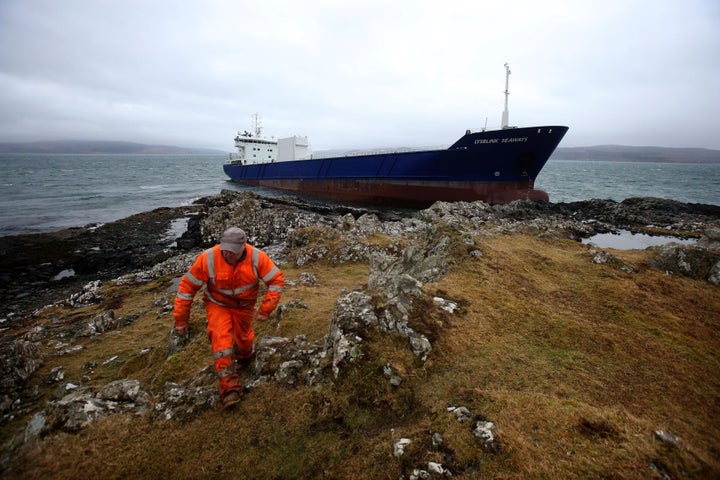 According to the report, a breath alcohol test taken at 5:20 a.m. found the chief officer to have 2.71 micrograms per liter of alcohol (eight times over the U.K.'s legal limit of 0.35 micrograms per liter) in his system, while the other crew members were found to be sober. Although the ship's owner, European shipping and logistics company DFDS, said it had a "zero tolerance" alcohol policy, the report found that the Lysblink Seaways had a bonded store with spirits, beer and wine that was regularly replenished. Investigators also found empty beer, wine and liquor bottles on the ship after the crash.
The ship ran aground at the peninsula and was so damaged after being thrown against the rocky shore that it was destroyed for scraps, according to a maritime survey released in March. 
The Russian officer has since been let go, a DFDS spokesperson told The Independent on Monday. In its report, the MAIB said it has also undertaken a series of measures, including removing stockpiles of alcohol on all of the Lysblink Seaways' sister vessels and developing in-house training courses, to upgrade the standards of maritime behavior.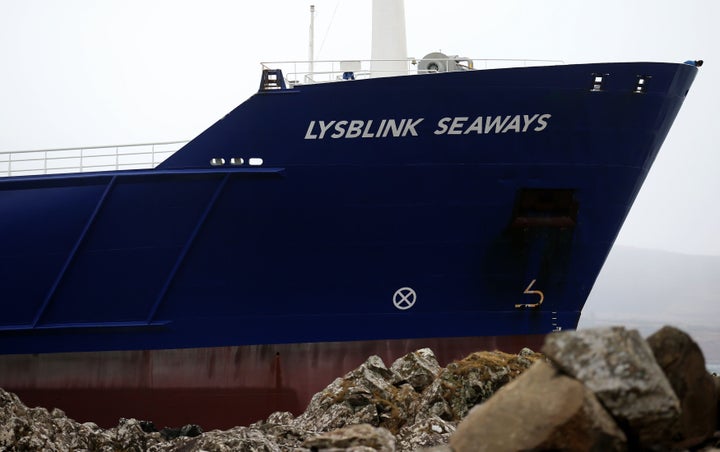 PHOTO GALLERY
Recent Oil Spills
Calling all HuffPost superfans!
Sign up for membership to become a founding member and help shape HuffPost's next chapter