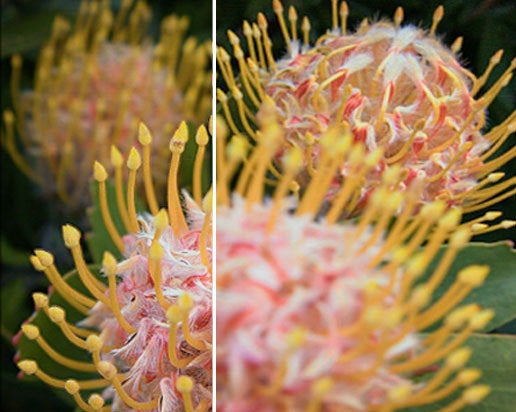 The Lytro camera is one of those nothing-else-like-it technologies that makes you shake your head and say "wow." First released in October last year, the camera -- bizarrely shaped like an oversized tube of lipstick -- produces a new genre of photographs that can be manually re-focused after the picture is taken, meaning that any blurry area can be made clear instantly ex post facto.
Anywhere you click your mouse on a Lytro picture will be brought into focus, meaning seemingly insignificant details in the background of the photo can be brought to the foreground and made the focal point, in a kind of participatory photography.
That represents "the opportunity of discovery, to see what else is happening in a photo," Eric Cheng, Lytro director of photography, told The Huffington Post.
It also represents an entirely new method of framing and setting up a photo. Scenes that appear to be one thing can be totally transformed depending on where you click in the frame.
In the almost 10 months following the Lytro's release, a gallery of more than 150,000 photos has surfaced on the Lytro website and dozens more have arrived from an ongoing photo contest on Lytro's Facebook page.
HuffPost scanned through these public photos and selected our favorites. We picked photographs that not only take advantage of Lytro's ability to re-focus after the fact, but that make that ability an artistic choice.
Without further ado, here are our picks for the 23 most amazing photos from the Lytro camera so far. Dive in, click your mouse on the pictures below and prepare to be stunned.
If the photos don't display properly (or at all), you may have to update your browser or operating system. For Mac, Lytro supports Mac OS X 10.6+ running Firefox 4+, Chrome 12+, or Safari 5+. For Windows, Lytro supports Windows XP, Vista and Win7 running Firefox 4+, Chrome 12+, or IE8+. You may also have to update your Flash player by clicking here.
PHOTO GALLERY
The 23 Most Amazing Lytro Photos (So Far)
Calling all HuffPost superfans!
Sign up for membership to become a founding member and help shape HuffPost's next chapter